NEWS
SAMURAI BLUE to go "All-in" against Ecuador at the CONMEBOL Copa America Brazil 2019
24 June 2019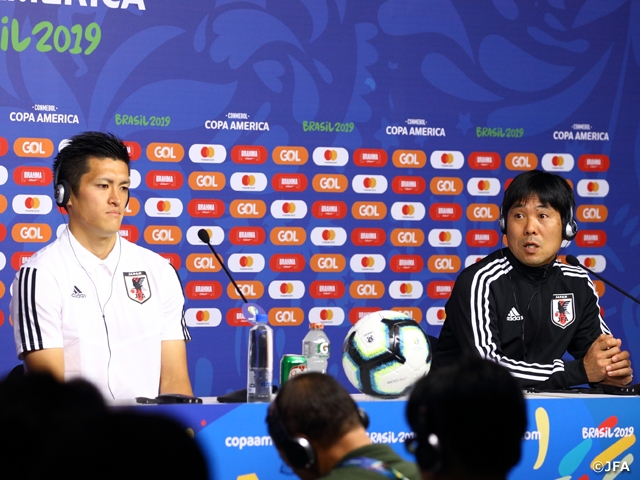 One day ahead of their final group stage match at the CONMEBOL Copa America Brazil 2019, the SAMURAI BLUE (Japan National Team) held a training session at Belo Horizonte on Sunday 23 June.
The training session was opened to the media for the first 15 minutes, and the team went through their tactics behind closed doors in a session that lasted nearly 90 minutes. Regarding their next match, the team's veteran goalkeeper, KAWASHIMA Eiji, mentioned, "Our true value will be tested in this match. We must focus on winning the competition ahead of us." The team's defensive leader, TOMIYASU Takehiro, also commented, "We must continue to challenge ourselves to see how much we can cope against strong opponents."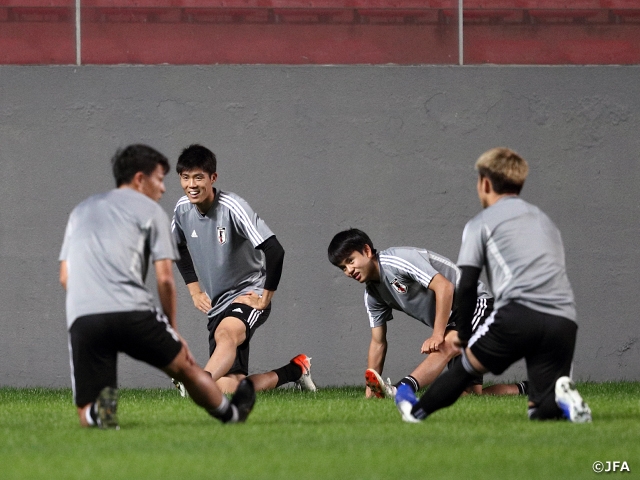 At this Copa America, out of the 12 participating teams, the top two finishers from each group will automatically qualify for the quarterfinals, while the top two third-place finishers will also qualify for the final round. So far, Brazil, Venezuela, Colombia, Argentina, and Chile have already secured the top two spots in their group to clinch the knockout stage, while the third-place finisher of Group A, Peru, has also clinched their spot into the next round. Japan is currently in position to clinch their first ever quarterfinals with a win over Ecuador.
After losing to Uruguay 0-4 in their first match, and to Chile 1-2 in their second match, Ecuador is also in position to clinch the round of 16 with a win over Japan. NAKAJIMA Shoya described Ecuador as, "A team with great speed and power. They have players with great athleticism," and continued by sharing his take on the match, "We will have to fight as a team and support each other. I want to showcase a good performance."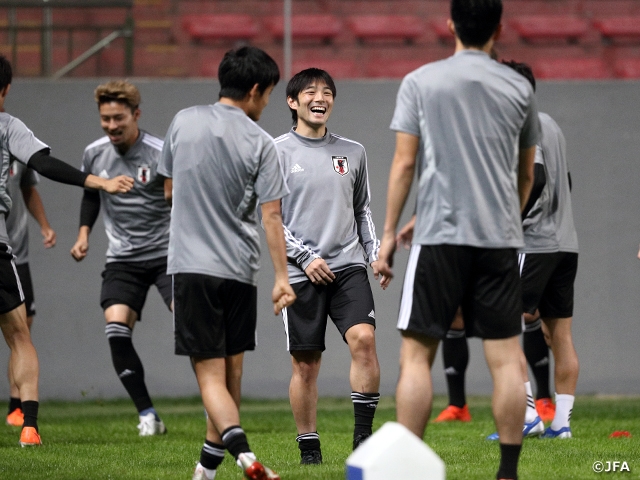 The SAMURAI BLUE will face the Ecuador National Team on Monday 24 June at 20:00 local time (Tuesday 25 June at 8:00 Japan time) at Mineirao Stadium, Belo Horizonte.
Coach and Players' Comments
MORIYASU Hajime, Coach of SAMURAI BLUE (Japan National Team)
Ecuador consists with very talented players and they are capable of showcasing a very aggressive defence. Their offence can penetrate the open space with great speed, so we must stay alerted at all times. We will enter the match with the intention to evade their pressure while displaying our strong points. In order to improve on our previous two performances, the players must focus on keeping a good distance between each other, while making the necessary adjustments on the field depending on the game flow. We must make quicker decisions and showcase our persistency to fight through the match.
DF #5 UEDA Naomichi (Cercle Brugge K.S.V.)
It is an honour to be given the opportunity to play in a tournament like the Copa America. It gives us the rare occasion to face the top players of the world, and I feel so fortunate to be here. We will enter our next match with the full intention to make it through to the knockout stage and we will go all-in tomorrow. We believe in our offence that they will score goals for us, so the defence must keep a clean sheet whatever it takes.
MF #7 SHIBASAKI Gaku (Getafe C.F.)
We have been able to create close opportunities in both matches, so if we can continue on what we've been doing, we will have our chances. That is why it is important that we keep a clean sheet in tomorrow's match. Once the game starts, we will make the adjustments on the field depending on the opponent's approach and anticipate for our opportunities.
MF #11 MIYOSHI Koji (Yokohama F・Marinos)
Ecuador is capable of initiating attacks with great speed, so we must apply pressure from the front line to contain them from delivering the longballs and make sure to collect the loose balls that can cost us trouble in our goal area. The opponents will come out applying aggressive pressure against us, so we must position ourselves well to evade the pressure and anticipate for our opportunities to score goals.
FW #18 OKAZAKI Shinji (Leicester City Football Club)
The Ecuadorian players are all very athletic and they play with a very orthodox South American style of football. However, they are also capable of taking an unorthodox style at times, so we must prepare ourselves well ahead of this match.
Schedule
Squad & Schedule of SAMURAI BLUE (Japan National Team)
CONMEBOL Copa America Brazil 2019
Tournament Dates: Fri. 14 June - Sun. 7 July 2019
Group Stage:
Tue. 18 June 2019, 8:00 (Japan time)
vs Chile National Team
Fri. 21 June 2019, 8:00 (Japan time)
vs Uruguay National Team
Tue. 25 June 2019, 8:00 (Japan time)
vs Ecuador National Team