NEWS
Nadeshiko Japan travel to Cleveland Ohio, work out at match site
05 June 2016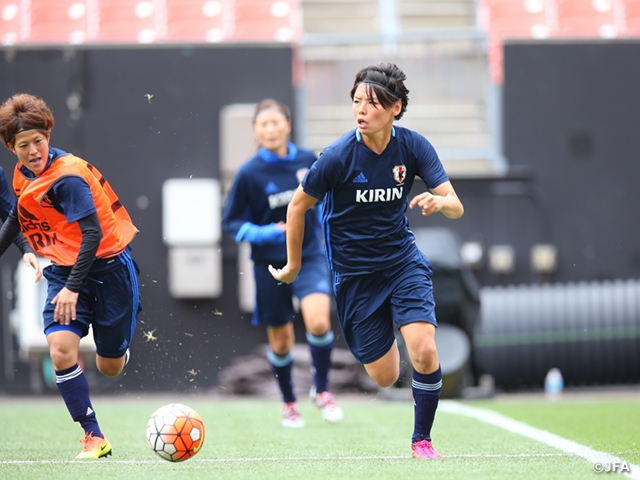 With the second match against the USA Women's National Team coming up on the day after, Nadeshiko Japan (Japan Women's National Team) practised on Saturday 4 at the stadium to hold the following day match.
The Japanese squad, arriving in Cleveland, Ohio the day before, rested in the morning. Then they moved to FirstEnergy Stadium, the home of the Cleveland Browns of the country's professional American football league (NFL). At the big venue of approximately 70,000 seating capacity, the team made sure their possession scheme before closing doors to media for a scrimmage. Coach TAKAKURA Asako said of the match on the following day "we put emphasis on what we need to work on at this point." She expects every one of her players to make in-match decisions according to various situations time to time.
Including the first match held the other day, the all-time record between Japan and the United States is 1 win, 24 losses and 7 draws for Japan. Nadeshiko Japan looking to defeat them for the first time since they did so at the 2011 FIFA Women's World Cup final will take on the United States one more time in this trip at 13:00 on Sunday 5 local time (2:00 on Monday 6 JST).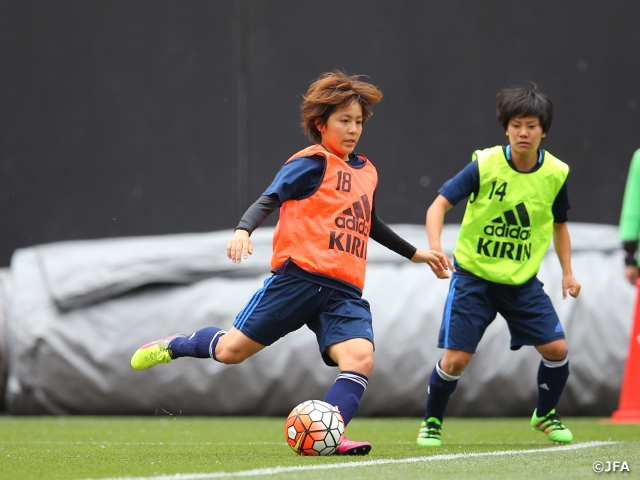 Players' Comments
MF #6 UTSUGI Rumi (Montpellier Herault Sport Club/France)
In the first match, we may have been able to play better if we had cut down our mistakes. But it was a good learning experience to have only 10 players on the pitch at that timing. I am being positive about it, thinking we just have to keep trying what's working and we have to be alert on what's not. We want to keep trying without being afraid of making mistakes, and leave good results.
DF #3 MURAMATSU Tomoko (NIPPON TV BELEZA)
I feel that defensive line control and the speed in approaching to opponents are things that we need to improve. I want to always try to get better than a previous match. Being able to check opponents physically is my strength, so I always keep it in mind not to lose to the opponent in front of me, and tomorrow we definitely want to win without allowing any goals.
DF #15 TAKAGI Hikari (NOJIMA STELLA KANAGAWA SAGAMIHARA)
During this trip, I have been practising with these teammates playing at a high level, and that has helped me find out what I am missing. For the match against the United States, what we have to work on is not allowing the opponents to go behind us and dealing with quick-footed players. Tomorrow I want to show what I can do without backing down against quick players.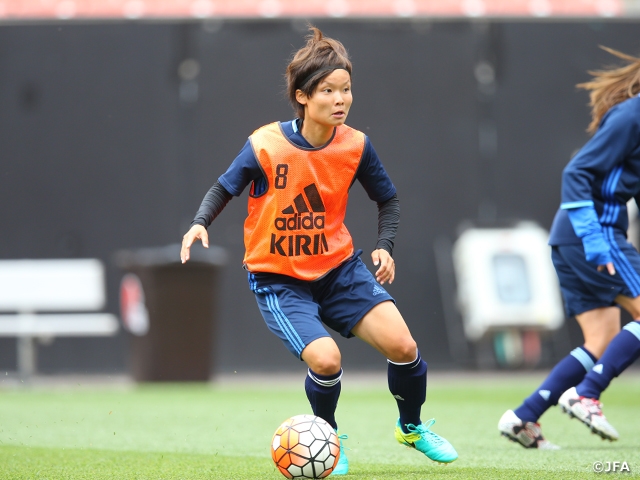 Schedule
Tue. 31 May
AM/PM
Training
Wed. 1 June
AM/PM
Training
Thu. 2 June
3-3
International Friendly Match
vs USA Women's National Team (Dick's Sporting Goods Park)
Fri. 3 June
PM
Training
Sat. 4 June
AM/PM
Training
Sun. 5 June
13:00
International Friendly Match
vs USA Women's National Team (FirstEnergy Stadium)
*Local Time
*The schedule is subject to change due to the team condition, the weather, etc.