NEWS
Nadeshiko Japan draw 3-3 with USA
03 June 2016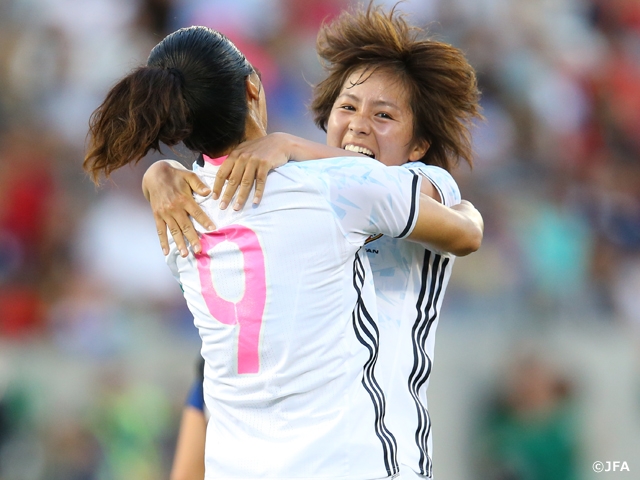 International Friendly Match USA Women's National Team vs Nadeshiko Japan (Japan Women's National Team)
2016-6-2 (Thu.) - 19:30 (Local Time) Playing Time: 90min. (45min.×2)
Dick's Sporting Goods Park (Commerce City/USA) 
USA Women's National Team 3-3 (1-2, 2-1) Japan Women's National Team
Scores
14' IWABUCHI Mana (Japan Women's National Team)
22' OGIMI (NAGASATO) Yuki (Japan Women's National Team)
27' Goal against
64' Goal against
89' Goal against
94' YOKOYAMA Kumi (Japan Women's National Team)
Line-ups
GK: YAMASHITA Ayaka
DF: SASAKI Mayu, KUMAGAI Saki, MURAMATSU Tomoko, ARIYOSHI Saori
MF: UTSUGI Rumi, SAKAGUCHI Mizuho, NAKAJIMA Emi
FW: OGIMI (NAGASATO) Yuki, CHIBA Sonoko, IWABUCHI Mana
Substitutes
GK: YAMANE Erina, IKEDA Sakiko
DF: KAWAMURA Yuri, TAKAGI Hikari
MF: MASUYA Rika, NAKASATO Yu
FW: SUGASAWA Yuika, YOKOYAMA Kumi
HT UTSUGI Rumi → KAWAMURA Yuri
56' IWABUCHI Mana → YOKOYAMA Kumi
62' CHIBA Sonoko → MASUYA Rika
81' SASAKI Mayu → NAKASATO Yu
Match Report
Nadeshiko Japan (Japan Women's National Team) drew 3-3 against the USA Women's National Team in TAKAKURA Asako's debut game as the Japan coach.
While the majority of the crown of 18,572 at the full-house stadium cheered for the U.S. team, Nadeshiko Japan got off to their new start. Japan had YAMASHITA as goalkeeper, SASAKI, KUMAGAI, MURAMATSU and ARIYOSHI at the defenders' spots, UTSUGI and SAKAGUCHI in the middle, OGIMI and NAKAJIMA at the wings, CHIBA as the attacking midfielder and IWABUCHI as the one-top forward. Defender Sasaki Mayu and midfielder Chiba Sonoko made their international A match debut for Nadeshiko Japan.
The USA Women's National Team kept having corner kicks from early in the game, but Japan managed to survive them and then finally had a chance. In the 14th minute, forward Iwabuchi Mana received a pass from midfielder Sakaguchi Mizuho and dribbled up near the box. She fired a shot and it went in for a goal. For the moment the ball went in, the stadium got silent. In the 22nd, midfielder Nakajima Emi launched a cross and forward Ogimi Yuki put it into the goal to give Japan a 2-0 lead.
The USA Women's National Team started their rally afterwards. In the 27th minute, they attacked on the left side and Alex Morgan put a grounder cross into the goal. Japan's Nakajima fired a middle shot but it hit the cross bar and the game entered halftime.
In the 57th minute, Ogimi received her second yellow card of the day and was ejected. Japan were forced to play with 10 players. In the 64th, the USA tied the contest from a free kick. Japan then substituted Sasaki with midfielder NAKASATO Yu, who made her international A match debut.
Japan tried to find a way to attack, but the Americans held their attacks mostly. In the 89th, Lindsey Horan headed a cross from the left in to take a lead. But in the 94th minute, which was the stoppage time, forward YOKOYAMA Kumi, who came in as a late substitute, reacted to Sakaguchi's pass and scored. Japan and the USA ended in a 3-3 draw in their first game.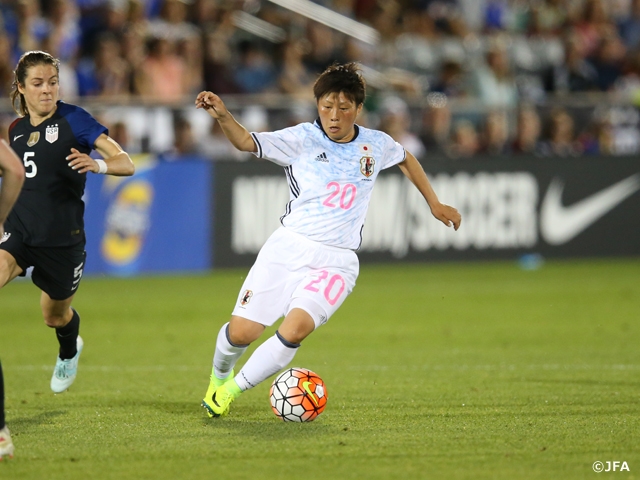 The second game will be played at 13:00 on 5 June (2:00 on the 6th in Japan time) at FirstEnergy Stadium in Cleveland, Ohio.
Coach and Players' Comments
TAKAKURA Asako, Coach
We could've won the game. Our players played tenaciously, understanding what they needed to do in their short preparation time and trying what they can do very well. We still have things we will need to correct going forward. I have shown no indications that I've given any position to anyone yet, so I'm just having high expectations to many of our players.
MF #8 CHIBA Sonoko (AS HARIMA ALBION)
It was my first game (with the national team), but I wanted to contribute in some way, and it paid off that we scored from a combination play. Next time, I would like to attack more when I face forward. We've come over here all the way from Japan and would like to win for those who support us from Japan.
FW #20 YOKOYAMA Kumi (AC NAGANO PARCEIRO LADIES)
I got a good pass from Sakaguchi and I just needed to put it into. On the moment I touched the ball, I got 1-on-1 against the goalkeeper and it gave me a little nervous. Scoring goals is my job, but I felt I still need to work on other plays outside scoring.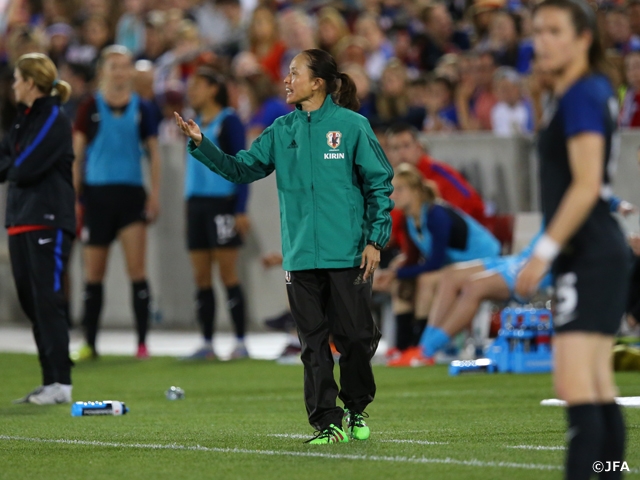 Schedule
Tue. 31 May
AM/PM
Training
Wed. 1 June
AM/PM
Training
Thu. 2 June
3-3
International Friendly Match
vs USA Women's National Team (Dick's Sporting Goods Park)
Fri. 3 June
PM
Training
Sat. 4 June
AM/PM
Training
Sun. 5 June
13:00
International Friendly Match
vs USA Women's National Team (FirstEnergy Stadium)
*Local Time
*The schedule is subject to change due to the team condition, the weather, etc.