NEWS
Nadeshiko Japan checked its tactics for the FIFA Women's World Cup Final against USA
04 July 2015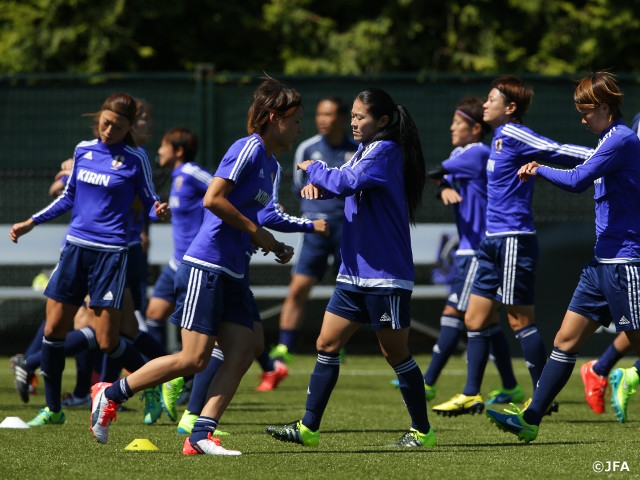 Nadeshiko Japan had its 90 minute training session to prepare for the FIFA Women's World Cup Canada 2015 Final match against USA which will take place on 5 July in Vancouver.
It was a fine day with clear blue sky and many foreign media came to the venue to watch Japan's training session. As usual, the sessions were only open to the media crews for the first 15 minutes, and Japanese players started their sessions with some warming-up and running.
Then they carried on to a passing exercise paying attention to build up play. In the closed-door session, they particularly worked on checking the tactics for the Final against USA.
USA on the other hand, beat Australia 3-1 after difficult times in their first match of the Group Stage. In the next match they drew Sweden 0-0 and then beat Nigeria 1-0 which made then go through the Group D as a top team.
In the Round 16, they carried on winning the first match against Colombia 2-0 and beat China 1-0 in the Quarter-Final. In the Semi-Final, they beat Germany, who is currently at the top of the FIFA Women's World Ranking, 2-0 to advance to the Final.
Based on the MVP (Golden Ball Awards) candidate defender Julie JOHNSTON, USA keeps consistent defense and they have got 5 consecutive clean sheets apart from the first match.
Midfielder Carli LLOYD and midfielder Megan RAPINO, who experienced the last World Cup, are in a good condition and forward Abby WAMBACH supports the team's offense even though she is frequently substituted.
Forward OGIMI Yuki (VFL Wolfsburg) says "We may have more time to be pushed. We'll try to take the control of the game by keeping ourselves aware of taking advantage of one chance throughout the 90 minutes".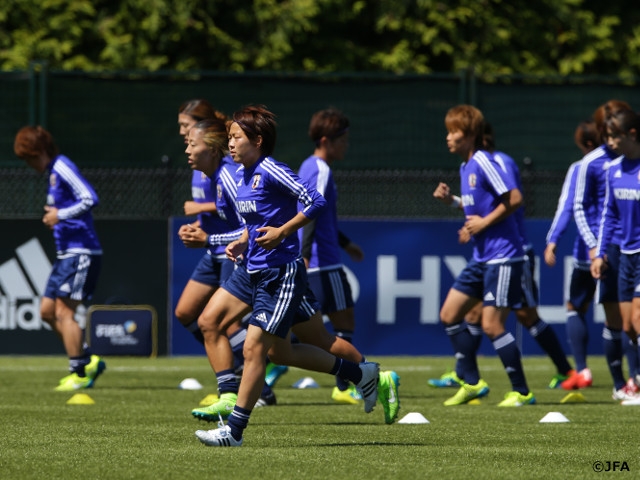 In the last World Cup in Germany in 2011, Japan beat USA 3-1 in a penalty shoot-out after 2-2 draw in the extended time.
"This time, I am desperate to decide the result within the 90 minutes", says midfielder MIYAMA Aya (Okayama Yunogo Belle) and she expresses her confidence as a team which has been built-up over the past 4 years; "As a team, the sense of feeling on the opponents has been they are even better than any other in our past matches. We are not like a young team who are happy to go for broke any more".
They had another tournament-final match experience in the London Olympic Games in 2012 and the United States beat Japan 2-1.
Regarding the fact that the two countries have met in the 3 most recent large world tournament finals, Miyama expressed her stable confidence; "We are one of the top countries. That's why we have played against USA in each major final since the last World Cup."And Ogimi says "If we can prepare well enough to face the Final in a positive mood, I think we can get a good result".
The final match against the United States will kick off at 4pm on 5 July, which is 8 am on 6 July Japan time.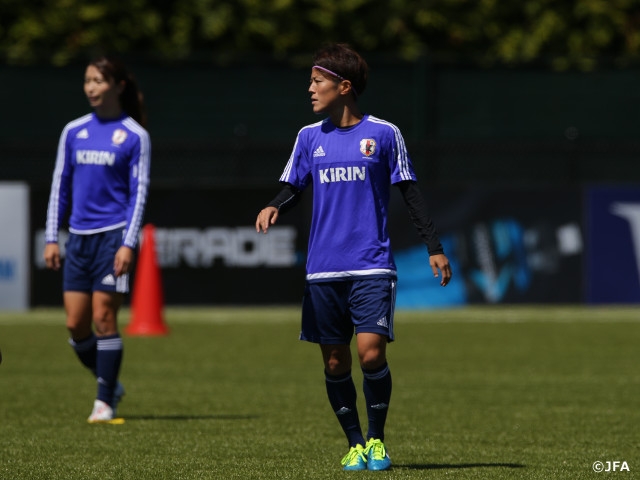 Players' Comments
DF #19 ARIYOSHI Saori (Nippon TV Beleza)
In the last World Cup, I didn't even expect that we would play again in this World Cup Final after 4 years. What is happening to us surprises me but I am very happy. The United States is different from any other team I have played in terms of power of the front players; their strengths to go even further is very strong.
Since this is my first experience in playing in the World Cup Final and in playing against the United States, I'm looking forward to playing our football as a team and to playing against the world famous players. I'm surprised to know that I'm one of the candidates of MVP, the Golden Ball Awards. I just appreciate my teammates for making the most of my play; without them I couldn't reach this opportunity.
FW #17 OGIMI Yuki (VFL Wolfsburg)
Finally we can play in the Final, which is the beginning of our next challenge for the future, and I am very excited now. USA has improved their play accuracy particularly since the Round 16 and they play very powerfully both in offense and defense. We have to be careful not to be too passive towards their strength.
In the Final, we can just show what we have done throughout these 4 years and that will work well for the team. I just want to do everything I can in the Final.
MF #13 UTSUGI Rumi (Montpellier HSC)
USA is fit and they may play long-balls, so it is important for us to take advantage of any chances such as even balls and difficult times. I expect that we will have some times that we lose the ball, but we want to keep working not to lose much, and to make good times as much as possible.
Even though they got the rhythm of the game, we don't want to break our defense system so we will keep ourselves positive even in any difficult time. As a team we have talked about the importance of keeping our internal mentality strong apart from our technique; that will lead us to be stable at any time.
In the Final, we will keep our level of play with our tactics against the United States who have shown such a special power. We will do everything we can.
FIFA Women's World Cup Canada 2015
Final
Nadeshiko Japan (Japan Women's National Team) vs USA Women's National Team
Mon. 6 July - 8:00 (Japan Time)