NEWS
Nadeshiko Japan in final preparations for the FIFA Women's World Cup Semi-Final against England
01 July 2015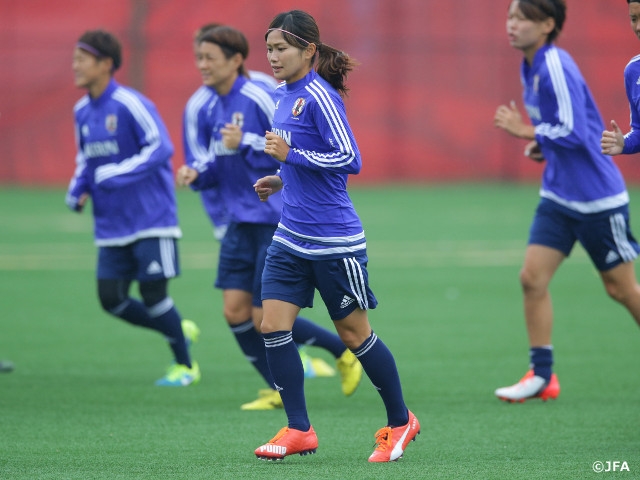 On 30 June, Nadeshiko Japan had their final training prior to the FIFA Women's World Cup Canada 2015 semi final match against England which will be held on 1 July in Edmonton. Their goal is to get consecutive World Cup victories.
Even under the chilly and slightly wet weather, many foreign media crews visited their training venue. The sessions were open to the media for the first 15 minutes, and the players started some warming-up passing exercises making groups of 3.
Meanwhile, the 3 goalkeepers started some practice for defending from crosses and corner kicks. In the closed-door sessions, they spent most of time particularly for checking their strategies against England.
After the training, the team's Head Coach SASAKI Norio attended the press conference at the match venue Commonwealth Stadium and expressed the level of the players condition by saying, "They are ready for the next match and are in a positive mood. Even though they had to play the quarter final in such a warm weather, their condition has been quite good."
He also commented about England that "many of their offense formations tend to be simple, but their sense of responding to the ball is very good and also they make good long-passes," and said "we want to keep our level of play, not being disturbed by their rhythm of play."
He also commented about the fact that his squad team hasn't beaten England including the match 0-2 in the Group Stage of the previous World Cup, and another one which they drew,"Since I started coaching the national team, we haven't beaten England yet, but I don't feel we will lose the match tomorrow. The player's game condition has been better and they now have good fitness which can even be better than England players. I just want them to face England with confidence."
FW OHNO Shinobu (INAC Kobe) who also attended the press conference has played at an English club team.
She said "Since everyone of the team is in a good condition, it doesn't matter who will play or not. Any one of us can play tomorrow". When she was asked about any new or improved strength that the team has got since they won the previous World Cup 4 years ago, she said, "It can be a sense of confidence. We never give up until the end of any matches and that is our strength. I think this attitude leads us to win as a result."
SAWA Homare (INAC Kobe), who has played in the World Cup for 6 consecutive times, showed her confidence and expectation by saying, "I want to do what I can do as much as possible to help the team to win. Now we need all the power we have as a team. I expect substitute players to decide the result of the match. It will be alright if we can keep our level of play, that is the strength of Nadeshiko Japan."
Meanwhile, in Montreal, another semi final match was held and USA, who was the 2nd strongest in the previous World Cup, beat Germany who was the winner in 2003 and 2007, 2-0. USA will play in the final for the 4th time.
Germany will play in the 3rd place match which will be held on 4 July (5 July in Japan) in Edmonton. If Japan wins the semi final tomorrow, the Final in Vancouver on 5 July (6 July in Japan) will be same match-up as the previous Final in 2011.
The semi final match against England will kick off at 5pm on 1 July, which is 8am on 2 July Japan time.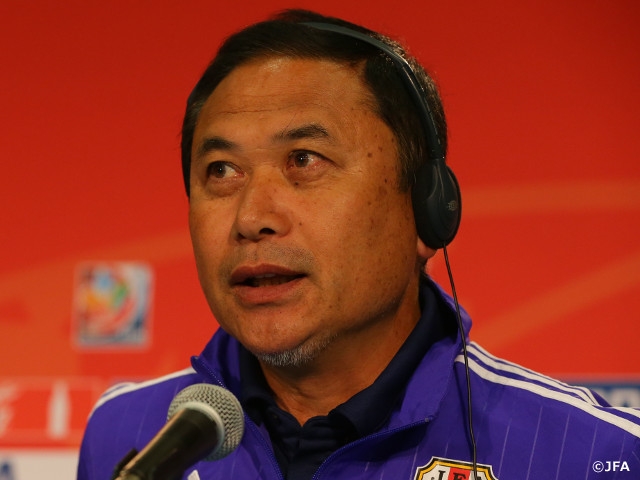 Head Coaches' Comments
SASAKI Norio, Head Coach (Nadeshiko Japan/Japan Women's National Team)
The players have prepared well and are in a positive mood, and their condition has been quite good even though they had to play in such a hot weather. Their game condition has been better. What is important is they won't be disturbed by England's play rhythm and keep their level of play.
How they start the match is very important, so we want to play carefully especially in the first 30 minutes with sense of risk management assuming some forms of stealing the ball by the opponents. Since I am confident in the players that they have enough mental and technical strength in addition to good condition, they will get the victory in 90 or 120 minutes. I believe strongly that we can go to the Final in Vancouver.
Mark Sampson, Head Coach (England National Team)
It will be a big challenge for us to play against the previous champion, but we have prepared ourselves both physically and mentally. In tight spaces Japan have a way of moving the ball and we'll have to appreciate and respect the quality and technique they've got, but there are a lot of weapons that England will chuck their way.
we do have strengths and good players. Our players have enough ability to defend against Japan's play and we will do just that tomorrow. It is obviously better not to lose any goals, but more than that we have got here by scoring goals. We can make chances in any type of matches and this team has strong sense of patience. What will be the key tomorrow will not be the ball possession but who can make the chances and finish them.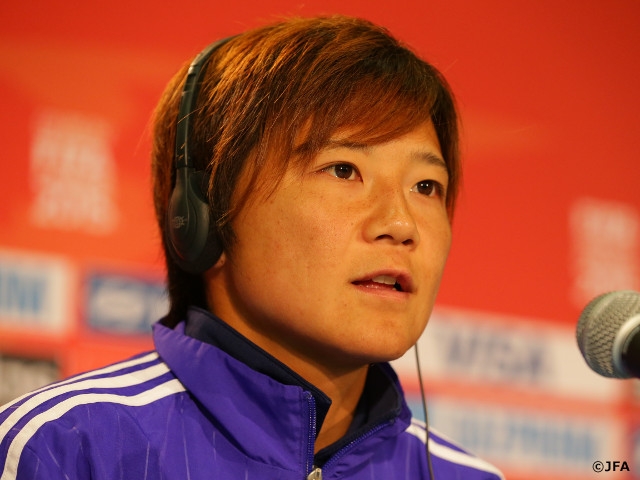 FIFA Women's World Cup Canada 2015
Semi-Final
Nadeshiko Japan (Japan Women's National Team) vs England Women's National Team
Thu. 2 July - 8:00 (Japan Time)