NEWS
Nadeshiko Japan review plays ahead of semis against England at FIFA Women's World Cup
30 June 2015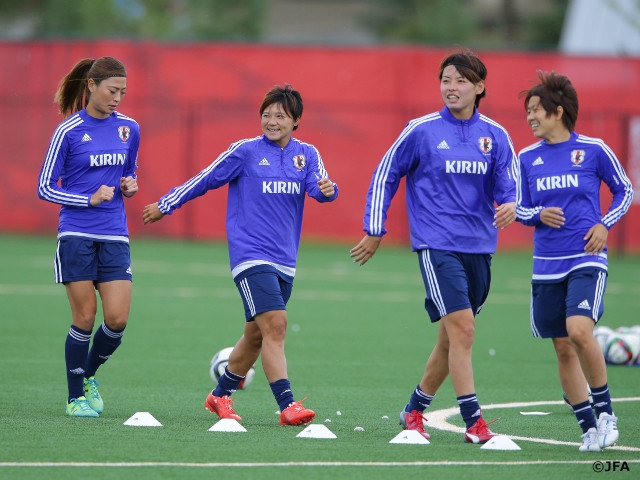 Ahead of a semi-final clash against England scheduled two days later at the FIFA Women's World Cup Canada 2015, Nadeshiko Japan had training on 29 June in Edmonton.
In a cool weather with a light rain that completely changed from the previous sunny and hot days, all the squad assembled on the pitch.
In the first 15th minute of the session open to media, they loosened their body with running and passing drills before working on reviewing passing plays and combinations with playing tempo in mind in the closed-door part.
"Speaking of football, it's England. I'm looking forward to playing against such a team" says midfielder KAWASUMI Nahomi (INAC Kobe), who started for the first time and scored two goals in the semifial match against Sweden at the World Cup Germany, where Japan won their maiden title four years ago.
The only loss in the last tournament was the group stage match against England (0-2). But in the friendly in England in June 2013, Nadeshikos drew with them 1-1 with Kawasumi's goal for the Japan side. The total record against England is Japan's two draws and two losses.
Kawasumi says of the matchup four years ago, "I'm aware of it. It's not like a revenge, but I hope it's going to be such an occasion. Their squad have changed a bit compared to the last time. We will look at their matches at this tournament and analyse carefully."
Midfielder SAKAGUCHI Mizuho (Nippon TV Beleza) keeps her cool, saying "They are at a high level as a whole. We need to be careful of everything. Even though the opponents are England, what we are supposed to do does not change." She added, "It's not because we lost to them in the last tournament, but rather we want to win this semi-final match." She braces her nerves ahead of another battle.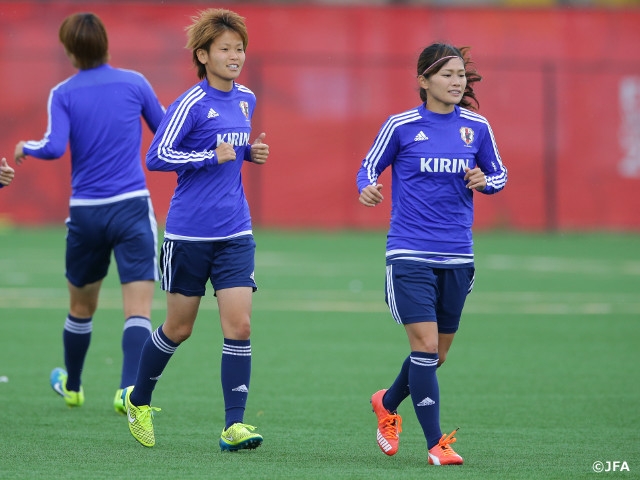 Players' Comments
MF #9 KAWASUMI Nahomi (INAC Kobe)
That was the semi-final when I first started the match at the last tournament. It's a bit different, but we won't get to the final unless we win the next one. We will give everything for the next match and get a win.
We've never beat England, so we can take them on as challengers. In spite of the tough situation in both schedule-wise and climate-wise, we've been running well and that's good for our football to challenge on both offence and defence. But we need to improve accuracy more.
DF #19 ARIYOSHI Saori (Nippon TV Beleza)
England's simple attacking is high quality and they scored when to score after taking advantage of opposing mistakes. It's very important not to lose on one-on-one contexts.
We can't make a mistake in the first place, but even if it happens, we will cope with that. And we will show intensity on any situation where we are supposed to win. It's the semi-final, but we always want to win. We will try to win the next one as well.
DF #5 SAMESHIMA Aya (INAC Kobe)
There has been more sense of unity emerging as we have more battles. We will get it through in such a mood. The England squad are different from those in the tournament four years ago, and we want to win no matter how that match went. We will watch more of their match footage and analyse them before the next match.
FW #16 IWABUCHI Mana (FC Bayern Munich/ Germany)
I'm really looking forward to the England match. I'm excited just because we have two more to play with this team. And the next one is the path to the final, so we will try to finish the match with a win. The goal in the Australia match was big for me. And I believe I was able to repay our head coach and team staff, who brought me here (even though I was injured just before the tournament), and my teammates.
There is no doubt England reached this far because they are a good team. We want to make a good preparation for the contest and I want play how I always play.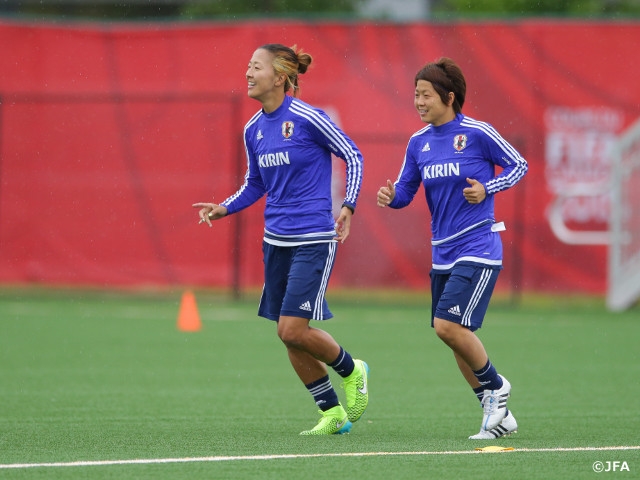 FIFA Women's World Cup Canada 2015
Semi-Final
Nadeshiko Japan (Japan Women's National Team) vs England Women's National Team
Thu. 2 July - 8:00 (Japan Time)