NEWS
Nadeshiko Japan holds training session and official press conference ahead of their second group stage match against Scotland - FIFA Women's World Cup France 2019
14 June 2019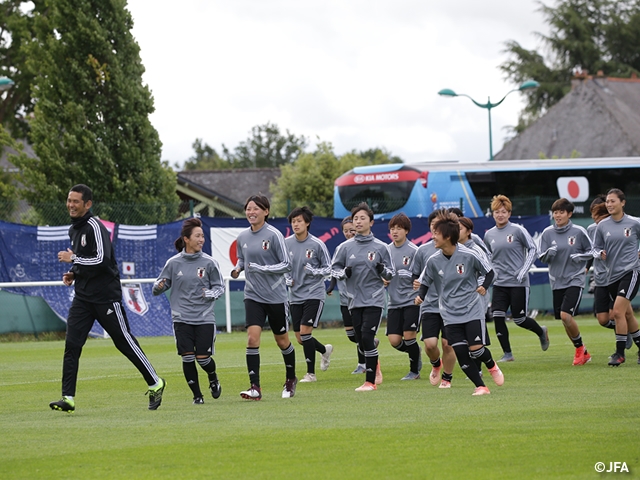 One day before their second group stage match of the FIFA Women's World Cup France 2019 against the Scotland Women's National Team, the Nadeshiko Japan (Japan Women's National Team) held a training session on Thursday 13 June. Following the training session, coach TAKAKURA Asako and SUGASAWA Yuika appeared in the official press conference held at the match venue.
In the training session that was opened to the media for the first 15 minutes, the Japanese players spent most of their time going over the team tactics and set pieces to get themselves on the same page. Media members of the Scottish press were also present on the field as KUMAGAI Saki responded to an interview, "with both teams desperately needing three points, it will surely be a tough match."
An official press conference was held at Roazhon Park at 14:30, where coach Takakura and Sugasawa took the podium. When asked about their game plans against Scotland, coach Takakura jokingly responded by saying, "I probably shouldn't lay all my cards on the table, so I will refrain from answering that question," but continued by stating, "everybody on this team will enter the match knowing that we are in a must win situation."
With this being her second World Cup appearance, Sugasawa was asked what kind of message she will convey to the team ahead of their next match, and the Japanese striker answered, "I am not the type who talks much off the pitch. Following our match against Argentina, I have trained hard so that I can lead the team with my performance on the pitch."
The scenes of the press conference (FIFA TV)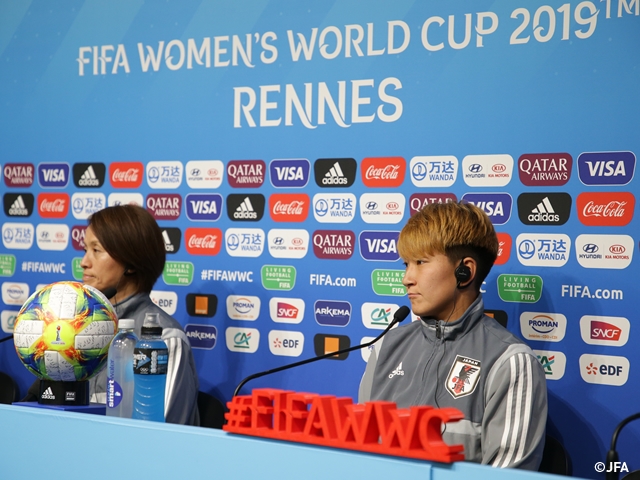 The match between the Nadeshiko Japan and the Scotland Women's National Team will kick-off on Friday 13 June at 15:00 local time (22:00 Japan time).
Players' Comments
DF #22 SHIMIZU Risa (Nippon TV Beleza)
After drawing our previous match, we are fully committed and prepared to earn three points in our next match. I think the set pieces will play a key role in the match, so we must take each of our opportunities with great care. Including myself, our defence line played a bit too passively against Argentina, so we told each other to be more aggressive in our next match. Although it wasn't enough, we did manage to showcase some improvements in the second half, so we hope to keep making the adjustments. I think Scotland will not be laying a block in front of their goal like Argentina did, so I hope to make runs to create spaces in the centre, while anticipating to penetrate the space to create opportunities. My strengths lie on my ability to make runs, so I will give my utmost efforts to make those runs and help the team earn three points.
FW #8 IWABUCHI Mana (INAC Kobe Leonessa)
With our backs against the wall, we were able to train with a positive attitude ahead of the match. In our previous match, we lacked creativity in the final third, but I feel like we just need to play with more confidence to create more opportunities. We won't know how our opponents will come out against us until the match starts, so we just have to prepare ourselves in the best way possible and give our utmost efforts to showcase our best performance on the field.
FW #11 KOBAYASHI Rikako (Nippon TV Beleza)
When facing a team playing deep in their territory, we had to come up with more ideas to break through, and that was something we lacked in our previous match. Watching the match from outside, it felt like we needed more movements and combinations in the final third to create opportunities. I am getting the impression that Scotland is a team that will possess the ball more than we initially thought. With many of their players playing for teams in England, they consist with a high level of techniques and intelligence. This is a match we cannot afford to lose, so as a forward, I will play with the intention to score and commit myself to help out the team win the match whatever it takes.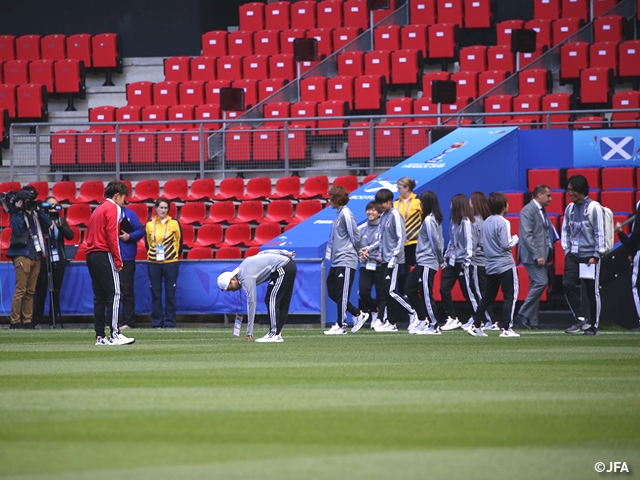 Schedule
Nadeshiko Japan (Japan Women's National Team) Squad, Schedule
FIFA Women's World Cup France 2019
Tournament Dates: Fri. 7 June - Sun. 7 July 2019
Group Stage:
Tue. 11 June 2019 01:00 (Japan time)
vs Argentina Women's National Team
Fri. 14 June 2019 22:00 (Japan time)
vs Scotland Women's National Team
Thu. 20 June 2019 04:00 (Japan time)
vs England Women's National Team