NEWS
Nadeshiko Japan travels to Rennes ahead of 2nd group stage match against Scotland at the FIFA Women's World Cup France 2019
12 June 2019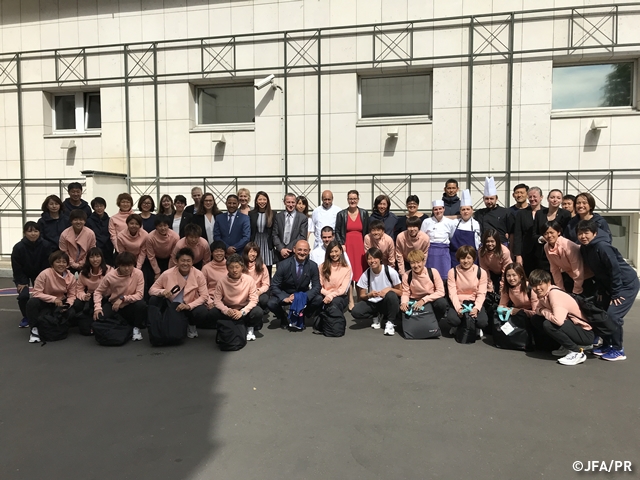 One day following their 0-0 draw against Argentina in their first group stage match of the FIFA Women's World Cup France 2019, the Nadeshiko Japan made ways to their next match site, Rennes, on Tuesday 11 June.
Upon their departure from Paris, the team took a photo with the hotel staffs where they spent for the past nine days. The players thanked the staffs for providing them with a wonderful environment where they can focus on playing football, and a jersey signed by the entire team was presented by the team captain KUMAGAI Saki. With the warm applause and cheers from the hotel staffs, the Nadeshiko Japan made their ways to Rennes.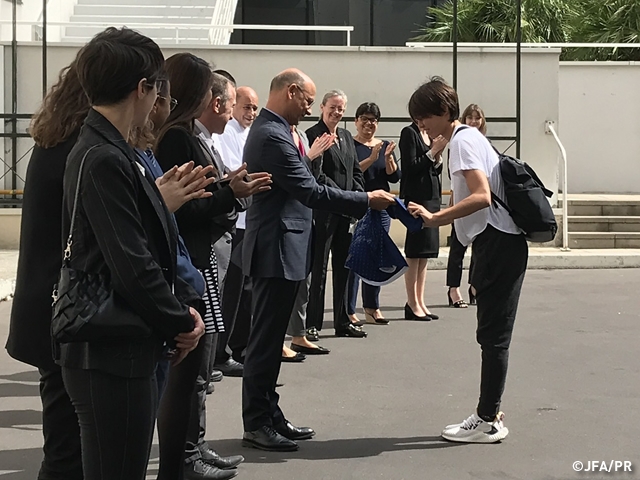 From Paris to Rennes, the team took an intercity high-speed rail service called the TGV. The trip only lasted about 90 minutes, but the players seemed to be amused by this unique transportation experience.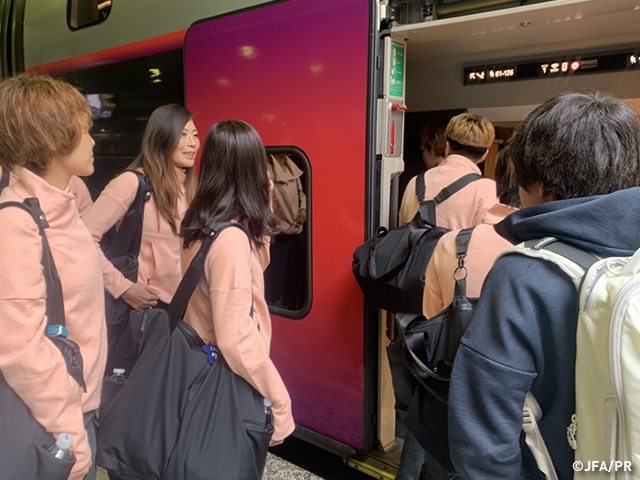 The city of Rennes is located in western France, a city well known for the Japanese tourists as the starting point for tours to Mont Saint-Michel. Stade Rennais FC is a team based in Rennes who is competing at the France Ligue 1. They have won the Coupe de France during the 2018-2019 season for the first time in 48 years, while former Japan National Team coach Vahid HALILHODZIC used to manage the team, and another former member of the SAMURAI BLUE, INAMOTO Junichi (SC Sagamihara) once played for the side as well.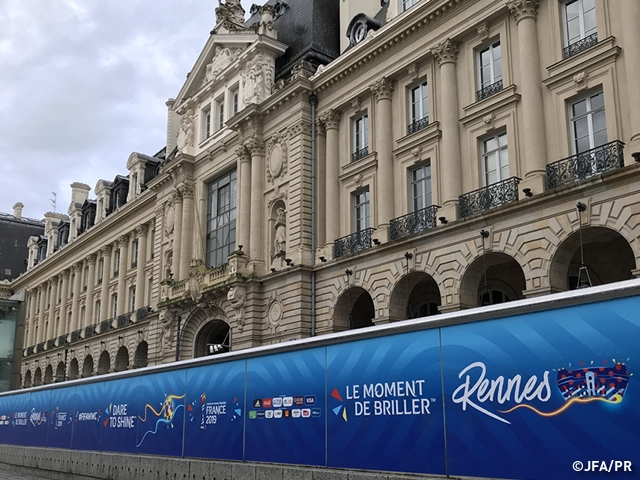 In order to reclaim the world title, the Nadeshiko Japan will face the Scotland Women's National Team in their second group stage match of the FIFA Women's World Cup France 2019 on Friday 14 June at 15:00 local time (22:00 local time).
Coach and Player's Comment
TAKAKURA Asako, Coach of Nadeshiko Japan (Japan Women's National Team)
It has only been a day since our match against Argentina, and of course we're not in the best mood, but we have moved on. We entered our first match knowing that it will be a difficult match against a tough opponent, but the football gods didn't allow us to win easily. With the draw, we have put ourselves in a tough spot, so we must now overcome this situation with our own strengths. The Nadeshiko Japan has never retreated, so we will stay steady and make our ways forward.
DF #16 MIYAGAWA Asato (Nippon TV Beleza)
We knew that the first match was going to be a tough one, but we weren't expecting it to be this hard. However, we just have to stay positive about the one point we have earned and move onto our next match against Scotland. We will face another tough match, but we will stick together as a team and strive to earn a victory.
Schedule
Nadeshiko Japan (Japan Women's National Team) Squad, Schedule
FIFA Women's World Cup France 2019
Tournament Dates: Fri. 7 June - Sun. 7 July 2019
Group Stage:
Tue. 11 June 2019 01:00 (Japan time)
vs Argentina Women's National Team
Fri. 14 June 2019 22:00 (Japan time)
vs Scotland Women's National Team
Thu. 20 June 2019 04:00 (Japan time)
vs England Women's National Team