NEWS
Players of Nadeshiko Japan challenges themselves to heighten team quality ahead of the FIFA Women's World Cup France 2019
30 May 2019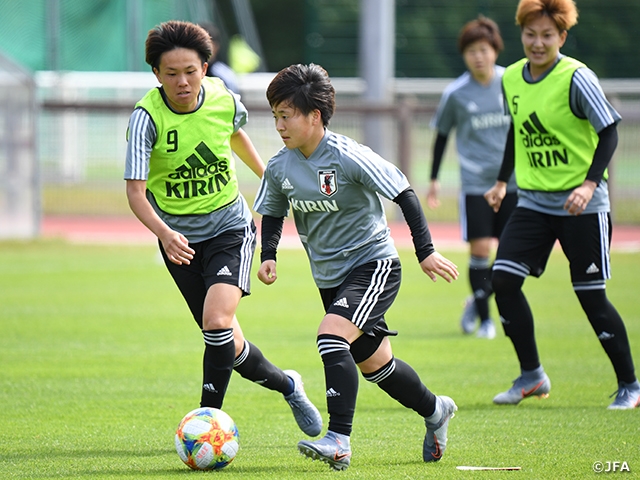 With their final training match ahead of the FIFA Women's World Cup France 2019 scheduled on Sunday 2 June against the Spain Women's National Team, the Nadeshiko Japan (Japan Women's National Team) resumed their trainings at Le Touquet, a town in northern France.
Following their first training session held in France on the day before, this day featured another two-part session where the team conducted one half of their session in the morning and the other half in the afternoon. The morning session started with an agility drill, followed by variations of possession drills, and concluded with a 6 vs 6 mini game including the goalkeepers. While the skies were clear in the morning, the session in the afternoon was held under a rain shower, but the team showed great intensity to go over drills that emphasised on their defensive approach against crosses.。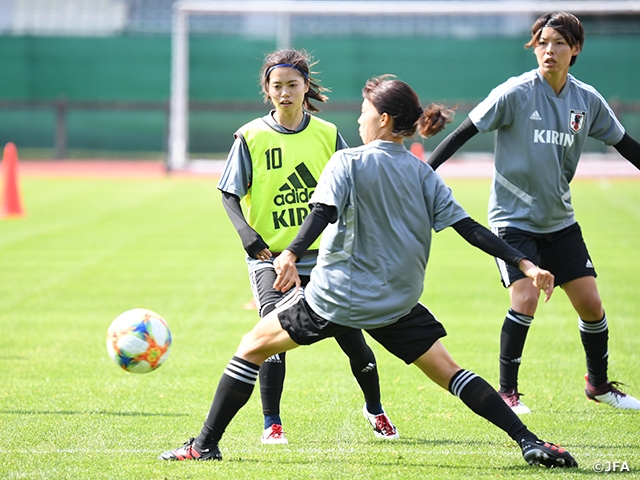 In terms of their physical aspect, the team focused on their agility, while in terms of strategical aspect, ball possession and player involvement were the key emphasis of the team. The players were seen challenging themselves to strengthen both their strong points and their weak points to heighten the quality of the team.
The Nadeshiko Japan will play in an international friendly match against the Spain Women's National Team on Sunday 2 June, followed by their first group stage match of the FIFA Women's World Cup France 2019 against Argentina.
Players' Comments
DF #3 SAMESHIMA Aya (INAC Kobe Leonessa)
We are still dealing with our jet-lags, but we are given a wonderful environment to train ourselves, so our condition is not so bad. We have spent a lot of time on our defence during our training camp in Japan, so I am looking forward to testing it in a real match. We faced Spain at the Algarve Cup two years ago, where we couldn't keep up with their ball movements and struggled to create anything in our offence neither. They must have gotten better since we faced them last time, so we will see how much we can cope with them, while we test out what we have been working on.
MF #17 MIURA Narumi (Nippon TV Beleza)
Today, we spent a lot of time on our passes, where we emphasised on the speed and accuracy of our passes so that we don't lose possession of the ball. The grass is long and sticky, so we must get used to this pitch condition. The environment is great, and the team is surrounded with a positive vibe. I feel like we are gradually getting ourselves mentally prepared for the tournament. Although this is my first World Cup, I am not so worried, but rather feeling excited to see what I can do at the world's biggest stage.
FW #9 SUGASAWA Yuika (Urawa Red Diamonds Ladies)
We have been able to communicate with each other both on and off the pitch, and the team atmosphere is very positive. With this being only our third day in France, we still need to make many adjustments, but we still have plenty of time before the tournament, so we hope to prepare ourselves well within the remaining time. Ahead of the first match, it is important that each player gets themselves into their best conditions.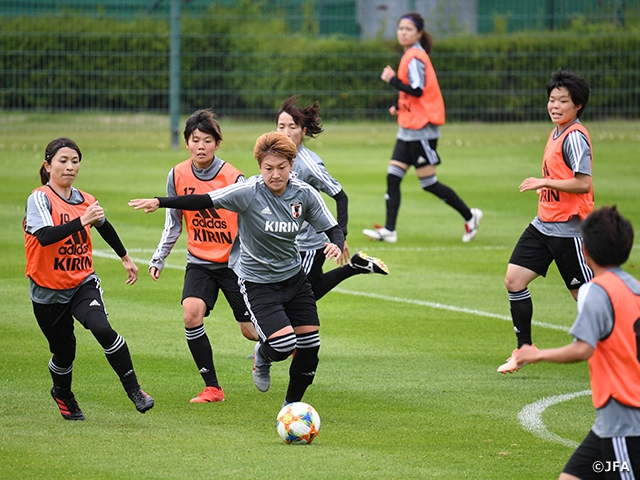 Schedule
Nadeshiko Japan (Japan Women's National Team) Squad, Schedule
FIFA Women's World Cup France 2019
Tournament Dates: Fri. 7 June - Sun. 7 July 2019
Group Stage:
Tue. 11 June 2019 01:00 (Japan time)
vs Argentina Women's National Team
Fri. 14 June 2019 22:00 (Japan time)
vs Scotland Women's National Team
Thu. 20 June 2019 04:00 (Japan time)
vs England Women's National Team