NEWS
Nadeshiko Japan hold final training session ahead of Great Britain Match
24 July 2021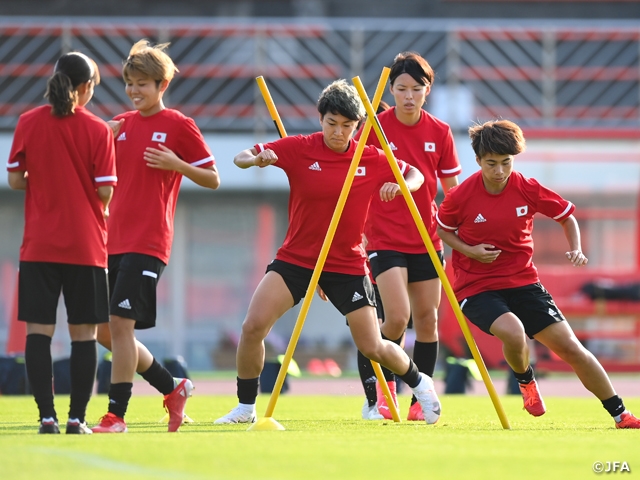 On Friday 23 July, the Nadeshiko Japan (Japan Women's National Team) held their final training session ahead of their second group state match against the Great Britain Women's National Team.
With the matches in the Olympics being played every three days, teams need to start preparing for their next match as soon as they are done with a match. The players must take care of their bodies while also reviewing their performance and making adjustments ahead of the next match. For Japan, they had to spend their time wisely to review their match against Canada, while analysing the scout report of Great Britain.
On this day, the team held a training session which lasted about an hour, where they went through light conditioning menus before going over their set plays and other tactical plays.
Also on this day, the Nadeshiko Japan received a video message from the Blind Football Japan National Team, who will be competing in the five-a-side football tournament at the Paralympics, which gave them great power ahead of their next match.
The match between the Nadeshiko Japan and the Great Britain National Team will kick-off at 19:30 on Saturday 24 July at Sapporo Dome.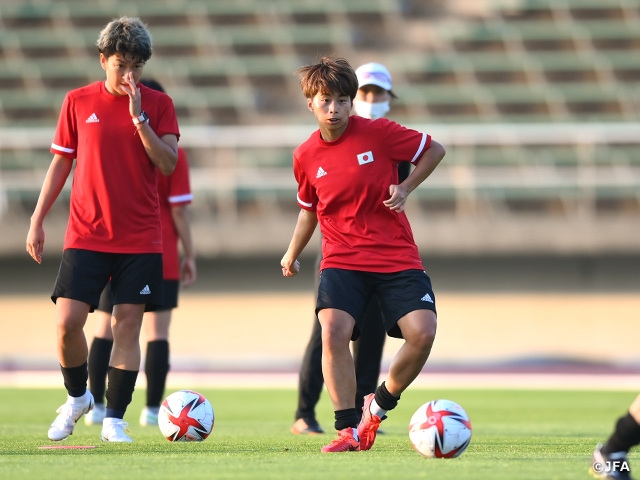 Players' Comments
DF #2 SHIMIZU Risa (Nippon TV Tokyo Verdy Beleza)
With the matches scheduled every three days, I am feeling fatigued, but I have experienced playing in two full matches on two-day rest during our international friendly matches held in April and June, so I know I am capable of playing two matches in a row. We are expecting our next match against Great Britain to be more intense, so we are fully prepared and fully motivated for this match. In terms of my offensive involvement, I must make my decision based on how our opponent plays against us. If I can make more runs upfront, it forces the opposing midfielders to drop deeper, so I will anticipate for my opportunities to press forward while also managing the risks. Great Britain is a strong team, but they are an opponent we must beat in order to win the gold medal, so we will give our utmost efforts to win this match.
MF #7 NAKAJIMA Emi (INAC Kobe Leonessa)
The early goal we conceded in our match against Canada was scored by the player I was marking, so that is an aspect I must fix. Although we were able to equalise at the end, we were not communicating enough in defence. Great Britain is a team with sound techniques, and their ability to pass the ball is at a level we don't normally see in Japan. Their attackers are very powerful and critical at the final third. It was great that we were able to earn a point in our first match, but it doesn't change the fact that this next match is extremely important for our advancement to the next round. As long as we can execute our game plan and play our usual football, I am confident that we can earn positive results, so I will try to work even harder than our previous match against Canada, fight hard for the ball and get myself more involved in our offence.
MF #14 HASEGAWA Yui (AC Milan/Italy)
Ideally, we would like to possess the ball to take control over the match, but as our opponent gets stronger, we will have less opportunities to possess the ball. The fact that we were able to experience that in our first match means a lot. The early goal we conceded is something we need to address and improve on, but we should be proud of ourselves for keeping the damage to the minimum despite applying numbers upfront. In our match against Great Britain, we will prioritise our defence and try to build our offence from it. We will also try to add layers to our offence and effectively utilise the width of the field to create more opportunities. After watching the match of the U-24 Japan National Team, I was impressed by their aggressive approach to score a goal, which was something we lacked in our first match. It reminded me the importance to showcase your willingness and determination to score goals.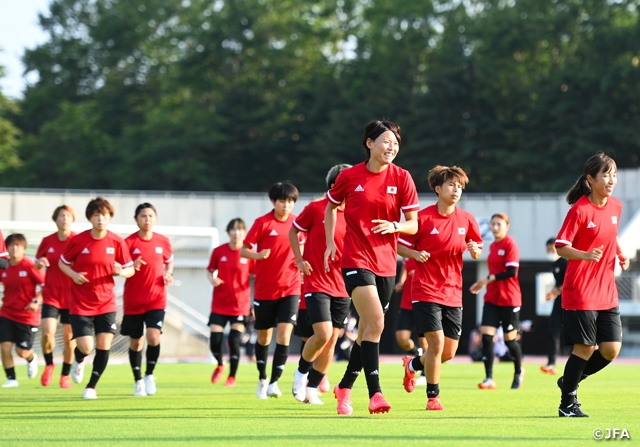 Games of the XXXII Olympiad (Tokyo 2020)
Football competition: Wed. 21 July - Sat. 7 August 2021