NEWS
Nadeshiko Japan prepare ahead of Great Britain match as the Tokyo Olympics Opening Ceremony takes place
23 July 2021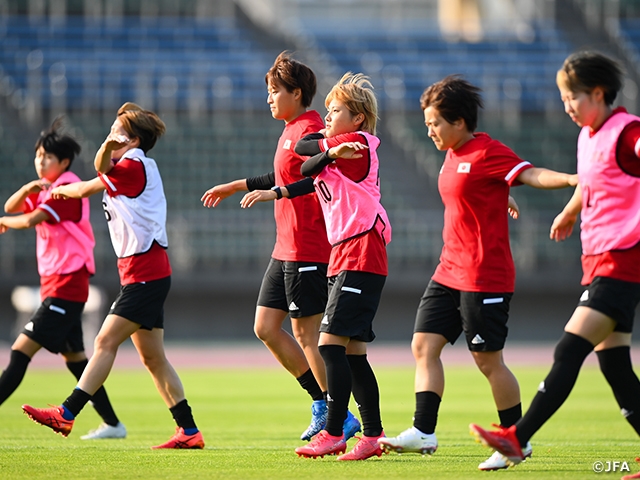 Following their 1-1 draw against the Canada Women's National Team, the Nadeshiko Japan (Japan Women's National Team) held a training session on Thursday 22 July to prepare for their next match against the Great Britain Women's National Team.
After coming from behind to earn a point in their opening match, players who played more than 45 minutes stayed at the hotel to recover their conditions. The remaining players appeared at the training site to hold a training session that lasted about an hour.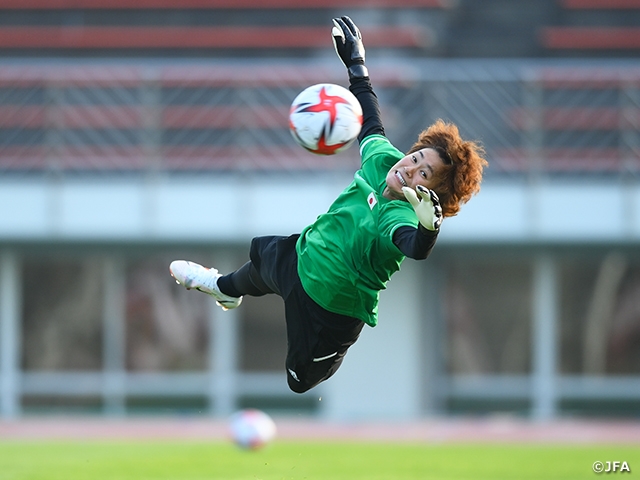 10 players (two goalkeepers, eight field players) were seen on the pitch, as the team went through simple drills that were designed to cover specific areas of the game. With the Olympic tournament being held in a short period of time, the overall strengths of the team will be tested, which means that all players, including the reserve players, must keep their conditions high throughout the tournament. Because the reserve players are ready to play at any given time, the starting players can give their utmost efforts without holding back.
The Nadeshiko Japan's second group stage match against the Great Britain Women's National Team will take place on Saturday 24 July, one day after the opening ceremony of the Tokyo Olympics.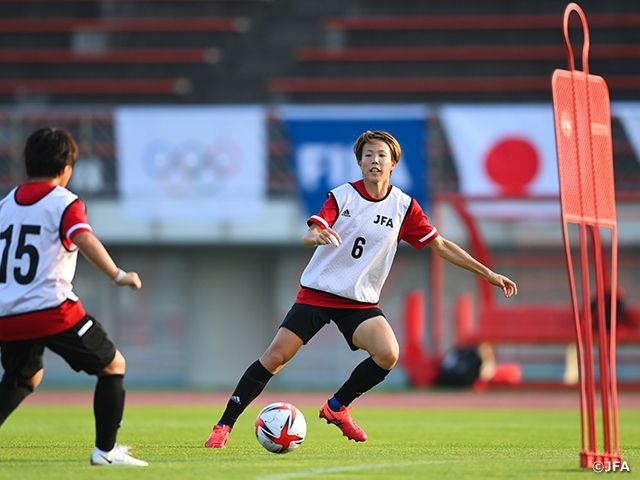 Players' Comments
DF #5 MINAMI Moeka (Mitsubishi Heavy Industries Urawa Reds Ladies)
The early goal we conceded made it a tough match for the team, so that is something I need to reflect and improve on as a defender. We should consider this draw as a positive result and try to make the most of this experience. We learned a lot in terms of game management, so we will continue to make efforts to showcase a better performance in our next match. Great Britain's Ellen WHITE is a spectacular player, so we must keep an eye on her, but it goes without saying that they have many other players who we need to be careful of, so we will try to stay focused to keep the opponents from creating chances.
DF #17 KITAMURA Nanami (Nippon TV Tokyo Verdy Beleza)
With the match being played without a crowd, it didn't really feel like we were playing in the Olympics, but our opponent made us realise how high the competition can be. We will be facing stronger teams down the line, so every player must keep their conditions up and be ready to play at any given time. I wasn't really nervous, but after conceding the opening goal in the first half, I was a bit hesitant to push forward, so that is an aspect I must fix. I wasn't able to get myself involved in the team's offence against Canada, so I will try to make more runs against Great Britain and deliver more crosses. Playing matches with just a two-day rest is tough, but we will try to make the most of the given time to prepare ourselves.
FW #9 SUGASAWA Yuika (Mitsubishi Heavy Industries Urawa Reds Ladies)
The fact that we conceded in the early minutes is something we need to fix, but we should also consider the late equaliser scored by (Iwabuchi) Mana as a positive takeaway and make the most of this experience ahead of our next match. As the starting forward, I entered the match with the intention to take as many shots as possible. But after seeing very little opportunities created in the attacking third, I focused on making contributions to our defence. I am a bit fatigued from the match, but I will do my best to recover my condition and prepare myself for our next match against Great Britain. I wasn't satisfied with my performance, and I really wanted to make up for it in the second half, but after being substituted, I entrusted Tanaka to get the job done.
Games of the XXXII Olympiad (Tokyo 2020)
Football competition: Wed. 21 July - Sat. 7 August 2021