NEWS
"FIFA Women's World Cup Canada 2015" groups decided
07 December 2014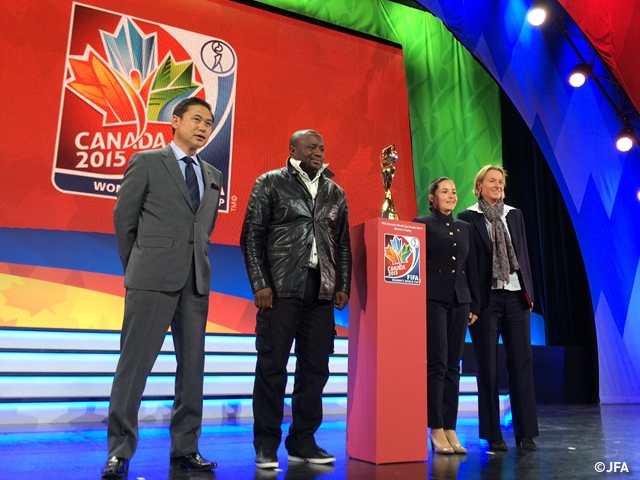 The FIFA held the final draw of FIFA Women's World Cup Canada 2015 on 6 December and groups were decided as follows. Nadeshiko Japan (Japan Women's National Team) are placed in Group C and will take on Switzerland, Cameroon, Ecuador.
FIFA Women's World Cup Canada 2015 Groups (Draw Results)
Group A: Canada (A1), China PR (A2), New Zealand (A3), Netherlands (A4)
Group B: Germany (B1), Cote d'Ivoire (B2), Norway (B3), Thailand (B4)
Group C: Japan (C1), Switzerland (C2), Cameroon (C3), Ecuador (C4)
Group D: United States (D1), Australia (D2), Sweden (D3), Nigeria (D4)
Group E: Brazil (E1), Korea Republic (E2), Spain (E3), Costa Rica (E4)
Group F: France (F1), England (F2), Colombia (F3), Mexico (F4)
Match Schedule for Nadeshiko Japan
*The dates are local time and kickoff time to be confirmed.
Group Stage
Mon. 8 June
Japan vs Switzerland
BC Place Stadium/Vancouver
Fri. 12 June
Japan vs Cameroon
BC Place Stadium/Vancouver
Tue. 16 June
Ecuador vs Japan
Winnipeg Stadium/Winnipeg
Knockout Stage
Sat. 20 June
ROUND OF 16 (2A vs 2C)
Commonwealth Stadium/Edmonton
Sat. 20 June
ROUND OF 16 (1B vs 3ACD)
Lansdowne Stadium/Ottawa
Tue. 23 June
ROUND OF 16 (1C vs 3ABF)
BC Place Stadium/Vancouver
Fri. 26 June or Sat. 27 June
QUARTER-FINALS
Tue. 30 June or Wed. 1 July
SEMI-FINALS
Sat. 4 July
MATCH FOR THIRD PLACE
Commonwealth Stadium/Edmonton
Sun. 5 July
FINAL
BC Place Stadium/Vancouver
Comment of SASAKI Norio, Head Coach (Nadeshiko Japan)
We were placed in the group which the opponents' information are limited but I know we cannot underestimate them and expecting all the matches going to be not easy game for us as the standard of women's football is getting higher in recent years. I am going to make sure with the squad, we aim to reach for the final with better condition. The first match is important, Switzerland managed to won highly competitive European qualifiers and have quite a few systematic and high caliber players in the squad. Since the previous world cup, the players of Nadeshiko Japan brushed up their individual skills. Raising team standard and performance game by game, I am determined to embark on new challenge for winning the world cup again.