NEWS
Players display heated battles in All Japan University Women's Football Championship
27 December 2015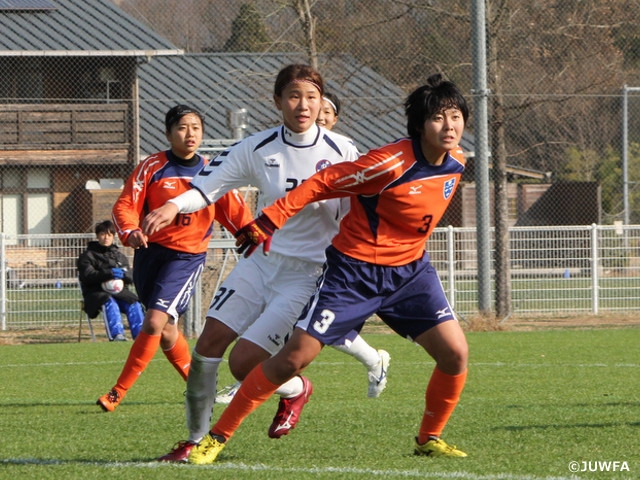 The 24th All Japan University Women's Football Championship kicked off at Miki Sogo Bosai Park in Miki, Hyogo Prefecture, on 26 December. A total of 16 teams who represent their respective regions around the nation played their first-round matches.
Pick-up Match 1
Kibi International University 2-1 (1-1, 1-0) Keio University
In a game between Kibi International University, who finished third in the previous edition, and a newcomer Keio University, Kibi grabbed the pace from early and scored a goal from a free kick in the 4th minute.
While Kibi International kept possessing the ball, Keio had a counter attack, taking advantage of a rare chance, and HORII Mizuki fired a shot with her left leg. Horii netted it to tie. Keio made some critical scoring opportunities from their collective defensive plays, but the game entred halftime as it was.
Kibi International had hard times having their own rhythm. But they substituted two players into the second half and it paid off. In the 55th minute, KOMATSU Mina had a perfect timing with a cross from the right and scored a game-winning goal as Kibi International grabbed a big win for the championship.
Match details (Japanese version only)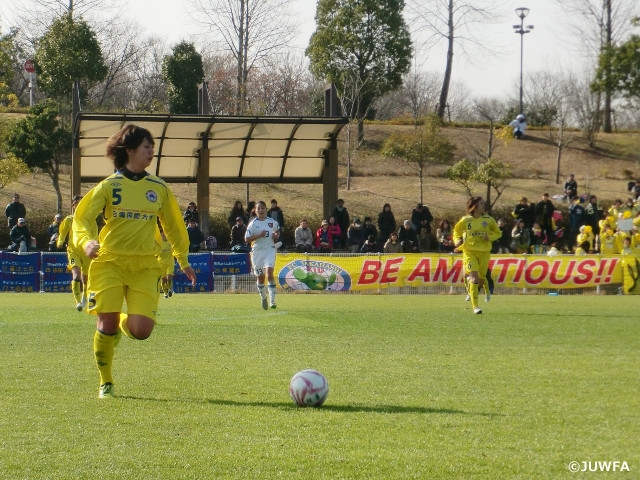 Pick-up Match 2
Mukogawa Women's University 4-0 (2-0, 2-0) Shikoku University
Mukogawa Women's University have competed in the tourney for 19 times and they took on Shikoku University, who are making their debut in it. Mukogawa Women's were in attack mode from the beginning. On 9th minute, UENO Eri headed a corner kick from the right into the goal to give the team a lead. In the 30th minute, MIYATA Arisa reacted to the ball that was cleared by the Shikoku goalkeeper and scored to make it 2-0 for Mukogawa before halftime.
Early in the second half, Shikoku had the pace. They created chances from accurate ball possessioning around UMEZU Moe, but weren't able to have a goal. Mukogawa Women's capitalized on their signature counter attacks and Miyata and MUNEYASU Aoi added two more goals, in the 84th and 87th minutes, respectively, as the team posted a 4-0 win in the end.
Match details (Japanese version only)
Pick-up Match 3
Sendai University 4-1 (2-1, 2-0) Sapporo University
Sendai University, who are the first representative team from Tohoku, played against Sapporo University, who actually played as a joint team. Sapporo University managed to defend Sendai's attacks early and UEMURA Sana earned a free kick after she dribbled up in the mid field. EMA Yuri made the free kick directly into the goal to take a lead.
The trailing Sendai University tied the game as TAKANO Saori headed a corner kick from the right into the goal in the 17th minute. Sendai University kept attacking and Sapporo University managed to defend with patience, but KAGA Koko made a penalty in the stoppage time to give a 2-1 lead before the contest went into halftime.
Sendai kept their momentum into the second half as well. MONMA Kanami scored a goal in the 50th minute and Kaga netted another goal, her second score of the game, in the injury time as Sendai University post a 4-1 win.
Match details (Japanese version only)
Other Matches
Fukuoka University/Kyushu International University 0-3 (0-1, 0-2) Aichi Toho University
Hachinohe Gakuin University 0-8 (0-4, 0-4) Musashigaoka College
IPU Women's College 4-0 (3-0, 1-0) Kobe Shinwa Women's University
Shinshu University 0-8 (0-3, 0-5) Juntendo University
Kyushu Kyoritsu University 0-8 (0-4, 0-4) Kanagawa University
Flash match reports of the championship will be tweeted on the official Japan University Women Football Association account Twitter(@_juwfa).
The latest information will be also posted on Facebook and Instagram (@_juwfa).
Official website (Japanese version only)
Coach and Players' Comments
KANBARA Misaki (Kibi International University)
We were able to beat Keio University 2-1 in our first inter-collegiate championship game. We took a lead early, but struggled against Keio's fast attacks, strengths with the ball and accurate long balls, and we allowed a goal to entre halftime at 1 all. All of us shared our objective during halftime, looking back how we played in the first half, to make the role clearer for each of us to get back in the pitch for the second half.
We had some moments that we were threatened by them, but the players who came in late as substitutes came through and we could score goals. Today's victory was won with the effort by our entire team. While I had some nerves as this is the final tournament for the fourth-year players, we would like to channel the win into confidence, and go for getting another win as we will keep playing aggressively in the second round in the way Kibi always plays.
YOSHIKAWA Aki (Mukogawa Women's University)
Because it was our first game of the tournament, I felt that we played a little stiff earlier in the game than we usually do. We scored one in the 15th minute and second in the 30th, and after that I thought we would be able to play our own ball gradually. We wound up posting a 4-0 win, but we still have things that we could do better regarding how we play, so hopefully, we will give everything we got and wind up winning in the end in our next game against Tokyo International University.
SUNAGA Manami (Sendai University)
As we play in a national championship, we had to play in a different atmosphere with some nerves. Also, because it was our first game, it gave us some difficulties in terms of how we entred the game. We had some hard times, but I think it was good that we were able to take advantage of our strengths. We will face Shizuoka Sangyo University in the second round. I believe it's going to be a tough match, but with the momentum that we've qualified through the first round, we would like to play in the way Sendai University plays and try to win it having some fun.
All Japan University Women's Football Championship
2015-12-26 (Sat.) - 2016-1-17 (Sun.)
More information