NEWS
U-16 Japan National Team loses against Senegal in their second match of U-16 International Dream Cup 2018 JAPAN presented by The Asahi Shimbun
16 June 2018
U-16 International Dream Cup 2018 JAPAN presented by The Asahi Shimbun
2nd Match vs U-16 Senegal National Team
Fri. 15 June 2018 Kick-off 18:03 90mins (45mins x2)
Yurtec STADIUM SENDAI, Sendai City
U-16 Japan National Team 0-2 (0-1, 0-1) U-16 Senegal National Team
Scores
7' Goal against (U-16 Senegal National Team)
69' Goal against (U-16 Senegal National Team)
Starting Line-ups
GK: YAMADA Taiki
DF: SUMI Kohshiro, SUZUKI Kaito, IWASAKI Mana, OKUSHI Shohei
MF: NARUOKA Hikaru, YOKOKAWA Asahi, YAMANE Riku, NAKANO Keita
FW: KABAYAMA Ryonosuke, TANAKA Zen
Reserves
GK: SASAKI Masato
DF: HANDA Riku, SAKO Maaya, NAKANO Shinya
MF: YAMAUCHI Kakeru
FW: AOKI Yusuke, TOYAMA Shoji
Substitutions
HT IWASAKI Mana → HANDA Riku
HT OKUSHI Shohei → NAKANO Shinya
HT YAMANE Riku → YAMAUCHI Kakeru
58' TANAKA Zen → TOYAMA Shoji
73' KABAYAMA Ryonosuke → SAKO Maaya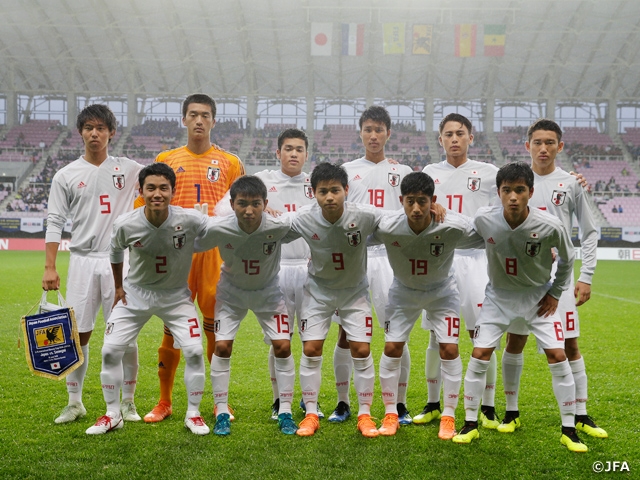 Match Report
The U-16 Japan National Team participating in the U-16 International Dream Cup 2018 JAPAN presented by The Asahi Shimbun played their second match against U-16 Senegal National Team on Friday 15 June. Already losing their first match, the team had to win this match in order to keep their hopes alive to win the title, but lost the match 0-2.
Coach MORIYAMA Yoshiro preached the team ahead of the match to "strive forward even when facing top flight teams of the world," and to "outrun and fight harder than the opponents." However, just as they did against Paraguay two days ago, the team struggled to find its rhythm early on. In the seventh minute, Senegal capitalised on Japan's missed opportunity to clear the ball in the defence line. Japan eventually found ways to move the ball around, but still struggled to connect the ball effectively to create chances. KABAYAMA Ryonosuke and YAMANE Riku made their attempts from distance but both failed to threaten the opposing goal. Conversely, Senegal came close to extending their lead towards the end of the half, but the Japanese defence line managed to avoid further damage, entering halftime with a score of 0-1.
In efforts to rally back, Japan brought in three substitutes during halftime and came out attacking aggressively in the second half. However, their efforts fell short from creating major opportunities and their momentum gradually simmered down. Despite their early dominance in the second half, Japan was caught off guard on the 69th minute, allowing Senegal to score their second goal to extend the lead. The Japanese side kept on attacking, but could not find ways to break through the final line of the athletic African side. Japan struggled greatly until the very end against Senegal's unique rhythm, losing the match with a final score of 0-2.
With the two loses, U-16 Japan National Team is out of the title contention, but they will seek to earn their first points when they face the U-16 Spain side who are currently in first place, on Sunday 17 June.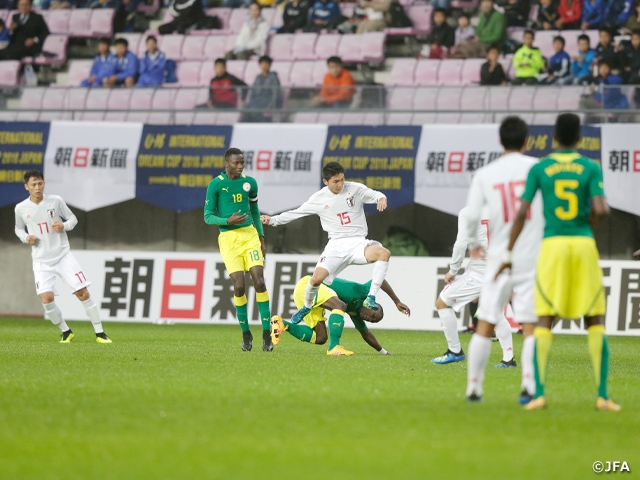 Players' Comments
GK #1 YAMADA Taiki (Kashima Antlers Youth)
This result of us losing two matches in two tries is disappointing. We entered the match keeping in mind what we lacked in our match against Paraguay, but we conceded early in the match again and gave up the initiative to our opponents. We must do a better job in terms of entering the match and not conceding the opening goal. In our attacks, we lacked quality in our last passes and couldn't get in sync with each other to score a goal. In defence, we must be more alert and remain alerted at all times to avoid being scored on. There were situations where we lost the one-on-one battles, so we must train ourselves to be able to fight against physically stronger teams, especially against these African teams. In order for us to compete in the world, each players must acknowledge the gap and improve individually. We must learn from the two matches, build up on what we have worked on thus far, and discuss with the team to win our last match against Spain.
DF #2 SUMI Kohshiro (FC Tokyo U-18)
Today's match made me realise that small matters can accumulate into a huge difference. We struggled once again to build our momentum in the first 20 minutes. Even though we gradually found our rhythm, we couldn't find ways to take shots, and were caught off guard to concede another goal off a counter attack. Each individuals must demand more to heighten the overall team level. I personally struggled to cope against the speedy opponents, but managed to make the adjustments during the match. Through this match, I feel the growth both as a team and as an individual. We can't win the title anymore, but we would like to fight as a team to win against Spain.
DF #17 IWASAKI Mana (Yokohama F・Marinos Youth)
I was able to enter the match against Senegal with high motivation and great condition, both physically and mentally. In our match against Paraguay, we lacked intensity in the way we entered the match and the first 20 minutes of the match had to be improved. However, we couldn't cope against the African side who utilised their physical advantage to win the balls ahead of us in many scenes. Despite our team entering the match determined to win, we couldn't perform the way we visualised and ended up losing the match in a shutout. We must analyse what we did well and did poorly ahead of our last match against Spain, so that we can prepare ourselves to win the match.
DF #19 OKUSHI Shohei (Gamba Osaka Youth)
Today's match was disappointing for both the team and myself personally. In a personal standpoint, I couldn't attack the crosses and respond to the long balls from the other end in a timely fashion, both of which allowed the opponents to create chances against us. I did however, managed to compete in the one-on-one situations and made numbers of interceptions, so I will take that as a positive. In offence, our passes were off target, and we didn't challenge our opponents enough. As a team, it took some time for us to get used to the opponents' athleticism and conceded early, making it that much harder on ourselves for the remainder of the match. We did managed to take control of the match after a while, and carried the ball upfront multiple times, but the quality of our last passes were not there, and we couldn't finish our attacks with a shot. Although we kept possession of the ball for a long time, we didn't prepare well against counter attacks. I think we can feed off of this experience and improve as a team. We will do our best to prepare well ahead of our final match against Spain.

Schedule
Sun. 10 June
PM
Training
Mon. 11 June
AM
PM
Training
Training Match vs U-16 Miyagi Prefecture Select
Tue. 12 June
AM
PM
Training
Official Training
U-16 International Dream Cup 2018 JAPAN presented by The Asahi Shimbun (Sendai City)
Wed. 13 June
2-3
1st Match vs U-16 Paraguay (Yurtec STADIUM SENDAI)
Thu. 14 June
AM
Training
Fri. 15 June
0-2
2nd Match vs U-16 Senegal (Yurtec STADIUM SENDAI)
Sat. 16 June
AM
Training
Sun. 17 June
14:30
3rd Match vs U-16 Spain (Yurtec STADIUM SENDAI)
*The schedule is subject to change due to the team condition, the weather, etc.

Wed. 13, Fri. 15, Sun. 17 June 2018 [Free Admission]
Japan/Senegal/Spain/Paraguay
Yurtec STADIUM SENDAI, Miyagi