NEWS
U-16 Japan National Team loses to Paraguay in their first match of the International Dream Cup
14 June 2018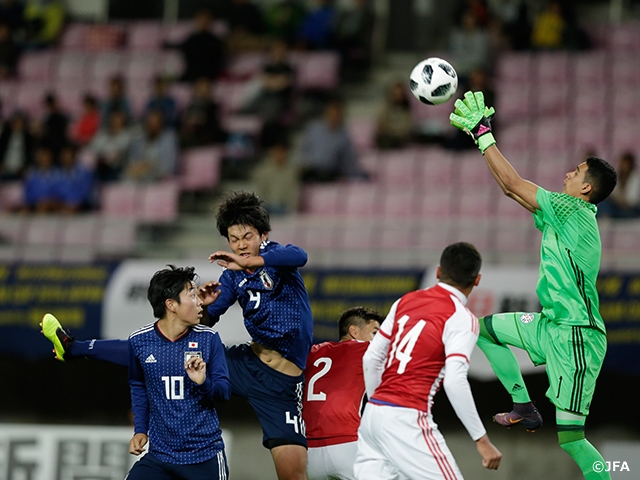 U-16 International Dream Cup 2018 JAPAN 1st Match vs U-16 Paraguay National Team
Wed. 13 June 2018 Kick-off 18:04 90mins (45mins x2)
Yurtec STADIUM SENDAI, Sendai City
U-16 Japan National Team 2-3 (1-2, 1-1) U-16 Paraguay National Team
Scores
12' Goal against (U-16 Paraguay National Team)
22' Goal against (U-16 Paraguay National Team)
35' SAKO Maaya (U-16 Japan National Team)
52' Goal against (U-16 Paraguay National Team)
56' AOKI Yusuke (U-16 Japan National Team)
Starting Line-ups
GK: SASAKI Masato
DF: HANDA Riku, SUZUKI Kaito, SAKO Maaya, NAKANO Shinya
MF: YAMAUCHI Kakeru, YOKOKAWA Asahi, NARUOKA Hikaru, NAKANO Keita
FW: AOKI Yusuke, TOYAMA Shoji
Reserves
GK: YAMADA Taiki
DF: SUMI Kohshiro, OKUSHI Shohei, IWASAKI Mana
MF: YAMANE Riku
FW: KABAYAMA Ryonosuke, TANAKA Zen
Substitutions
67' YOKOKAWA Asahi → YAMANE Riku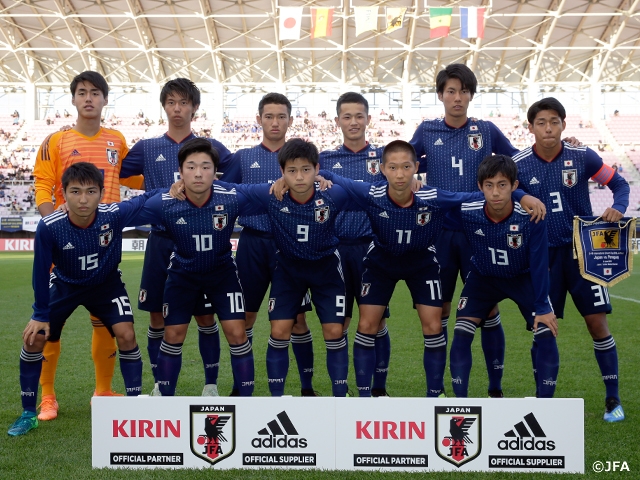 Match Report
Wednesday 13 June saw the opening day of the U-16 International Dream Cup 2018 JAPAN presented by The Asahi Shimbun. U-16 Japan National Team played their first game against U-16 Paraguay National Team.
With both teams engaging in a competitive battle, Japan lost to Paraguay 3-2.
Coach MORIYAMA Yoshiro told the Japanese players prior to the match, "to enjoy the battles" and "to keep the defence compact, while making attacks towards the goal." However, Japan struggled to find their rhythm against Paraguay, who entered the match with great intensity. In the 12th minute, Paraguay struck the opener with a header off a corner kick. Despite the Paraguayan side keeping the aggressive pressure on, Japan managed to move the ball towards the goal several times, but they failed to convert their opportunities, as they lacked quality in the final third. While Japan struggled to find the back of the net, Paraguay scored a mid-range shot in the 22nd minute, stretching their lead to two goals. Japan would gradually find it's rhythm after this goal. Forward AOKI Yusuke attempted a shot but just missed to the right side of the goal. In the 35th minute, midfielder NAKANO Keita delivered a cross from a free kick, allowing defender SAKO Maaya to head the ball into the net, giving Japan their long awaited goal. Forward TOYAMA Shoji came close to scoring the equaliser, but his shot struck the post. The match entered halftime with a score of 1-2.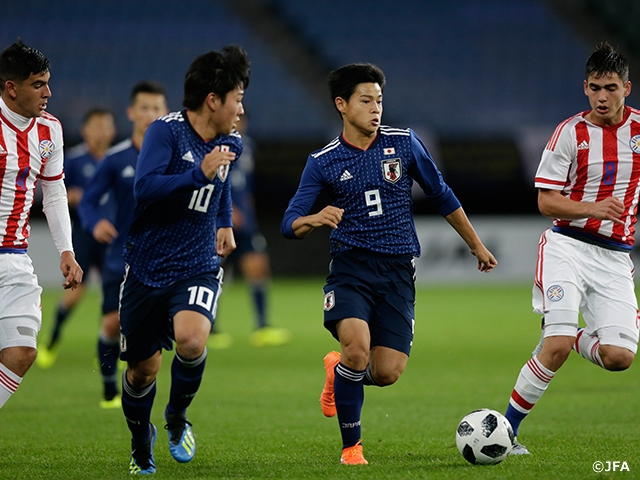 The second half saw Japan taking control of the ball possession, however, it was the Paraguayan side who scored the next goal. In the 52nd minute, Paraguay penetrated the penalty area from the right side before launching a shot. The Japanese goalkeeper was able to get his hand onto the ball, but the shot carried enough momentum to find the back of the net, once again extending their lead to two goals. Japan responded quickly, as Nakano carried the ball up front before delivering a through ball to Aoki in the 56th minute. Aoki superbly slotted the ball into the goal with one touch, cutting Japan's deficit into half. With the momentum on their side, Japan showed their eagerness to level the match, but they could not create opportunities to take shots. Despite their efforts, Japan came short from scoring the equaliser, dropping their first match 2-3 against Paraguay.
With this result, Japan can no longer afford to lose in order to win the title, as they face U-16 Senegal National Team on Friday 15 June.
Players' Comments
DF #4 SAKO Maaya (Tokyo Verdy Youth)
It was very regretful the way we played today. I personally was caught off guard, and I think the team was also caught off guard to concede early. We fought hard as a team to take control of the match, but we lacked quality in our final third to score the equaliser. We still have more matches to come, so we must reset our mind and reflect on our match today to fight as a team in our next match. We will give our best to win the remaining two matches.
DF #13 NAKANO Shinya (Sagan Tosu U-15)
With this match against Paraguay being our first match of the cup, we really wanted to win. However, there were scenes where I couldn't respond well against balls played behind my back, and one-on-one situations. I would like to improve my plays in those aspects in our next match. As a team, we lacked quality in front of the goal today, so we must improve that. We will fight as a team in our remaining matches to earn wins.
MF #15 NARUOKA Hikaru (Shimizu S-Pulse Youth)
It is disappointing in both the way we played today and the result. We entered the match too light, and we were exploited by our opponents, resulting in conceding an early goal. The fact that we managed to score a goal in the first half helped us gain momentum and dominate the match for a while. However, despite creating many chances, we failed to convert them, so that was regretful. I personally felt like I played hard for the entire 90 minutes, but there were scenes where I made easy mistakes, so I must brush up on my plays and play better as a team in our next match.
FW #10 AOKI Yusuke (FC Tokyo U-18)
After finishing our first match, I am feeling regretful. We conceded two goals in the first half and gave away the momentum to our opponents. Although there were stretches we struggled to find our rhythm, we managed to score back two goals, so we should take that as a positive. Of course, winning the match is the best result we can hope for, and the fact we couldn't win reflects our weakness. Even though I was able to score a goal, I still felt the need to mentally be stronger and fight with more intensity in fifty-fifty situations. I still have many aspects to improve and I need to be keener to score goals. I would like to contribute to my team's victory by pressing hard from the attacking end to force turnovers and score more goals.

Highlights of U-16 Japan vs U-16 Paraguay match
Schedule
Sun. 10 June
PM
Training
Mon. 11 June
AM
PM
Training
Training Match vs U-16 Miyagi Prefecture Select
Tue. 12 June
AM
PM
Training
Official Training
U-16 International Dream Cup 2018 JAPAN presented by The Asahi Shimbun (Sendai City)
Wed. 13 June
2-3
1st Match vs U-16 Paraguay (Yurtec STADIUM SENDAI)
Thu. 14 June
AM
Training
Fri. 15 June
18:00
2nd Match vs U-16 Senegal (Yurtec STADIUM SENDAI)
Sat. 16 June
AM
Training
Sun. 17 June
14:30
3rd Match vs U-16 Spain (Yurtec STADIUM SENDAI)
*The schedule is subject to change due to the team condition, the weather, etc.

Wed. 13, Fri. 15, Sun. 17 June 2018 [Free Admission]
Japan/Senegal/Spain/Paraguay
Yurtec STADIUM SENDAI, Miyagi