NEWS
Tosu defeats Higashi Fukuoka in matchup between two Premier League sides - Prince Takamado Trophy JFA U-18 Football Super Prince League 2020 Kyushu
12 October 2020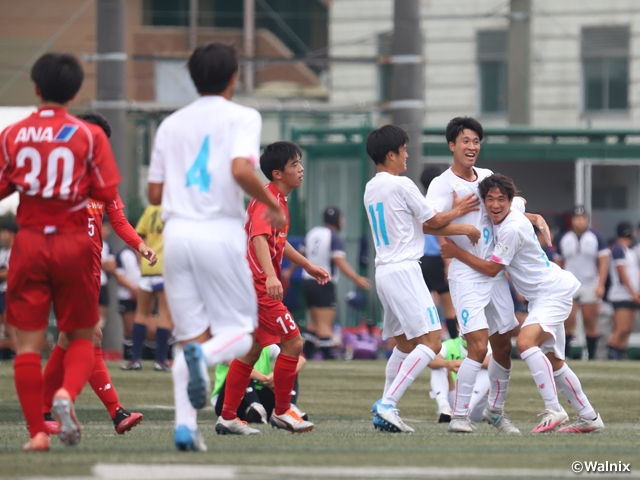 On Sunday 11 October, the postponed fixture of Prince Takamado Trophy JFA U-18 Football Super Prince League 2020 Kyushu took place, as Higashi Fukuoka High School (Fukuoka) faced Sagan Tosu U-18 (Saga) in the makeup match from the first sec.
Pick-up Match
Higashi Fukuoka High School 0-2 (0-2, 0-0) Sagan Tosu U-18
After winning their way through last year's Prince Takamado Trophy JFA U-18 Football Premier League 2019 Play-Off, Sagan Tosu was supposed to enter the Premier League this season, but their challenge was postponed for another season, due to the effects of COVID-19. However, with the team facing the only other team from the Premier League, coach TANAKA Tomonori mentioned, "Higashi Fukuoka is the only team from the Premier League, so we wanted to get a feel of the Premier League from this match."
Just as their coach was eager for the matchup, the players of Tosu also looked enthused, as they started off the match with great aggression. While the team kept their composure to move the ball around in their own territory, they penetrated the flanks by collecting the ball to KODAMA Reoto (#11) and SAGARA Ryunosuke (#10), who are both scheduled to be promoted to the club's top team. Even when they lost possession of the ball, the team applied high pressure from their frontline, as coach Tanaka later mentioned, "As a team, we were committed in applying aggressive pressure from our offence line." Their aggressive approach was paid off in the 14th minute when they forced a turnover deep in the Higashi Fukuoka territory. With the ball trickling in front of the goal area, TANAKA Zen (#9) made a sliding effort to score the opening goal. Just a minute following the opener, NARAHARA Yoshiki (#26) received a pass from Kodama and struck a powerful shot that shook the net, giving Tosu an early 2-0 lead.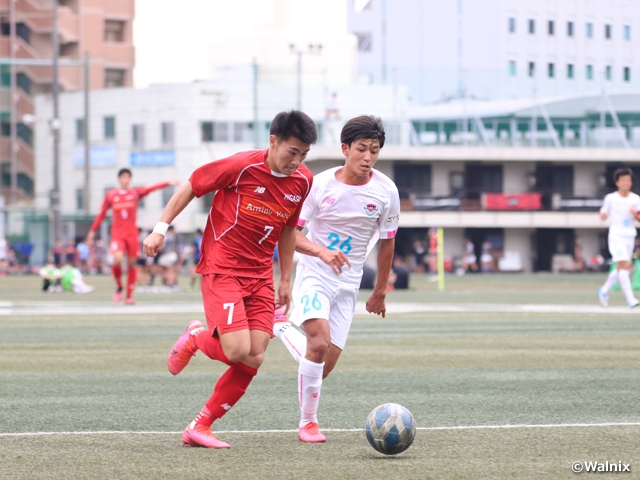 "We knew our opponent was going to try to rally back, so we wanted to counter them with solid defence and try to score another goal off them." Despite what coach Tanaka envisioned for the second half, the Tosu players seemed to be out of gas, and their high pressure defence lost its effectiveness in the second half. In efforts to level the match, Higashi Fukuoka collected the ball to AOKI Shunsuke (#7) and IWAI Takuro (#8) to create opportunities but struggled to find ways to break through the opposing defence. ISHIHARA Oura (#13) made numerous attempts to break through the right flank but fell short from threating the Tosu goal.
A big chance for Higashi Fukuoka was created in the 40th minute, when CHIYOJIMA Shun (#3) connected with a corner kick to strike a header, but his attempt was blocked by a Tosu defender who threw his body out to save the goal. With time running out, Tosu claimed a 2-0 shutout victory against the undefeated Higashi Fukuoka side. Following the match, Kodama shared his take on his team's victory, "We were not able to take control of the ball possession, but we continued to support each other and that is what led to our victory today."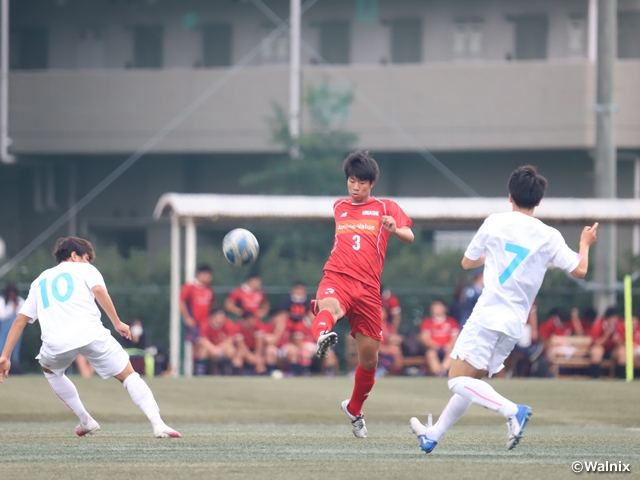 Coaches and Players' Comments
MORISHIGE Junya (Higashi Fukuoka High School)
We were not able to evade the pressure applied by our opponent, and that is why we lost the match. It was regretful that we conceded two goals from our own mistakes. Our defence could not hold up until the second half, and that is an aspect we must improve on. Although the Premier League was cancelled this year, we still managed to enter this league with high motivation. The fact that many of our players were able to play in these intense matches gave us a wonderful experience. There were no easy matches and each match presented us with a great learning experience. I hope our players will continue to give their utmost efforts in the remaining two matches.
DF #3 CHIYOJIMA Shun (Higashi Fukuoka High School)
We faced a team I used to play for until two years ago, so I really wanted to win this match. However, we were overwhelmed by the opponent's intensity and it felt like they wanted this match more than we did. I was able to matchup against Kodama for the first time in a while, and he seemed much bigger than I remembered. There were scenes where I managed to stop him, but he also dribbled past me a few times. I am sure I will be facing some of these players at college, so I am looking forward for the rematch. The two goals we conceded were from our own mistakes, so that is an aspect we must improve on. This result was disappointing, but it made us realise that we cannot win the All Japan High School Soccer Tournament if we continue to play like this, so we will feed off of this loss and try to make the most out of this experience.
TANAKA Tomonori, Coach (Sagan Tosu U-18)
This match against a Premier League side has made us realise that we must improve the quality of our build-up plays. On the other hand, it was great to see our team create opportunities from counterattacks while also keeping a clean sheet in defence. We were not able to hold sufficient training sessions and failed to win matches in the early part of the season. The players must have been frustrated, but I feel like they were able to blow off their steam in this match.
FW #11 KODAMA Reoto (Sagan Tosu U-18)
We were supposed to face them at the Premier League, so I was more focused for this match than usual. Higashi Fukuoka has won all of their matches leading to this match, while we struggled to win our matches, so this was a match we really wanted to win. We do not have a technical team this year. However, we are committed to compensate that through our hard work. We will continue to work hard in our training sessions, so that we can win the title at the upcoming Club Youth Football Championship.
Prince Takamado Trophy JFA U-18 Football Super Prince League 2020