NEWS
High school football giants Kiryu Daiichi and Maebashi Ikuei secure promotion to the Premiership! - Prince Takamado Trophy JFA U-18 Football Premier League 2021 Playoff
13 December 2021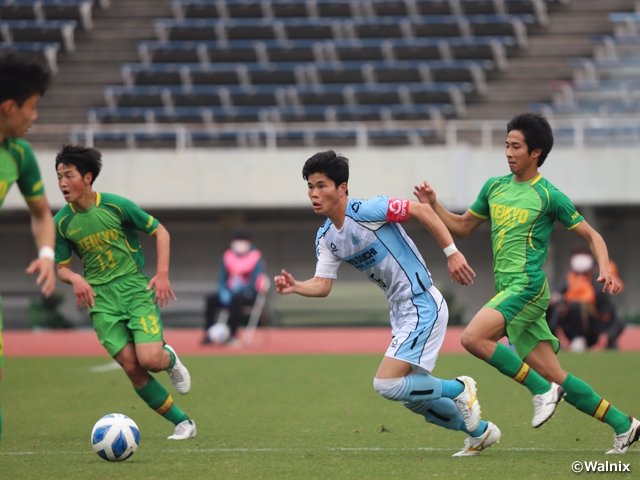 On Sunday 12 December, the second round of the Prince Takamado Trophy JFA U-18 Football Premier League 2021 Playoff took place in Hiroshima, where the six teams that will be promoted to the Premier League in 2022 were decided.
Pick-up Match1
Teikyo Nagaoka High School 3-4 (3-1, 0-3) Kiryu Daiichi High School
The fixture between Teikyo Nagaoka High School (Hokushinetsu1/Niigata) and Kiryu Daiichi High School (Kanto3/Gunma) at Edion Stadium Hiroshima resulted in a fierce battle filled with action. It was Teikyo Nagaoka who struck first, as WATANABE Yuto (#9) responded to a long feed delivered by MATSUMOTO Daichi (#3) to score the opener in the 18th minute. Despite conceding the equaliser to Kiryu Daiichi's OTSU Masato (#25), Teikyo Nagaoka retook the lead when TAKEHARA Konosuke (#6) converted a loose ball in front of the goal in the 38th minute. With MIYAKE Ryotaro (#10) setting up the goal of Watanabe in the 42nd minute, the Niigata side took a 3-1 lead into halftime.
Playing in their second match in three days, Kiryu Daiichi were put in a tough spot, but the players were not ready to wave the white flag yet, as team captain KANAZAWA Kota (#6) later reflected, "This was our final tournament and the final match playing with this squad, so we were not going to give up easily." After KURAKAMI Shinobu (#2) capitalised on the pass sent by ASADA Yota (#7) in the 73rd minute, OSUMI Toa (#13) scored the equaliser off a corner kick in the 80th minute. With momentum on their side, YOSHIDA Haruta (#11) scored the game winner in the 87th minute to send Kiryu Daiichi to the Premier League for the first time.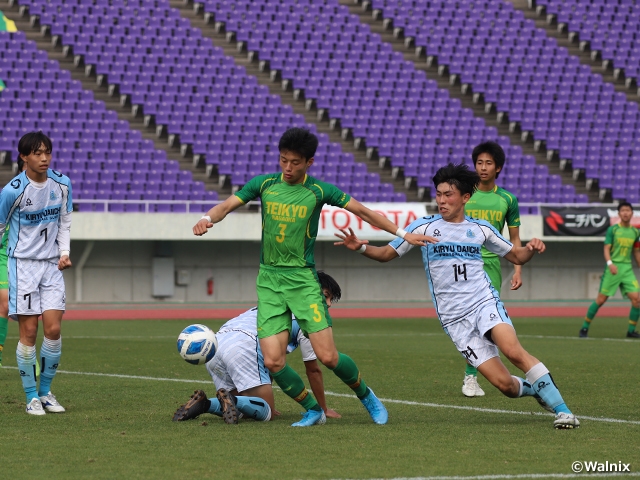 Pick-up Match2
V-Varen Nagasaki U-18 0-2 (0-2, 0-0) Maebashi Ikuei High School
For Maebashi Ikuei High School (Kanto2/Gunma), this was their fifth try to get promoted to the Premier League, as team captain KUWAKO Riku (#5) later reflected, "We wanted to be the ones making history by sending Maebashi Ikuei to the Premier League."
Facing V-Varen Nagasaki U-18 (Kyushu1/Nagasaki), Maebashi Ikuei applied aggressive pressure from the frontline, as TOKUNAGA Ryo (#14) gave directions to his side, "We knew from our analysis that they were going to try to penetrate the space behind us." By intercepting the desperate attempts made by Nagasaki, Maebashi Ikuei used the width of the field to initiate their attacks. In the 26th minute, the shot taken by MORIYA Rentaro (#9) deflected off KOIKE Naoya (#23), allowing WATANABE Ryohei (#11) to score the opening goal. With Watanabe scoring his second goal of the match during additional time of the first half, Maebashi Ikuei entered the break with a two goal lead.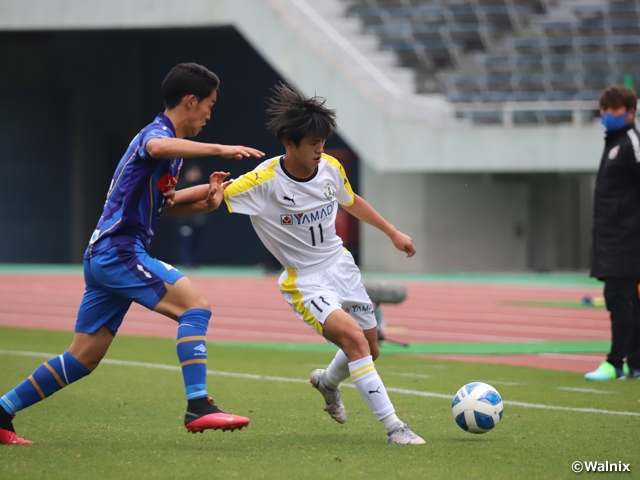 The second half saw Nagasaki picking up their pace, as NAKASHIMA Kirito (#10) and NANAMURE Aoto (#13) made attempts to create chances, but led by Kuwako, the Maebashi Ikuei defence showcased great composure to keep the Nagasaki offence at bay and won the match 2-0, as the defender later commented, "We were able to possess the ball for a long time, so we focused on managing the risks."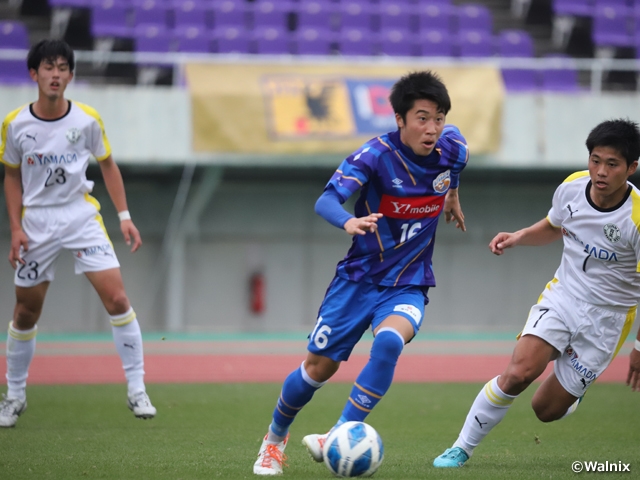 Coaches and Player's Comments
TANO Goichi, Coach (Kiryu Daiichi High School)
A lot of things went our way in our first match against Yonago Kita High School, but it was the exact opposite today, so I didn't think it would turn out this way. It was quite dramatic. The third goal came from a set piece we had been working on for this tournament, so we had a lot of confidence in that play. Our opponent was fully prepared to play against us, but I was confident that we should be able to win as long as we can showcase our usual performance. Osumi was cramping up just before he scored the equaliser, so I was hoping he would make one last play before we sub him out. It turned out that our timing was perfect.
MF #6 KANAZAWA Kota (Kiryu Daiichi High School)
After losing in the All Japan High School Soccer Tournament qualifiers, we reset our minds to qualify for the Premier League. We managed to come from behind to win the match, so I got emotional when I heard the final whistle. Once I realised that we have won the match, it made me cry even harder. We were able to lead Kiryu Daiichi to the Premier League for the first time. The juniors are capable of competing in the Premier League, so I hope they will prepare well and give their best efforts.
HARADA Takeo, Coach (V-Varen Nagasaki U-18)
The fact that we were able to win the Prince League title in our fifth year joining the league, means a lot for not only the seniors, but the younger players as well. We were not a dominating team, but it proved that there are other ways to win titles. However, we also learned that we need to get stronger to win matches like today. We will work even harder to return to this stage. That's how high we felt the Premier League was.
YAMADA Kosuke, Coach (Maebashi Ikuei High School)
This was our fifth attempt to qualify for the Premier League. To prepare for this match, we edited footage of the matches we had lost in the past to show the footsteps of our seniors, and I am sure the players were inspired by it. If we lost this match, many people would have been saying, "Kosuke, you're no good." After seeing how Kiryu Daiichi came from behind in the first fixture, it was nerve-racking until the end, and I felt so relieved to hear the final whistle.
Prince Takamado Trophy JFA U-18 Football Premier League 2021 Play-off
Tournament Date: Fri. 10 & Sun. 12 December 2021