NEWS
Cerezo Osaka to face South American powerhouse this summer in Osaka at the Suruga Bank Championship 2018 OSAKA
25 July 2018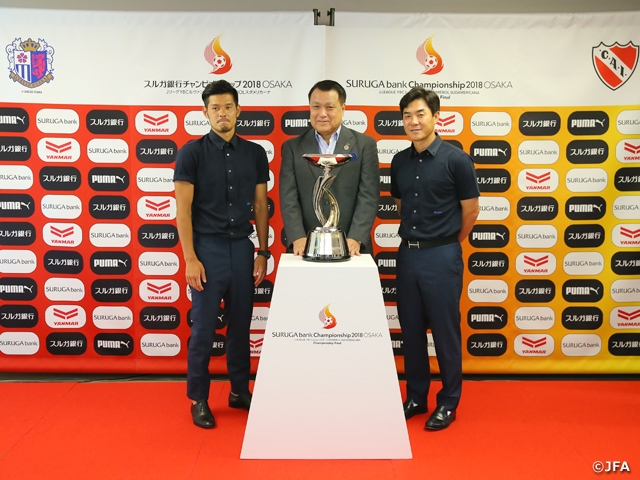 A press conference was held in Osaka on Tuesday 24 July ahead of the Suruga Bank Championship 2018 OSAKA, scheduled to take place on Wednesday 8 August in Osaka.
At the press conference, Japan Football Association (JFA) President TASHIMA Kohzo was accompanied by Coach YOON Jong Hwan and team captain YAMAGUCHI Hotaru of Cerezo Osaka, who secured its spot into the championship by winning the 2017 J.League YBC Levain Cup.
Coach Yoon shared his impression of the South American Champions, "We must fight with our team pride in this match. Teams from Argentina consists players with high level individual skills, and I have an impression that they will put up a tough fight. We will start analysing their team and do our best to display our style of football." Yamaguchi continued by showing his eagerness towards the match, "South American teams are very tough to play against and they have many qualities we don't have. We will try to learn from them while we challenge to see how much we can cope with them. If we can make a collective effort and play as a team, they might show us a flaw that we might be able to exploit."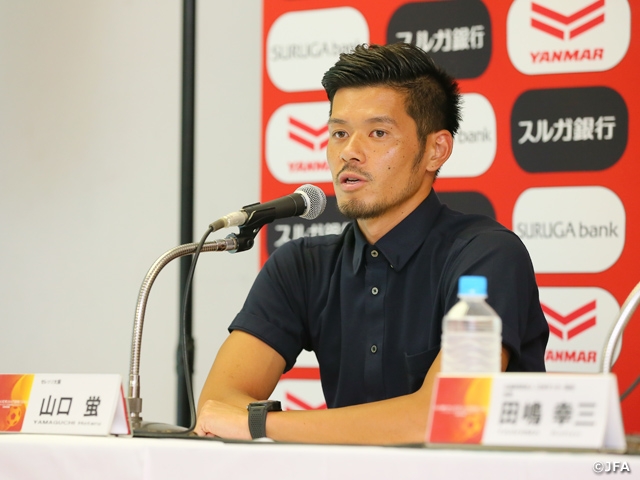 Independiente is an Argentine powerhouse who won the CONMEBOL Copa Sudamericana 2017. They have also registered 17 international titles in the past and known as the "Champions of the Cup race." They will make their second appearance in this championship since 2011. They faced Jubilo Iwata last time where they lost in penalty kicks after conceding the equaliser after taking the lead early in the second half. During the press conference, Club President Hugo Moyano's message was introduced as he spoke, "We are feeling great honour and pride ahead of another international title match for this club."
In the past 10 matches, the Japanese side has won six while dropping four matches. As President Tashima shared his take of the match, "A Match against a South American club provides us with an opportunity to see the true value of Japanese football," a great deal of attention will be emphasised not only on the result, but on how Cerezo Osaka will play against the South American side.
Coach and Player's Comments
TASHIMA Kohzo, President (JFA)
This championship represents the first international match held domestically following the FIFA World Cup. I am expecting an exciting match showcased by the two competitive teams. It also serves as a measuring stick to see where J. League stands in the world, so I hope to see a wonderful match. I hope that Cerezo Osaka will display the strengths of J. League against Independiente. Whatever we can acquire from this championship, we hope to implement to J. League and bring the world standards into the league. I am sure that the match will be filled with courage, hope, and respect, so please look forward for the match.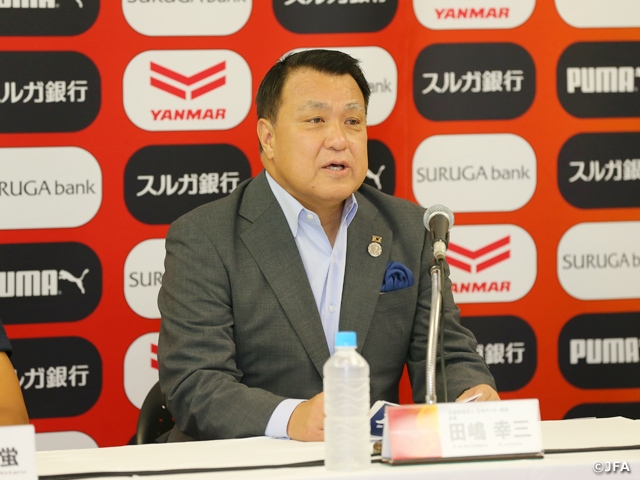 YOON Jong Hwan, Coach (Cerezo Osaka)
We will be representing the J. League clubs at the Suruga Bank Championship, so we are definitely feeling the pressure. Our schedule surrounding the tournament is going to be very tough for us, but it will provide valuable experience for the players. I am assuming that the scorching heat will be something hard to bear with for our opponents, so we shall use that in our favour and strive to play our football for the entire 90 minutes. We will play at our home field, and if we can give our best, good results should follow, so please let us hear your support.
MF #6 YAMAGUCHI Hotaru (Cerezo Osaka)
We have very limited opportunities to play against South American teams, so this is a rare stage for us. Even though both teams has won a cup title to advance to this championship, we will enter the match as if we are the challengers. We will all give our very best to win the match. We have won titles by working hard together as a team, so we will continue with that approach and give our best against our opponents.
Suruga Bank Championship 2018 OSAKA
Tournament Dates: Wed. 8 August 2018 Kick-off 19:00
Tournament Venue: Yanmar Stadium Nagai, Osaka
Tournament and Ticket Information