NEWS
FC Tokyo earn first win at home with goal scored by LEANDRO - AFC Champions League 2020
19 February 2020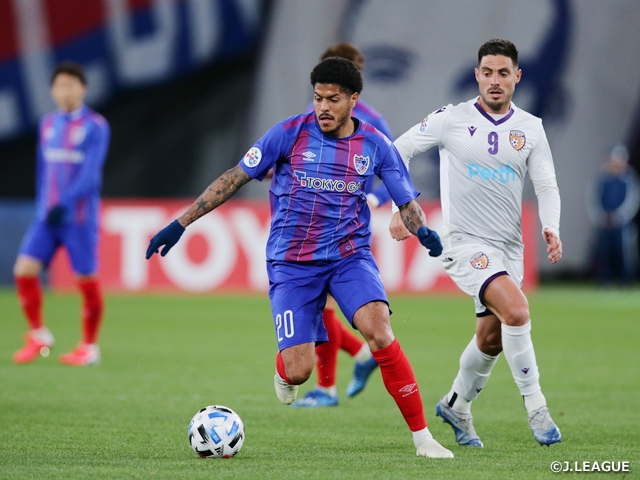 On Tuesday18 February, the second group stage matches of the AFC Champions League (ACL) 2020 took place. In Group F, FC Tokyo welcomed Perth Glory (Australia) to their home stadium, where they earned their first victory of this year's ACL with the help of the goal scored by their striker LEANDRO.
One week following the 1-1 draw against Ulsan Hyundai (Korea Republic) in an away match, FC Tokyo returned to their home to face the Australian side who is competing in their first ACL. Despite starting their Brazilian trio, Leandro, ADAILTON, and Diego OLIVEIRA, FC Tokyo struggled to create opportunities in the early minutes as the visiting side dropped deep in their territory. A close opportunity was created in the 21st minute, when Leandro broke through the centre and delivered a pass towards the goal, but the shot taken by Oliveira was blocked by the opposing defender. Another chance came for the home side at the end of the first half, when Oliveira combined with TAKAHAGI Yojiro and MUROYA Sei to penetrate the right flank but fell short from striking a shot.
Despite having their first group stage match against Shanghai Greenland Shenhua (China PR) postponed due to the spread of the Coronavirus Disease, Perth showed that they were not affected by the postponement, as they carried great form from the Australian A-League, where they rank third place with an undefeated record in the first nine matches. Led by coach Tony POPOVIC, former defender of the Australia National Team who has played with Sanfrecce Hiroshima during his playing career, the team kept a defensive approach while constructing their offence around Bruno FORNAROLI and Tomislav MRCELA.
FC Tokyo continued to take the initiative in the second half, as they brought in their rookie midfielder KONNO Kazuya in the 59th minute to revitalise their offence. The long awaited moment came in the 83rd minute, when Leandro delivered a through ball to ABE Shuto in the left side. With Abe receiving the ball deep in the opposing penalty area, the midfielder delivered the ball back to Leandro, who was waiting just outside the penalty box and struck a lobbing shot that curled over the Perth goalkeeper and shook the net.
In efforts to rally back, Perth added more attacking players to threaten the home goal, but FC Tokyo managed to keep a clean sheet to earn their first win of the tournament and increased their tally to four points.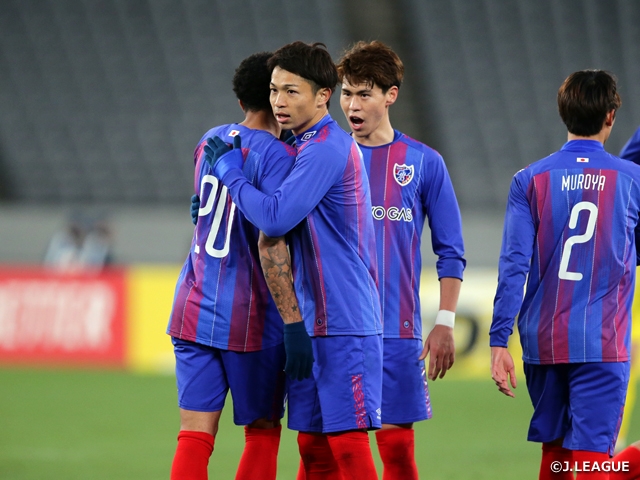 The other fixture in Group F between Ulsan Hyundai and Shanghai Greenland Shenhua was postponed due to the spread of the Coronavirus Disease, as the match was rescheduled to 19 May. It was also announced that FC Tokyo's next fixture against Shanghai Greenland Shenhua was also pushed back from the original date of 4 March to 27 May.
As a result, FC Tokyo became the only team to complete two matches in Group F and sits in first place with their four points. After drawing their only match played, Ulsan is in second place with a point, while Perth and Shanghai both have zero points earned thus far.
Yokohama F. Marinos (Group H) and Vissel Kobe (Group G) are both scheduled to play their second group stage match on Wednesday 19 February, as they Yokohama will welcome Sydney FC (Australia) to their home, while Kobe will play an away match against Suwon Samsung Bluewings (Korea Republic).
Coaches and Players' Comments
HASEGAWA Kenta, Coach (FC Tokyo)
We knew this was going to be tough match for us, so we trained all week to strengthen our offence. However, our opponent showed great ball movements to deny us from creating big chances. Despite our struggles to create opportunities, we also didn't give away many chances to our opponent, so I am glad of our players for keeping their composure throughout the match. Konno's presence really helped us change the dynamics of the match, as we were able to add more layers to our offence, which ultimately led to the game winner scored by Leandro. This home victory means a lot for us. Although this match was played on a weekday, we saw over 7,000 fans attend this match, and we are so grateful for our fans.
MF KONNO Kazuya (FC Tokyo)
After watching the first half from the bench, I entered the match with the intention to change the rhythm of the match and to penetrate the spaces of the opposing defence. With this being an official match watched by so many fans, the match was surrounded by a very tense atmosphere. I have finally earned my playing time, but this is just a start. I must continue to work hard to feature our team's matches consistently. I will give my utmost efforts everyday to help the team win matches.
FW LEANDRO (FC Tokyo)
This was a very tough match, but we were anticipating for our chance to score a goal. I am glad that I was able to score a goal, but the team's victory is what matters the most. I am given the privilege to play freely on the pitch and I am aware that it comes with responsibility. I have earned the trust of our coach and that gives me great confidence.
Tony POPOVIC, Coach (Perth Glory)
Although this was our first match at the ACL, we managed to showcase an aggressive battle against a very strong team. Today we had a 19 year-old player making his debut, and including him, everyone played very well, so I am satisfied with our performance. This match has made us realise that we can compete at this level. In that sense, I do feel like a draw would've been a more appropriate result, but FC Tokyo consists quality players like Leandro, and I would like to congratulate them for this victory.

Tournament Dates:
Play-offs: Tue. 28 January 2020
Group Stage: Tue. 11 February - Wed. 27 May 2020