NEWS
Who will be the champion of Japan? The 21st All Japan Futsal Championship has kicked off
05 March 2016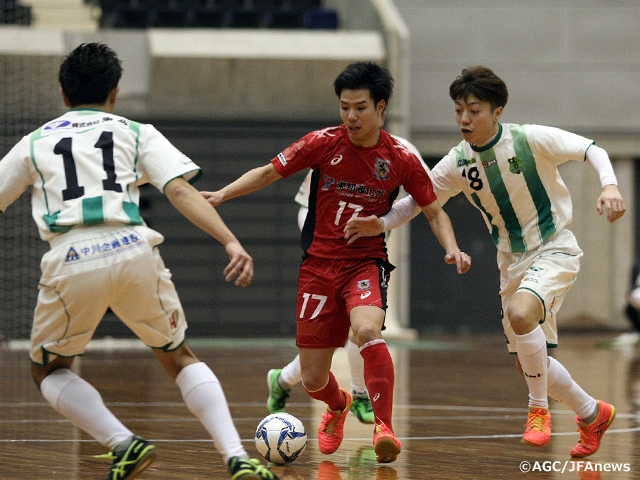 The 21st All Japan Futsal Championship, which decides the strongest futsal team in Japan, has kicked off on 4 March. The teams will be divided into six groups of four, and only the top team of each group will book a place in the final round starting on 11 March. From the first day, the matches between F League teams and regional teams were exciting and highly contested.
The first match of the Group E was between Voscuore Sendai (F League) and Nagoya Oceans Satellite (Tokai 1) and it was exciting. A regional team Nagoya Satellite played evenly against the F League team and they attacked towards Sendai's goal many times from the beginning. On the other hand, Sendai whose strength is counterattack defended well at first and then started attacking. In the 18th minute, Sendai's YONEYAMA Kazuki made the opener.
The 2nd half started with Sendai leading 1-0. In the 30th minute, Nagoya Satellite equalised by YAGI Kiyoto's strong shot, and in the 36th minute, Yagi scored another goal. The game was turned around. However, Sendai started even more intensive attack with their powerful play and SASAKI Ryo quickly equalized in the 39th minute. The match ended 2-2. A regional team could get points from the match against an F League team.
The match between Bardral Urayasu (F League) and Hiroshima F-DO (Chugoku) ended with Urayasu's stable victory 7-0; Urayasu kept control throughout the match after the first goal made by KOMIYAMA Yusuke in the 11th minute.
In the Group F, 2 teams from Kyushu faced each other. Vasagey Oita (F League) and R, D/DINO'S (Kyushu 1) have previously played frequent practice matches prior to this competition. This time, D/DINO'S tried to stick to Oita well and ended the 1st half with Oita leading 2-1. However, in the 2nd half, Oita improved their offence and scored another 5 goals. The match ended 7-1.
Deucao Kobe (F League) and Boaluz Nagano (Kitashinetsu) had an exciting match. Boaluz, who is playing in this competition for the first time, pressured strongly against Kobe from the beginning, but Kobe's Rodrigo broke the deadlock in the 15th minute and he added another goal later in the 1st half. In the 26th minute, Kobe scored their 3rd goal. Soon after this goal, Boaluz's TAKEUCHI Kenta scored a goal. Both teams kept their concentration but Kobe was the stronger of the two teams; the match ended with Kobe's 3-1 victory.
The other group matches were also highly contested; in the Group B there was a match which a regional team beat an F League team. Mikihouse Futsal Club (Kansai 2) scored a decisive goal at the very end of the match and beat Agleymina Hamamatsu (F League) 7-6 after a very intensive slugfest.
The 2nd day of this competition will take place on 5 March. Matches will be even more contested as teams try to get through to the Final round.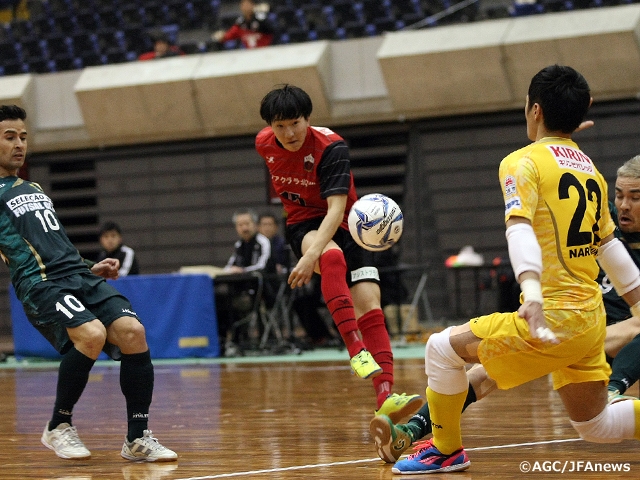 Players' Comments
YAGI Kiyoto (Nagoya Oceans Satellite)
We could have won today's match if we could keep up, but fortunately we didn't lose the match and we have another one tomorrow. Personally, this is my fourth time to play in this championship as a player of Nagoya Oceans Satellite, and I really want to get to the Final round this time. I play in the F League and I am the most experienced player, so I want to support the team with how I play. In that sense, it was good that I could score 2 goals today. We are the challengers in this competition, so we will keep trying, doing our best.
TOMIHIRO Yohei (Hiroshima F-DO)
Bardral Urayasu didn't make any mistakes when there wasn't any pressure, whereas we made mistakes in that kind of situation. I understood the level gap between an F League team and ourselves. We have players who have previously played for F League teams, and I have learned "strong mentality" and "the importance of running throughout the match" from the F League, so I have shared them with my teammates. This is the only opportunity for us to play against F League teams, and considering our supporters we shouldn't lose the coming matches. For the next match, we will maximise our play style, using counterattack from defense.
YOSHIMURA Kazuma (R, D/DINO'S)
We have played practice matches against Vasagey Oita several times a year, but we have got to know that they are more familiar with official matches and stronger than us. After accumulating a lot of small gaps between us made a big gap at the end of the match today. Today we were not 100% fine, but our essential advantages are momentum and bench work so tomorrow we want to switch our mind to be positive. I believe that we can get chances once we get momentum, so we hope we will get the opener to make our next opponent more serious.
KATSUZAWA Yuto (Boaluz Nagano)
Last week, we played in the regional champion's league and it was a good chance for us to experience a national level competition. I think this was a good starter of this championship for us. Our advantage is defense, so we kicked off today's match emphasizing defense at first. There was a gap between an F League team and we understood what is missing for us by this match today. We don't have a full time coach and our coach also plays as a player so good team work is our advantage. We want to make use of what we learned today in the next match tomorrow, with a pride as a qualified team from Kitashinetsu. We want to be a center of attention in this competition.
All Match Highlights MD 1 (Japanese version only)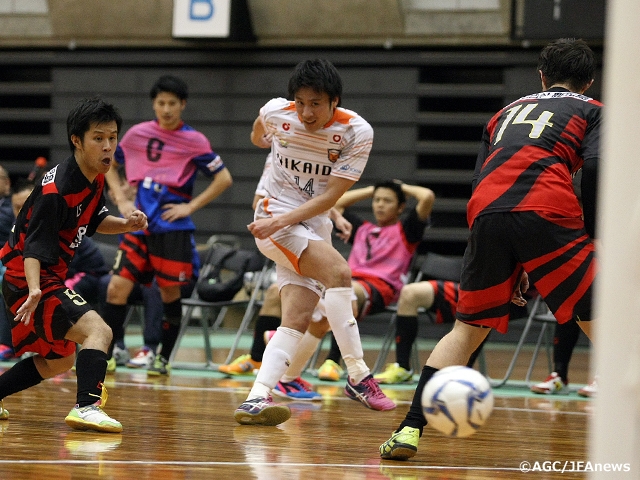 The 21st All Japan Futsal Championship
1st Round Fri. 4 March – Sun. 6 March 2016
Shizuoka/ECOPA Arena, Osaka/Fumin Kyosai Super Arena, Hyogo/Green Arena KOBE
(*1st Round, all matches no ticket required)
Final Round Fri. 11 March – Sun. 13 March 2016
Tokyo/National Yoyogi Stadium First Gymnasium
(Final Round, ticket information /Japanese version only)