NEWS
J3 Morioka defeat tournament debutant Shinjuku to advance to the second round of the Emperor's Cup JFA 103rd Japan Football Championship
22 May 2023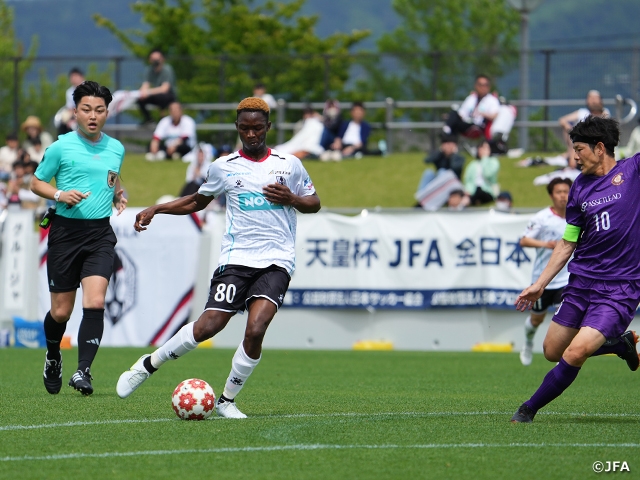 On Sunday 21 May, the Emperor's Cup JFA 103rd Japan Football Championship saw the completion of the first round with 17 matches played at various venues.
Featured Match
Iwate Grulla Morioka 4-0 (2-0, 2-0) Criacao Shinjuku
At Iwagin Stadium, Iwate Grulla Morioka (Iwate) played Criacao Shinjuku (Tokyo). The match started with Shinjuku attempting to set the tone by collecting the ball to SAITO Kazuki, their lone striker, but their attempts were blocked by the Morioka defence.
Morioka, who took a counterattacking approach, scored the opening goal in the 13th minute, when Douglas OLIVEIRA broke through the left flank before sending a cross to setup the shot of JANG Hyun-soo. Although this shot was denied by the goalkeeper, Kenneth OTABOR was there to convert the deflection to give the home side the lead.
With momentum on their side, Morioka doubled their lead just three minutes later, when Oliveira forced a turnover deep in the opposing end before firing a shot that found the back of the net.
In the second half, Shinjuku utilised their substitutions to create more opportunities, but once again, it was Morioka who scored the next goal, as Jang scored off a counterattack in the 73rd minute. After Otabor added another goal in the 84th minute, Morioka advanced to the second round with a comfortable 4-0 victory.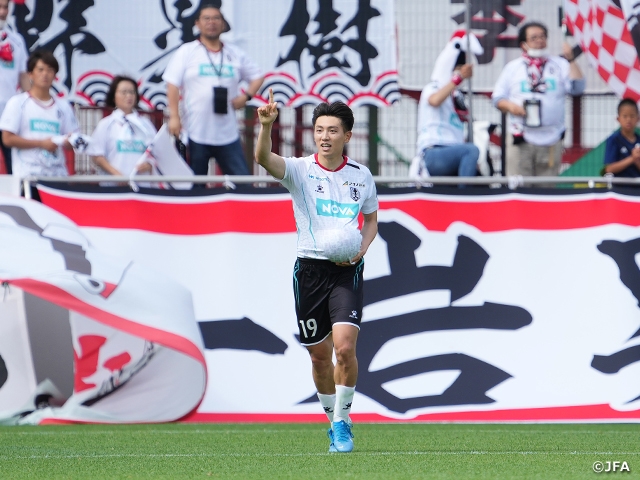 Coaches and Players' Comments
MATSUBARA Yoshika, Head Coach (Iwate Grulla Morioka)
We've been working all season to win every game we play with a clean sheet and multiple goals scored. We chose to start some of our younger players to raise the overall level of our squad because we will be competing against higher ranked teams in the league going forward. We were able to develop effective offence by playing strong defence, but we are not totally satisfied with our performance. I want the players to take on more difficult tasks without fear of failing. They've been selected to play in the match, so I want them to play with confidence, even if they make mistakes.
JANG Hyun-soo (Iwate Grulla Morioka)
Until this match, I have not scored an official goal since I joined the team last year. My family, who couldn't come to Japan last year because of the pandemic, are with me now and helping me with my diet and other things related to football. I was determined to score because today was my pregnant wife's last opportunity to watch the game before giving birth. I was planning on doing a celebration performance when I scored, but I almost forgot because I was so tired in the second half. I am happy to have scored a goal and to have helped the team win.
KITAJIMA Hideaki, Head Coach (Criacao Shinjuku)
This was a historic match for the club because it was their first time participating in the Emperor's Cup. We have been working to bring inspiration to many people. We wanted to showcase a strong performance, but we ended up losing 0-4. Although we still have a lot to work on, there were times when we made smart plays to open up opportunities. In that sense I am very grateful to our players. This match made us realise the level we need to strive for in order to play in the J.League.
ISHII Keita (Criacao Shinjuku)
This was my first time visiting this stadium in about half a year. We entered the match with the intension of playing on behalf of the players who were unable to make the roster. Although we were able to create some close opportunities, we didn't have the quality to finish off our plays against Morioka's solid defence. We did everything we could, so we must accept this result and move on towards our next goal.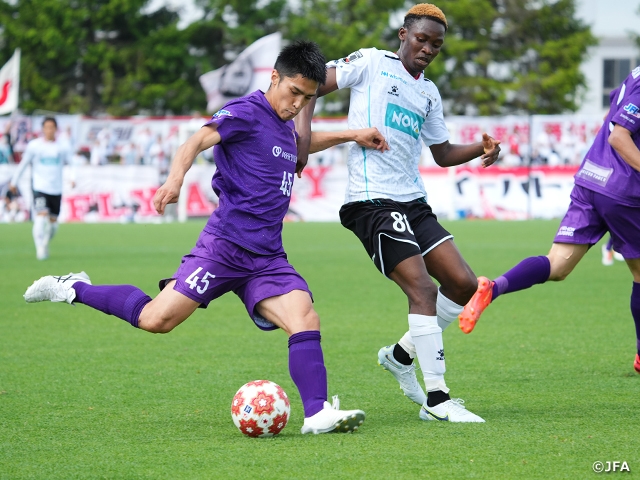 Emperor's Cup JFA 103rd Japan Football Championship
【1st Round】Sat. 20, Sun. 21 May [Backup date: Mon. 22 May]
【2nd Round】Wed. 7, Wed. 14, Wed. 21 June
【3rd Round】Wed. 12 July [Backup date: Wed. 19, Wed. 26 July]
【Round of 16】Wed. 2 August [Backup date: Wed. 9 August]
【Quarterfinals】Wed. 30 August[Backup date: Wed. 13 September]
【Semi-Finals】Sun. 8 October
【Final】Sat. 9 December