NEWS
Nagoya Oceans wins third title of the season to complete the triple crown at 23rd All Japan Futsal Championship
12 March 2018
On Sunday 11 March, the 23rd All Japan Futsal Championship final and third-place match took place at Komazawa Olympic Park General Sports Ground Gymnasium. Nagoya Oceans who had already won the F. League and Ocean Cup this season, won its third title by beating the defending champions Shriker Osaka.
The final match of the championship saw both teams creating multiple goal scoring opportunities, but goalkeepers from each side, Nagoya's SEKIGUCHI Yushi and Osaka's FUKINBARA Toru, showcased a brilliant performance to keep the match scoreless. With both teams consisting players with superb individual skills, the match was occupied with quick transitions, and excellent shots taken even when given the slightest opportunities. The match would however, take a quick turn of an event when Nagoya consecutively lost their F. League MVP Rafa and their key player NISHITANI Ryosuke due to injury.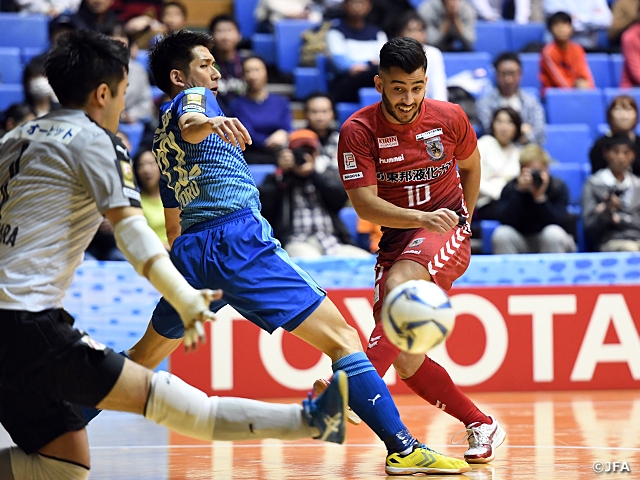 With two players unable to continue with the match, Nagoya was forced to play with eight field players. However, it was Nagoya who opened the scoring. In the 16th minute, Waltinho converted a goal off a shot-like pass delivered by HOSHI Ryuta. The Nagoya side would keep this lead into halftime. Both teams continued to create chances in the second half. In the 26th minute, Nagoya's goalkeeper Sekiguchi delivered a long feed to Neto Antonio Masanori, who then laid off the ball to allow YAGI Kiyoto to score the goal.
With Nagoya extending their lead to two goals, the match shaped up with Osaka keeping possession of the ball while Nagoya anticipated to score off a counter-attack. Nagoya's YOSHIKAWA Tomoki was given two critical opportunities to further extend their lead, but in both occasions Osaka's goalkeeper Fukinbara made the save. Encouraged by the superb saves displayed by their goalkeeper, Osaka would cut the deficit in half in the 35th minute. SATO Toru, who has announced his retirement after the season, converted a driven pass delivered by KATO Minami. Osaka would continue to press hard, utilising the power-play until the very last moment, but Nagoya would stay focused to keep the lead, winning their first championship title in three years, fifth overall, and capped the season by winning the triple crown.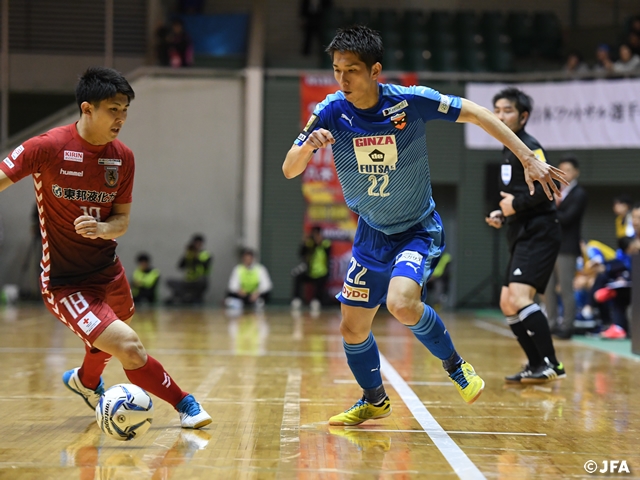 The third-place play-off match was held prior to the final, and the F. League third-place finisher Shonan Bellmare bested Bardral urayasu 1-0 with KITAI Genki's decider.
The Fair Play Award was given to Shonan Bellmare. The tournament MVP on was awarded to Hoshi Ryuta, the Captain of Nagoya Oceans.
Coaches' and Players' Comments
Pedro COSTA, Coach (Nagoya Oceans)
It was a very difficult match, and I feel like it was very suitable as a championship match. Japan needs more games like this. These kinds of matches will provide great improvements and heighten the level of teams. The match turned out to be a difficult one, but in my opinion, we should have finished up the match earlier. We created good opportunities off counter-attacks in the second half but couldn't capitalise. We were forced to fight until the very end, but our players played with great discipline and I am glad we won the match.
HOSHI Ryuta (Nagoya Oceans)
From the quarterfinals to the final, we encountered tough matches. It means a lot especially because we lost players through injuries, and we were able to win the trophy as a result of a total team effort. But we still have space to improve. We can still do better to improve the overall quality of the championship and the league.
HIGA Ricardo, Coach (Shriker Osaka)
I am disappointed. We played well, and the fact we came short of the championship is disappointing. We have a team that can score goals, but we were contained to score just one goal today. There were plenty of opportunities that we could have capitalise, so we must work on our finishing to win the title. We'll rest up during the off-season and plan out a new season to achieve greatness next season.
ONO Daisuke (Bardral Urayasu)
Today's match was very tough both physically and mentally. We wanted to attack more but the game turned out to be a defensive battle. It all comes down to the penalty kick I missed in the semi-final. It was still in the back of my head. But even so, we wanted to lay it all out on the pitch, as it was going to be our last game. I'm glad we were able to compete until the very last day of the championship. I was greeted by my teammates after the match, but I'm not fully retired yet. If I am going to continue with my career, it'll only be in the F. League. I have nothing else that I would rather be doing than Futsal at this moment.

Final/ Shriker Osaka vs. Nagoya Oceans Highlights
3rd Place Play-Off/ Bardral Urayasu vs. Shonan Bellmare Highlights
The 23rd All Japan Futsal Championship
1st Round
Tournament Period: 2 March 2018 (Fri.) - 4 March 2018 (Sun.)
Venue: ECOPA Arena/Shizuoka Prefecture, Kishiwada City Gymnasium/Osaka Prefecture, Green Arena Kobe/Hyogo Prefecture
Final Round
Tournament Period: 9 March 2018 (Fri.) - 11 March 2018 (Sun.)
Venue: Komazawa Olympic Park General Sports Ground Gymnasium/Tokyo