NEWS
Urawa drops 1st leg at home to Ulsan at the Round of 16 - AFC Champions League 2019
20 June 2019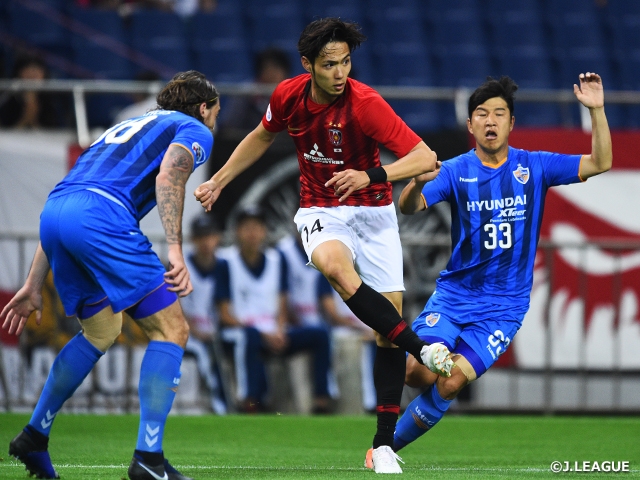 On Wednesday 19 June, the first leg of the AFC Champions League (ACL) 2019 round of 16 match between Urawa Red Diamonds and Ulsan Hyundai took place, where Urawa lost their home match to Ulsan 1-2. The second leg will take place in Korea Republic on Wednesday 26 June.
Following their second-place finish at the ACL group stage, Urawa saw coach Oswaldo OLIVEIRA leave the team, due to their recent struggles at the J. League. The team turned to coach OTSUKI Tsuyoshi to reconstruct the team as well as to seek for their third title at the ACL. However, the team gave up two crucial away goals to put themselves in a tough situation to advance to the quarterfinals.
The match saw Urawa take the initiative in the first half, as they kept the possession of the ball in the Ulsan territory. While the visiting side dropped deep to defend their goal, Urawa patiently moved the ball to seek for their opportunity to penetrate the goal area. The home side managed to solve the tight defence showcased by Ulsan in the 37th minute, when SUGIMOTO Kenyu converted a cross delivered by AOKI Takuya with a header. For Sugimoto, this was his first start in 16 matches, and he responded by scoring his first ACL goal since joining Urawa.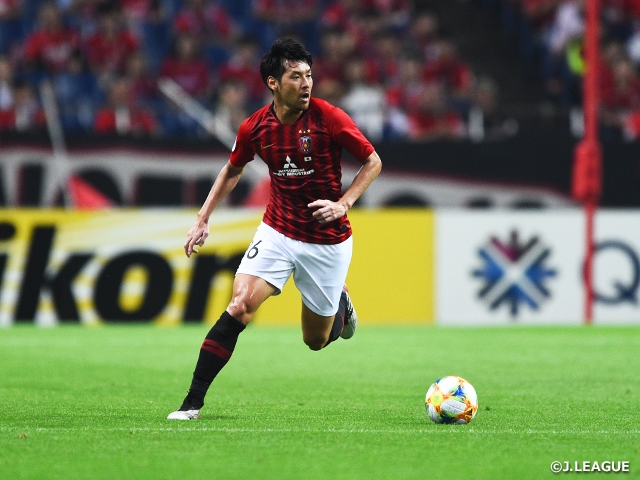 However, their lead did not last for long, as Ulsan scored the equaliser just five minutes after Urawa's opener. The goal came when Urawa turned over the ball in their midfield, allowing Ulsan's LEE Keun Ho penetrate the left side before sending a cross towards the centre, where JOO Min Kyu delivered the header that found the back of the net.
With the score tied at 1-1, it was the Korean side who took control of the match in the second half. After constructing their offence around long balls in the first half, Ulsan started to connect short passes to build their attacks in the second half. Ulsan applied more pressure to win the battles in the midfield and created opportunities that threatened the opposing goal, while Urawa responded by attacking the flanks, but lacked quality in the final third to create a goal scoring opportunity.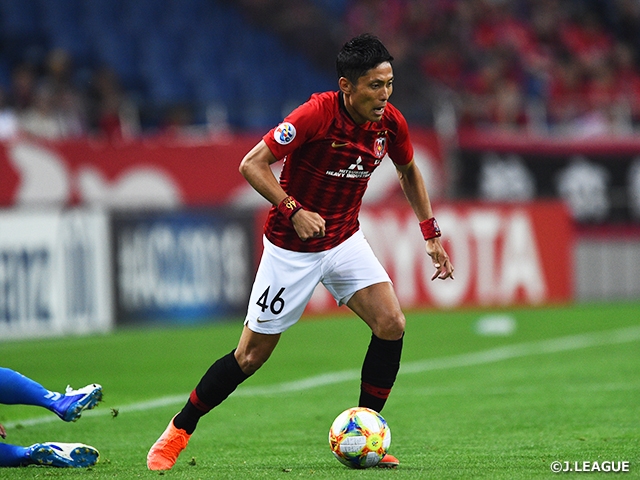 In efforts to take the lead, Ulsan brought in HWANG Il Su and Junior NEGRAO to add more layers to their offence. The deadlock was broken in the 81st minute, when Hwang broke through the Urawa defence to capture the go-ahead goal.
Now trailing by a goal, the home side made their final efforts to level the match, but the efforts made by EWERTON and YURUKI Koya were denied by the opposing goalkeeper. Despite taking 16 shots in this match, compared to the six shots taken by Ulsan, Urawa lacked the quality to convert their opportunities and dropped the first leg played at their home.
With this result, Urawa must now win their second leg with a score of 2-0 or better to advance through to the quarterfinals. If Urawa wins with a score of 2-1, the match will enter overtime, followed by penalties if the winner is not determined after the extra period.
On this day, Jeonbuk Hyundai Motors (Korea Republic) drew their away match against Shanghai SIPG (China PR), with a score of 1-1. The round of 16 is scheduled to take place during the first two weeks of August for the West division.
Coaches and Players' Comments
OTSUKI Tsuyoshi, Coach (Urawa Red Diamonds)
Although we saw some positive plays to create opportunities, we had to do a better job to control the match as a whole. We still have another match to play, so we will give our best to prepare ourselves ahead of that match. We are very thankful for our fans for supporting us even after a match like this. We must now make the necessary adjustments and payback to our fans by showing an improved performance in the next match.
GK #1 NISHIKAWA Shusaku (Urawa Red Diamonds)
It was expected that we would take control of the ball possession in today's match. The second goal we conceded came from a player who used to play for Jeju, and I remembered him from our last encounter in 2017. We had enough numbers, but he beat us square and fair. With the first goal coming from our own mistakes, we feel like we have dug ourselves into a hole today. It's something we can improve on and we just need to pay them back in the next away match. Just like 2017, we need some miracle to win this tournament. We'll just have to remain positive and take this as another challenge we need to overcome.
DF #5 MAKINO Tomoaki (Urawa Red Diamonds)
This was a match we had to win. We showed dominance in both ball possession and number of shots taken. That is why it makes this result unacceptable. We committed too many mistakes and that is something we must acknowledge and improve on. Although the team is in a situation where we must score goals in our next match, it's still important to keep our composure and manage the game with poise.
FW #14 SUGIMOTO Kenyu (Urawa Red Diamonds)
Aoki delivered a wonderful ball that allowed me to score that goal. That play was executed exactly the way we wanted, so that's something positive we can take back. However, we conceded two goals to an opponent who was dropping deep and anticipating for their opportunity to counterattack. This is a very disappointing result, but we just have to stay positive and move on. We created some close chances offensively, so we will keep our heads high and prepare ourselves for the next match.
KIM Do Hoon, Coach (Ulsan Hyundai)
We knew this was going to be a tough match, but our players worked very hard and played very aggressively until the very end, which allowed us to come from behind. We changed our tactics during halftime, but the players made great adjustments and executed my game plan perfectly. However, we have just finished the first half. We will take home this positive energy and win our home game to advance to the quarterfinals.
MF #14 KIM Bo-Kyung (Ulsan Hyundai)
It's great that we were able to earn three points in an away game. We executed our game plan very well in this match. We hope to take back this positive vibe and give our best efforts in our next match at home.

Tournament Dates:
Play-offs: Tue. 5 - Tue. 19 February 2019
Group Stage: Mon. 4 March - Wed. 22 May 2019
Round of 16: Tue. 18 June - Tue. 13 August 2019