NEWS
Kids Traveling Guidance Report (December)
20 January 2022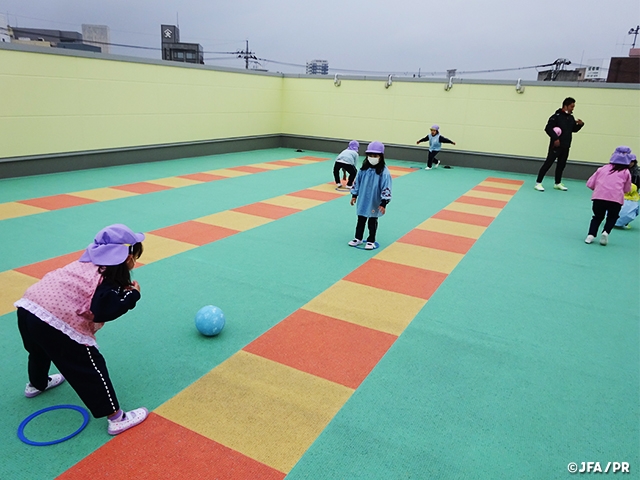 With the support of the Kids' Committees of each prefectural football association (FA), JFA has been organising "Traveling guidance" courses around the country. In the "travelling guidance" course, travelling guidance staffs from each prefectural FA go to kindergartens, nursery schools, and primary schools to offer a variety of programmes for children to enjoy football. This is an initiative to give nursery staff and teachers, who may not have much experience or knowledge of football, the opportunity to join a team of experienced football coaches and give the children time to exercise with the ball. Here we will introduce the traveling guidance activities that were recently conducted.
Mon. 6 December, Kodemari Nursery School (Kofu, Yamanashi)
Under a light rain, a football class was held on the rooftop of the nursery with 16 children from the five year old class. With hopes to allow the children to experience the joy and pleasure of playing football, the participating children were encouraged to enjoy playing football with energy, to never give up, and to challenge themselves no matter how many times they fail. The smiles on the children's faces and their positive attitude left a strong impression, as they shouted, "Coach, I did it!" "It's hard but I will do my best!" We will continue to work to bring fun and enjoyment to the children.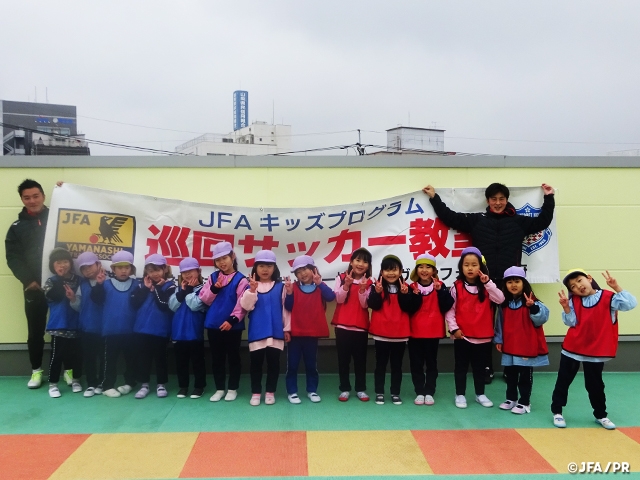 Coaches and Teacher's Comments
MOCHIZUKI Shota (YFA Traveling Guidance Staff)
Despite the light rain, it was great to play football with such a cheerful group of children! They worked very hard to challenge themselves, never give up, and showed great enthusiasm in the final game, where they were determined to win. Let's play football again!
YAMANAKA Ryoji (YFA Traveling Guidance Staff)
The children seemed to be looking forward to this football class, and showed great enthusiasm, smiles, and positive attitudes. In the final game, it was wonderful to see the passion displayed by the children who were so determined to win. I'm glad to see that they enjoyed playing football and getting some exercise.
Ms. WATANABE Aika, Teacher (Kodemari Nursery School)
Thank you for giving the children such enjoyable experience. I was impressed by how much fun the children had playing with the ball as they hadn't had many opportunities to play with it before. When the coaches talked about the "Green Card," the children showed a lot of interest in it, and started to work harder and not give up. Not only that, but they also became even more considerate of their friends. We will continue to keep in mind what the coaches have taught us and encourage the children to challenge themselves in everything they do. We are also looking forward to expanding the variety of games using the ball to get everyone involved in physical activities.