NEWS
Class S Coach Training Course 2022 Module 2/Intensive Course (4) Participant's Report Vol. 5
21 June 2022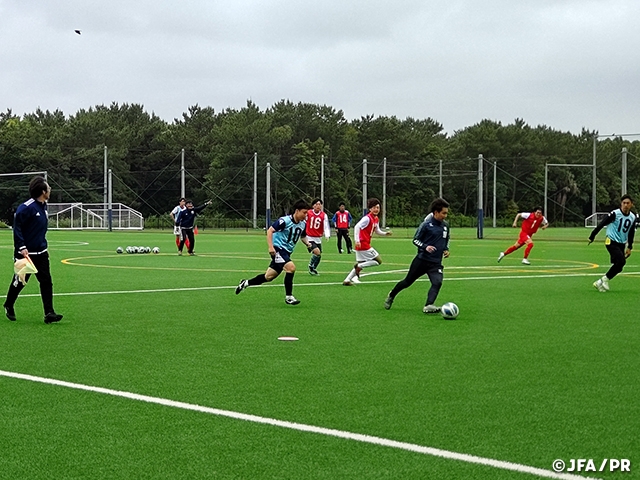 This week, as the J.League enters the second half of the season, the participants observed a training session held at Asao Ground, courtesy of Kawasaki Frontale. After the training session, a Q&A session with Head Coach ONIKI Toru was held, facilitated by two JFA instructors, UKISHIMA Bin, a Class S course-mate, and OKUNO Ryosuke, a former teammate, which ran beyond the scheduled time.
The course welcomed Sevilla FC analyst Mr WAKABAYASHI Taichi to Prince Takamado Memorial JFA YUME Field for two days of game analysis, which required the participants to analyse the game with a high degree of accuracy in a limited amount of time and to experience the hard work involved in actual coaching situations.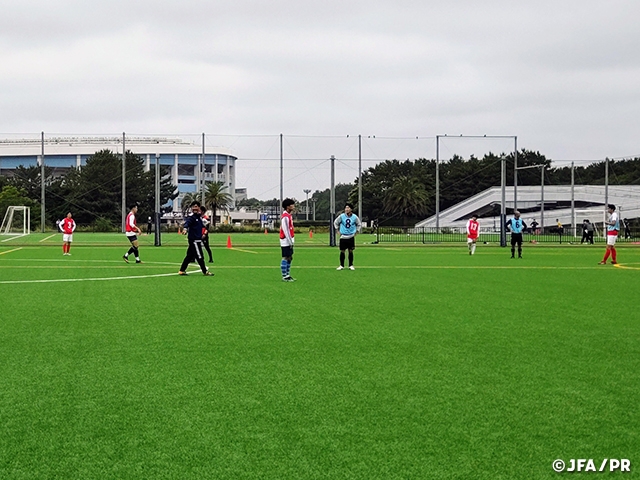 Module2 Intensive Course ④
Duration: Mon. 6 June - Thu. 9 June
Mon. 6 June
PM
Presentation by the participants
"Duties as an analyst": WAKABAYASHI Taichi (Sevilla FC analyst)
Match observation/analysis (Japan National Team vs Brazil National Team)
Tue. 7 June
AM
Coaching session
PM
Summary of individual analyses
Analysis presentation by the participants
"Professional game analysis": WAKABAYASHI Taichi (Sevilla FC analyst)
Wed. 8 June
AM
Coaching session
PM
"What the coach expects from the goalkeeper/GK coach", "Goalkeeper training": KAWAMATA Noriyuki (JFA GK Project Leader)
Training observation of Japan National Team
Thu. 9 June
AM
Training observation of Kawasaki Frontale
PM
Presentation by the participants
"Professional coaching theory": OKUNO Ryosuke (JFA Class S Instructor)
Cooperation in dispatching support players: Edogawa University, Chuo Gakuin University, JEF United Ichihara Chiba (Academy Staff)
Participant's Comment
Mr. KUBOYAMA Yoshikiyo (Shimizu S-Pulse)
The second week of Module 2, which started last week, was held at JFA YUME Field. This intensive course consisted of three lectures, game analysis, presentations, coaching sessions, and training observations of Japan National Team and a J.League club.
Firstly, the "Presentations," which began last week, focused on the profiles and tactics used by successful coaches in European leagues. The key is to "convey information clearly and concisely" from each perspective. The viewer's eyes have become more demanding, but I felt that the quality of the editing and composition of the visuals has improved for everyone. I noticed that some participants were conscious of the delivery skills (voice, eye contact, posture) we learned in the lecture on presentations, and the feedback session held afterwards also became an important time for us to improve our own presentation skills. It was a great learning experience for us to further develop and improve our own coaching philosophy and tactics.
The first lecture, "Duties as an analyst," was given by Mr. WAKABAYASHI Taichi, who is currently working as an analyst for the top team of Sevilla FC in Spain's LaLiga. He explained in detail how he became an analyst in Spain and his current responsibilities as an analyst. Under Head Coach Julen LOPETEGUI, he said his most important job as an analyst was to prepare for meetings between the coach and the players. At these meetings, he prepares a tactical video in which he dissects eight different situations and set pieces from the last four matches in order to make it easier for the players to understand the analysis. It was surprising to learn that there are four analysts in a team but considering that analytical skills are incredibly valuable in modern football and play a significant role in a team's success, it was very interesting to hear from Mr. Wakabayashi, who is a Japanese analyst working for a top European club. It was a valuable time for me to think about how I will interact with the analysts and what role I will actually give them when I become a coach in the future.
In the "Match analysis" section, we moved from JFA YUME Field to the Japan National Stadium to observe the KIRIN CHALLENGE CUP match between Japan and Brazil. Before the match, we chose the starting line-up on the assumption that we were the head coach, made a prediction of the game-flow, observed the match, analysed it and came up with instructions (points to continue, points to improve) to give to the players at half-time. The brilliant plays of the Brazil National Team, ranked No. 1 in the FIFA rankings, left us mesmerised and made us forget about the analysis at times, but sorted out what we should actually tell the players, taking into account what is and is not working for our team, the tactical intentions and aims of our opponents, and what is actually happening on the pitch. We found it very difficult to extract the necessary information from the analysis and to convey that information to the players in a short period of time so that they can make most of the analysis.
The day after the match, we presented our respective analyses. Issues were identified and the analysis were summarised and presented by five selected participants. It was impressive to learn that the same footage can be viewed in completely different ways from different perspectives, and because the issues were extracted based on our own standards, there were various opinions and ways of thinking, which gave me the opportunity to discover new insights that I could not see by myself. The task of producing high-quality materials alone in a limited amount of time was incredibly difficult. At the end of the session, we were given a chance to see the presentation of Mr. Wakabayashi. He analysed the match based on the demands of the current coach (Lopetegui), as if he was actually doing the job at his club. In the scene where a player made a mistake in the build-up, he pointed out, "Even though he committed a mistake, he made a quick transition to drop back." It seemed like a small matter, but I thought it was an important lesson to learn how to approach the game from the player's point of view.
In the second lecture JFA GK Project Leader KAWAMATA Noriyuki talked about "The ideal goalkeeper needed in modern football" and "What coaches look for in a GK coach." Here, we learned about the four principles (talent identification, youth GK coaching guidelines, GK coach training, and the development and strengthening of young goalkeepers), which the JFA is currently pursuing to produce the world's best goalkeeper in order to achieve its promise of winning the World Cup by 2050. In this context, he said that there is still a gap with the top players in the world, using Brazil's ALISSON as an example. Nevertheless, we have learned that young goalkeepers have grown as a result of their activities, that more goalkeepers are taking up challenges in Europe and others are starting to get opportunities to play in the J.League, and that Mr. Frans HOEK, a legend in the GK coaching world, has been invited to be a technical advisor for the GK project, which made us realise that we are gradually getting closer to our goal. It was also interesting to hear that there was a plan to change the name of the position from "goalkeeper" to "goal player," as the role of a goalkeeper has increased in modern football beyond defending the goal. The second half of the lecture made us think about what we want from a goalkeeper in order to pursue the kind of football we want to demonstrate as a coach. In this section we learned the importance of being clear about what we want from the GK coach as the head coach. Specifically, we learned that we could reduce risk by not allowing the GK to do something and earn results by allowing the GK to do something.
For the training observation, we visited Kawasaki Frontale's training session. I was impressed by the tempo of all the drills, which required quick decision-makings in tight situations, involvement, ideas and technique, as well as high intensity in the transitions between offence and defence. The training lasted for two solid hours, as the team had just returned from its off-day, and I was reminded once again of the high quality of each and every one of the workouts. It was also useful to get a glimpse of how the team concepts were being implemented. After the training session, we had time to speak with Head Coach ONIKI Toru. Here we learned about his approach of emphasising the strong points of his players, choosing what he thinks is best for each situation rather than deciding from the start, his respect for star players, the importance of communication, and above all, the importance of using his own words. The advice he gave to us participants at the end of the session, "It is important to be yourself," left a strong impression on me.
Throughout the coaching sessions held this week, we held sessions based on seven themes. We worked on a training plan based on our own playing model and focused on making our concepts as clear as possible for the players. In the post-training discussion, instructors and fellow participants provided feedback from a variety of angles which highlighted issues beyond what had been discussed before, making it a productive and stimulating time with many new insights.
To conclude this intensive course, instructor OKUNO Ryosuke gave a lecture on "Professional coaching theory," where he talked about the importance of planning and provided tips on how to build a training plan in order to increase the efficiency of each training. He also spoke passionately about why he wanted to become a coach, which made for a valuable listening experience.
I would like to thank all the instructors, lecturers, support players, and everyone else involved in this course, as well as my fellow participants, who always give me so much inspiration. I would like to gain a lot of knowledge and experience through this course and become a coach who can contribute to the development of football in my local region and in Japan.
Next time we will share the report of Mr. SAEGUSA Hirokazu (Y.S.C.C. Yokohama).