NEWS
Class S Coach Training Course 2022 Module 1/Intensive Course (2) Participant's Report Vol. 3
09 May 2022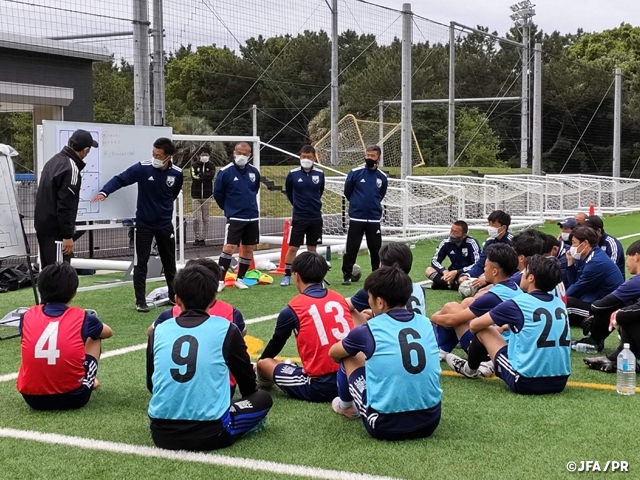 This year's Class S Coach Training Course, which started on Sunday 10 April, is now in its final week of Module 1.
The Leadership Development Programme, which was introduced to the course starting this year, was conducted in a workshop format based on the results of a self-analysis with the aim of getting to know oneself and exploring the key points of communication with diverse stakeholders as a coach.
Following a month-long "in-between study" period, in which the instructors visit the clubs of each participant, the course will resume on Monday 30 May.
Module1 Intensive Course ②
Duration: Mon. 25 - Thu. 28 April
Mon. 25 April
PM
Brain-storming: Professor USAMI Makoto (Kyoto University)
Leadership development programme: TANAKA Tomoko (Oppochu Corporation)
Tue. 26 April
AM
Coaching session
PM
Coaching session
Wed. 27 April
AM
Coaching session
Observation of U-19 Japan National Team training
PM
Activities of U-19 Japan National Team: TOGASHI Koichi (Head Coach of U-19 Japan National Team)
Sport Integrity: SATO Yamato/YAMAMOTO Kenta (Ray Law Office)
Thu. 28 April
AM
Coaching session
PM
Physical conditioning: YASUMATSU Mikinobu (JFA Physical Fitness Project)
Module1 review: UKISHIMA Bin (JFA Class S Instructor)
Cooperation in dispatching support players: Edogawa University, Nippon Sport Science University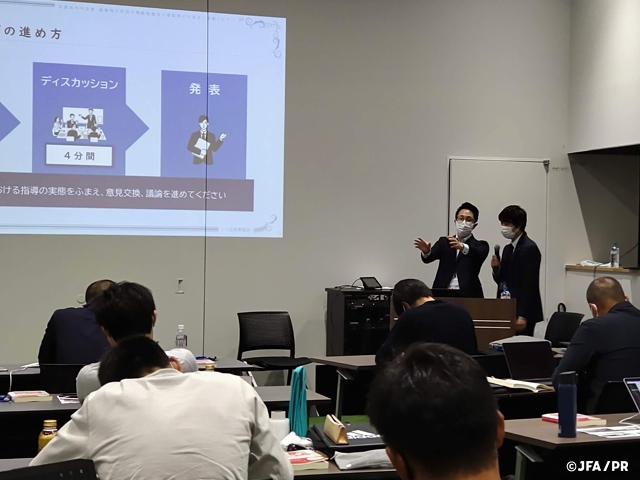 Participant's Comments
Mr. OSHIMA Hideo (Yokohama F. Marinos)
As we entered the third week of Module 1, the participants have become more familiar with each other, allowing for lively discussions after each coaching session. To organise the background and premise of each of the seven themes, understand the strengths and weaknesses of each theme, and then develop a concept of what you want to do. It may sound simple when you put it in words, but when you actually plan and lead in the role of a coach, you realise how difficult it can be. It reminds us that we still have a lot to learn.
The lecture was rich in content, covering brainstorming, self-analysis (leadership development), sports harassment, conditioning and many other elements necessary for coaches, and many questions were raised by the participants.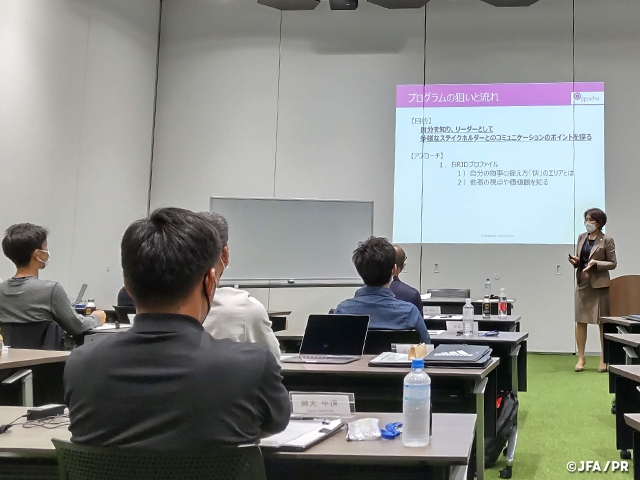 In the lecture on sports harassment, we learnt that harassment in sports has quadrupled in the last ten years and that one of the factors contributing to this number has to do with the history of how sports have spread in Japan. We were also reminded that because communication takes place with other people, there are bound to be differences in values and interpretations, and that it is important for us to understand these differences and to match our interpretative standards of conduct. We were taught that it is good to look at our decisions objectively, whether they are "necessary for coaching" and "whether the means are reasonable," so I will always try to keep this in the back of my mind.
We also had the opportunity to hear valuable stories from JFA Technical Director SORIMACHI Yasuharu and Coach TOGASHI Koichi, who is currently the Head Coach of the U-19 Japan National Team. Technical Director Sorimachi spoke about his work in management, including scheduling and matchmaking, as well as his own analysis of his time as a coach, and urged the participants to come out of their comfort zone to engage in the discussions. Coach Togashi mentioned that six of the eight FIFA World Cup™ winning countries have won the FIFA U-20 World Cup™, which is why they are going after the U-20 title, showing a strong sense of determination. However, they also told us that the number of times the national team can train as a team is very limited, which means they have to adjust to the conditions of the players and instil the tactics within the limited time they have on the pitch, so they gave us very useful tips on team management, such as methods for holding meetings and setting the intensity standards at the beginning of the training session.
We have a lot to learn in the month leading up to the next module, but I hope we can all make use of this "in-between study" period and grow together as a group. We would like to thank all the students who participated as support players, who gave their best despite the hard schedule.
Next week we will share the report of Mr. KITA Makoto (FC Tokyo U-15 Musashi).