NEWS
S-Licence Coaching Course 2020 Module 2/Intensive Course (4) Participant's Report Vol. 6
13 October 2020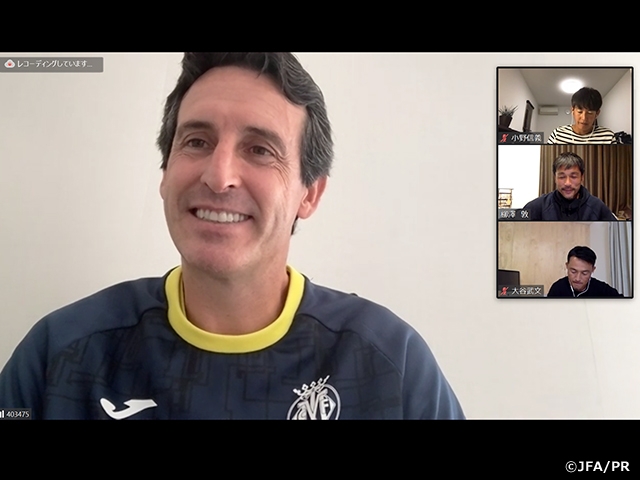 Following the conclusion of the five day short course, the online Module2 intensive course started for the S-Licence Coaching Course 2020. With the course being held online, it enabled coach Unai EMERY (Villarreal CF) to give a lecture from Spain.
Module 2 Intensive Course④
Duration: Mon. 5 - Thu. 8 October
Mon. 5 October
Management of human resource development: Professor HIROKAMI Junichi (Tokyo College of Music), Short-course (2) review
Tue. 6 October
Activities of J.League Academies: MASUMOTO Nobuhiro (J.League Football Department)
Professional coaching theory: OIWA Go (JFA Class S Instructor)
Wed. 7 October
Sports marketing: Professor HARADA Munehiko (Faculty of Sport Sciences, Waseda University)
Youth development activities of JFA: Director IKEUCHI Yutaka (JFA Youth Development)
Professional coaching theory: Coach Unai EMERY (Villarreal CF)
Thu. 8 October
Professional coaching theory: CHO Kwi-jae (Ryutsu Keizai University)
Next week we will share the report of coach TANABE Tomoe (Nojima Stella Due).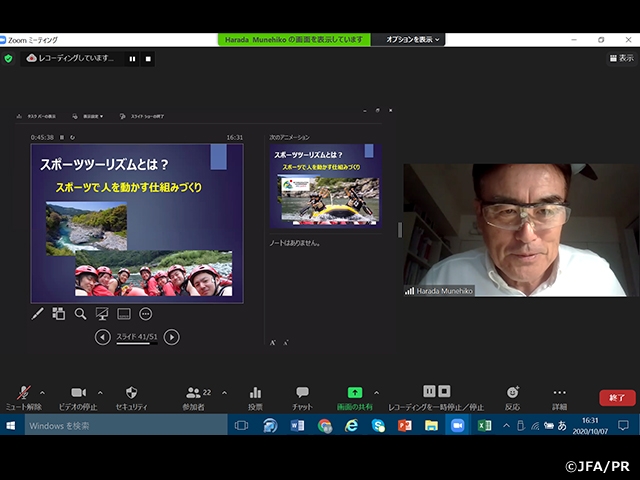 Comment
Mr. KOBAYASHI Yoshiyuki
The first week of Module2 intensive course saw the most numbers of lectures held thus far. Professor HARADA Munehiko of Waseda University mentioned that sports started as a recreational activity, and the balance between having fun and chasing results must be balanced. He also lectured us on the role of GMs in J.League clubs, how sports events are operated, and current trends in the sports business world.
Mr. MASUMOTO Nobuhiro of the J.League Football Department and JFA Youth Development Director IKEUCHI Yutaka, each shared us the similarities and differences between the youth development activities carried out by the J.League and JFA. During this session, the participants held a heated discussion and came to the conclusion that the environment surrounding youth development must be improved. The discussion made us realise that "passion" is the key factor to improve the environment for the youth's future.
JFA Class S Instructors, Mr. OIWA Go and Mr. CHO Kwi-jae, and coach Unai EMERY of Villarreal lectured us on professional coaching theory. It was a once in a lifetime experience to hear stories and ask questions to a coach who has won multiple titles in Europe and led big clubs like PSG and Arsenal. We asked questions like how he became a coach, what he values the most as a coach, and what type of questions he would ask the team owner before accepting an offer.
Mr. Cho shared us stories from his coaching career. It was interesting to hear that he has learned so much and managed to broaden his coaching ability from coaching college players. The words left by Mr. Oiwa struck me the most, as he mentioned, "Obtaining the S-Licence means that you will be leading Japanese football in the frontline, and you must acknowledge that fact."
The lecture given by Professor HIROKAMI Junichi of Tokyo College of Music was perhaps the most interesting session for me, as we learned about management of human resource development. The session made me realise that the relationship between "conductor" and "conductor development" is similar to the relationship between "coaches" and "instructors." When observing an actual conductor development lecture, we saw the student conducting in front of the entire orchestra and receive feedbacks after the session. This is similar to what we do in practical coaching sessions. We learned that these sessions are called the "gallows" by the students, as harsh words were delivered by the instructors. These sights were reminiscent of our coaching sessions, as we can only become better with the feedbacks from others.
With only two months remaining, we will continue to stay open-minded and challenge ourselves to make the most of this coaching course. Lastly, I would like to thank everyone involved in this course for making this S-Licence Coaching Course 2020 possible. Thank you very much.