NEWS
S-Licence Coaching Course 2020 Module 1/Intensive Course (2) Participant's Report Vol. 3
23 September 2020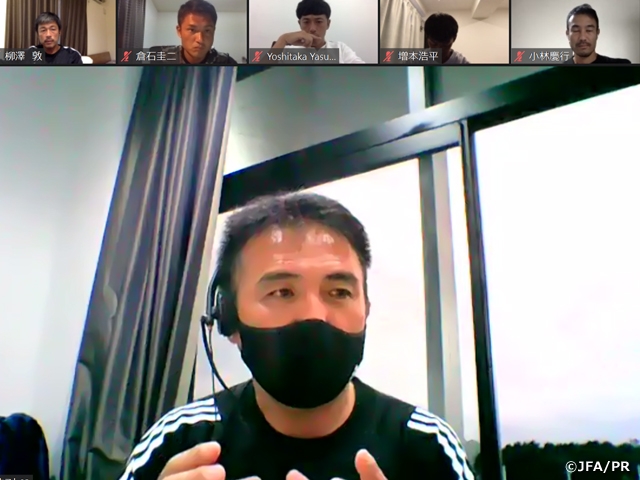 The S-Licence Coaching Course 2020 Module 1 has entered the second week of its intensive course. The participants have made enough adjustments to the online environment, and they are now capable of holding heated discussions online.
Module1 Intensive Course ②
Duration: Mon. 14 - Thu. 17 September
Mon. 14 September
Brain-storming: Professor USAMI Makoto (Kyoto University),
Physical conditioning: YASUMATSU Mikinobu (JFA Physical Fitness Project, Sub-leader)
Tue. 15 September
U-19 Japan National Team training observation (live streaming),
Q&A with Coach KAGEYAMA Masanaga (U-19 Japan National Team), Discussion
Wed. 16 September
Practical presentation: KATAKAMI Chie (Lecturer at Teikyo University/Media trainer)
Thu. 17 September
Professional coaching theory: Coach MORIYASU Hajime (Japan National Team),
Activities of Technical House: KATAGIRI Hiromi (JFA Technical House)
Next week we will share the report of Coach KITANI Kosuke (Vegalta Sendai).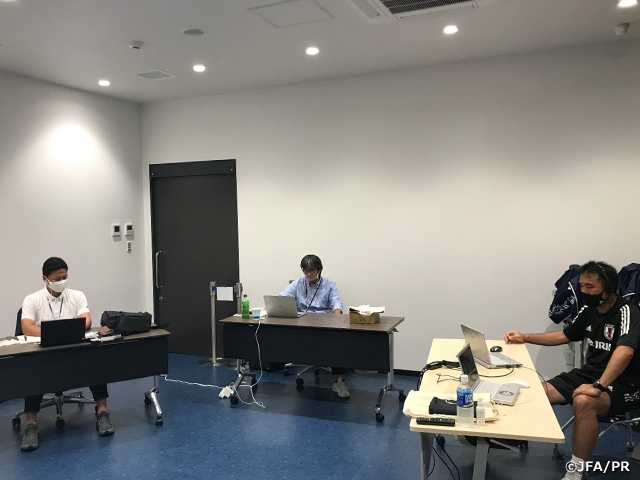 Comment
ONO Shingi (Yokohama FC Junior Youth)
We have finished our second week of the online course. There were times where I wondered what it would be like if we were able to hold the course offline, but I am now getting used to the course being held on ZOOM, and have been able to actively share my opinions online, which has allowed me to deepen my understanding of the course. I am thankful for JFA and the lecturers for providing us with this wonderful learning experience, as the participants are adapting to the new normal with a positive attitude.
The course started with our third brain-storming session. Compared to the first two sessions, where we were left without any answers or conclusions, this time, we were able to gain a sense of closure. Through these brain-storming sessions, we learned that coaches and leaders are required to make decisions based on multiple perspectives in order to come up with the most optimal solution.
The second part of the course was on conditioning. This time we were lectured on how to adapt and acclimate to specific environments. We scientifically analysed the measures taken against hot and cold weather, high altitude, and time difference. Throughout the analysis, we focused on how to prioritise and improve the players' performance.
On our second day, we observed a live streaming of the training session held by U-19 Japan National Team, which was followed by a Q&A session with coach Kageyama. Through this session, we were given the opportunity to hear the knowhows of team building, meeting and coaching techniques, and the aim of each training menu. We then held our own discussion session to deepen our understandings regarding training methods.
The third day featured a lecture on presentations. We learned techniques of public speaking and how to construct an effective speech. Prior to this session, the participants had prepared a mini-speech, and we all shared our speech. Although the presentation was held online, I got so nervous and butchered my speech. It made me realise that I need more practice on that aspect.
On the final day, we learned about the activities held by the JFA Technical House, followed by a discussion session with coach Moriyasu of the Japan National Team. Ms. Katagiri, who is an analytic from the Technical House, lectured us on the difference between European countries and Japan, and steps to prepare for the World Cup. In regard to the data collected from films and analytic software, we learned how to handle them, how to select and convert the data into practical form, and ways to implement the data to help the team and players.
During the discussion session with coach Moriyasu, we asked many questions, such as his first thoughts when receiving the offer to coach the national team, how he communicates with his players, his team management theory, and mentality as a coach. Despite asking many questions, coach Moriyasu thoroughly answered our questions, and I was deeply impressed when he mentioned, "I hope to work with people who share the same goal with me and those who have the qualities I lack." I have learned so much from this course, and I must now implement the new findings to football, teams, and players, so that I can make the most of this experience to become a better coach.