NEWS
S-Licence Coaching Course 2019 Module 2/Intensive Course (4) Participant's Report Vol. 5
17 June 2019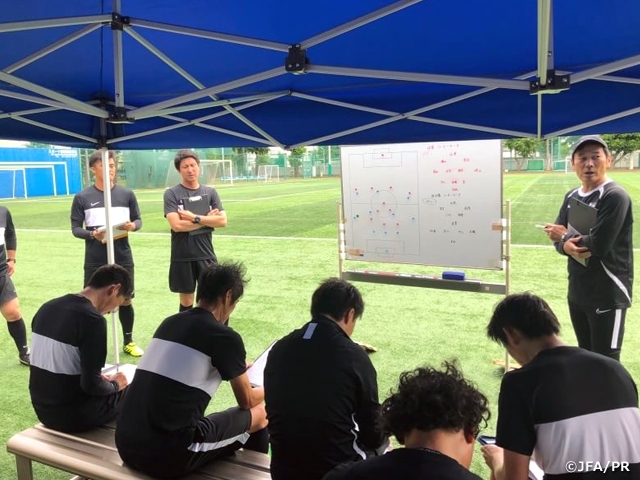 S-Licence Coaching Course 2019 Module 2
In our second week of Module 2, we will share the report from Mr. OTAGIRI Michiharu (Kataller Toyama).
Module 2 Intensive Course (4)
Duration: Mon. 10 - Thu. 13 June
Mon. 10 June
Afternoon: Brainstorming (Professor USAMI Makoto/Kyoto University), Professional coaching theory (Mr. IMAIZUMI Morinao/Florida State University)
Tue. 11 June
Morning: Coaching session
Afternoon: Coordination of Sporting regulations/Referees/Techniques (JFA Referees Committee Chairman OGAWA Yoshimi, Vice Chairman Raymond OLIVER), Professional coaching theory (Mr. ISHII Masatada)
Wed. 12 June
Morning: Coaching session
Afternoon: Terms and Regulations, Basic Medical knowledge and cooperating with doctors (JFA Medical Committee Mr. KATO Haruyasu)
Thu. 13 June
Morning: Training Observation (Yokohama F. Marinos)
Afternoon: Professional coaching theory (Mr. SHINDO Kunihiko), Coaching session review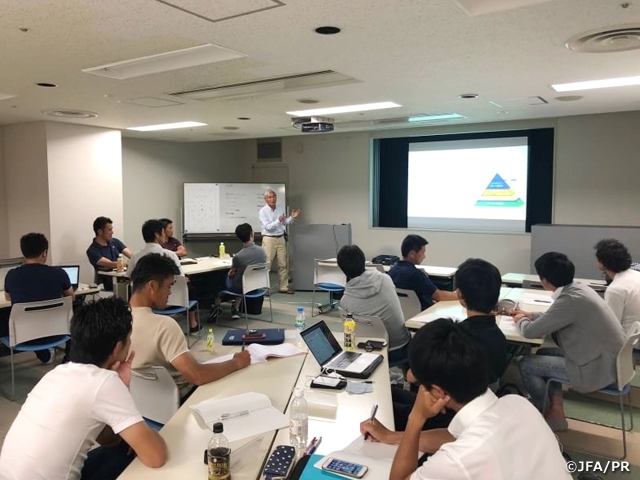 Comment
Mr. OTAGIRI Michiharu
My name is Otagiri Michiharu from Kataller Toyama. The S-Licence Coaching Course 2019 started its Module 2 Intensive Course part 3 on Monday 3 June. I will be reporting on the Module 2 Intensive Course part 4, which started on Monday 10 June.
Just as Mr. MIYAZAWA Yuki mentioned in his report, the participants have become close friends over the course and we have been sharing not only football related topics, but regarding our personal lives and hobbies.
In this intensive course, we had one less day to carry out the coaching session, but nonetheless it was still a very productive course. It was evident that the participants were making adjustments from the previous course, as we implemented our new knowledge into the coaching course to construct a more refined coaching plan. We hope to continue on this trend and heighten the quality of our coaching skills in the subsequent sessions.
During the lecture courses, we first conducted a brainstorm session with the theme, "An individual within the organisation," and it was interesting to see how different perspectives we all have. I was deeply moved by Professor Usami's ability to summarise each opinion shared by the participants. Mr. Imaizumi, Mr. Ishii, and Mr. Shindo each took the podium to discuss their professional coaching theories. Their stories were all very intriguing, as we learned the importance to communicate with each other, the key to make the team face the same direction, and the significance of having play model.
The lecture on medical procedures allowed us to realise that there are classifications to injuries, depending on its curability and level of pain. We also deepened our knowledge on the sporting rules, relationship with the referees, terms and regulations, and many other topics.
When we observed the training session carried out by Yokohama F. Marinos, I was surprised by their efficiency. Their session had very few breaks and everything was conducted in a timely manner. Following the session, we were given the opportunity to ask questions to coach POSTECOGLOU and I was deeply inspired by his words, when he mentioned, "We must not stop learning and improve ourselves each day." We are thankful for coach Postecoglou and the staffs of Yokohama F. Marinos for taking their time out of their busy schedule for us.
There were so many new topics we learned through this course and so many things we came to realise. We hope to gather and implement all these new knowledges so that we can improve ourselves as coaches.
Next time, we will be sharing a report from Mr. ASAKURA Yoshihiko (Chukyo University).