NEWS
S-Licence Coaching Course 2019 Module 2/Intensive Course (5) Participant's Report Vol. 6
24 June 2019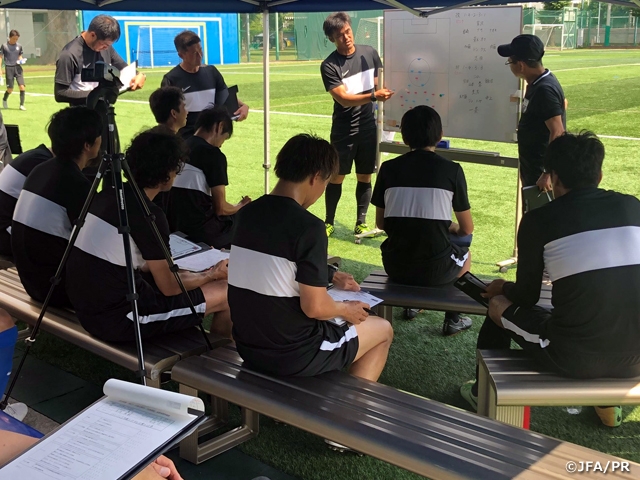 For the third and final week of Module 2, we will share the report from Mr. ASAKURA Yoshihiko (Chukyo University). Until the participants are regathered on Monday 2 September, instructors will be visiting the participants' clubs.
Module 2 Intensive Course (5)
Duration: Mon. 17 - Thu. 20 June
Mon. 17 June
Afternoon: Brainstorming (Professor USAMI Makoto/Kyoto University), Professional coaching theory (Coach STALPH Yuki/Y.S.C.C)
Tue. 18 June
Morning: Coaching session
Afternoon: Team building (Mr. FUKUTOMI Shinya/Tokyo Denki University), Professional coaching theory (JFA Coaches Training Assistant Director KAWAMATA Noriyuki)
Wed. 19 June
Morning: Coaching session
Afternoon: Professional coaching theory (UCHIYAMA Atsushi/JFA Technical Committee), Management of human resource development (Mr. YANAGAWA Koji)
Thu. 20 June
Morning: Coaching session
Afternoon: Professional coaching theory, (Coach Ulrik KIRKELY/Japan Women's National Handball Team), Coaching session review, Module2 summary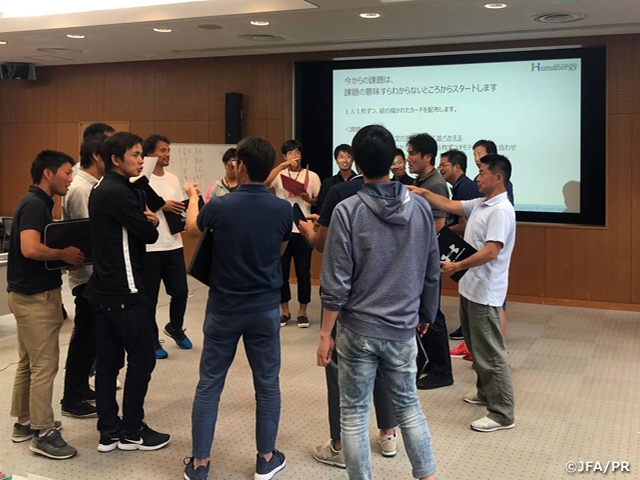 Comment
Mr. ASAKURA Yoshihiko
We have entered the third and final week of Module 2, and we are really feeling our own improvements over the daily coaching sessions. Everyone has shown great improvements over the course, and I was getting great inspiration from them. I was given the opportunity to really get the grasp on the theme of "counter," and learn the importance to think beyond the superficial theme and its meaning.
During our lecture sessions, we went through our third brainstorming session with professor USAMI Makoto, a course on team building with professor FUKUTOMI Shinya, and a course on management of human resource development by Mr. YANAGAWA Koji. As part of the lectures on professional coaching theory, we were given a lecture from Mr. STALPH Yuki, who became the coach of Y.S.C.C. Yokohama soon after receiving the S-Licence last year, a lecture given by Mr. KAWAMATA Noriyuki and Mr. UCHIYAMA Atsushi on the accomplishment and tasks learned from the FIFA U-20 World Cup, and a lecture given by coach Ulrik KIRKELY from the Japan Women's National Handball Team, that gave us a multi-angle comparison between Japan and Denmark. Each lecture gave us a new perspective that can help us in our future coaching career. It is very important that we keep a wide range of options and that is why we need to hold discussions. We also need to understand the cultural differences in order to find the appropriate coaching style. A "Team" is a group that works together to accomplish a goal, and it is important that everyone on the team works with courage and commitment. The passive nature shown by the Japanese people may turn into a strong point when competing at the world level. These are just some of the examples of my new findings and recurring themes that I found significant. We have another two months until the start of Module 3, so I will organise everything we've learned through this course and try to implement the knowledge to my daily coaching routines.
Lastly, one of my group members of this course, Mr. SAKAI Naoki, has recently led Nippon Sport Science University Kashiwa High School to earn the title at the Chiba qualifiers of the Inter-High School Championships, which was the school's first title in 33 years. Despite taking this intensive course during the same period, his accomplishment has given me great encouragement and inspiration. With hopes that his team will do well at the Southern Kyushu Inter-High School Championships 2019, I will nominate him to become the next reporter of the course.