NEWS
Coach Vahid HALILHODZIC expects 'hard work and high quality'
11 November 2016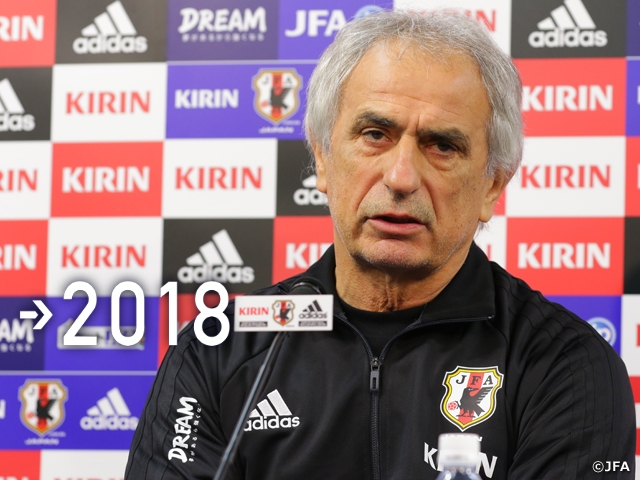 Vahid HALILHODZIC, the coach of SAMURI BLUE (Japan National Team), appeared at an official press conference on Thursday 10 November prior to the game against the Oman national team in the KIRIN CHALLENGE CUP 2016. He announced his enthusiasm for using young players in the coming match against Saudi Arabia in the final Asian Qualifiers for the 2018 FIFA World Cup by stating 'I expect them to demonstrate hard work and high quality'.
The team made some final adjustments at Kashima Stadium in Ibaraki, where the match against Oman will be held. The session was closed after the first 15 minutes, and they went through tactics for the coming game.
Although midfielder KAGAWA Shinji (Borussia Dortmund/Germany) worked separately at the gym on Wednesday 9 due to injury on his right ankle sustained in a club game, he recovered to join his teammates on the ground. Defender NAGATOMO Yuto (FC Internazionale Milano/Italy), however, had to stay at the hotel to recuperate from illness.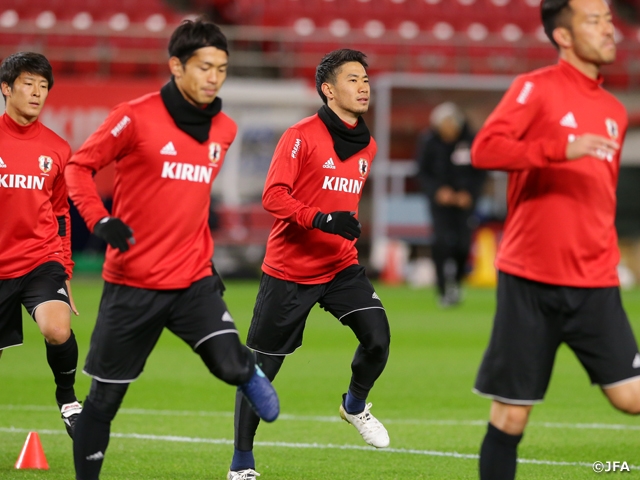 Since Saudi Arabia are topping the group in the final qualifiers, Japan in third place must win the match against them on Tuesday 15 November. However, coach Vahid HALILHODZIC announced that he would use players, who haven't had the opportunities to play in the national team or in their respective clubs in the game against Oman prior to the vital match. He added 'tomorrow will be a good test'.
Coach Vahid HALILHODZIC explained 'my priority is that the team will perform better in the game against Saudi Arabia. We'll prepare for the tomorrow's game, but our aim is to beat Saudi Arabia. I've got many areas to check in my mind and I'm going through them right now.'
Defender MARUYAMA Yuichi (F.C. Tokyo) commented 'as I expect to get a chance to play this time, it's up to me whether I can display my abilities on the pitch or not. I'd like to play in a way the opponents would hate.'
Japan's record against Oman is 7 wins, no losses and 3 draws, including the latest win 2-1 in an away game in November 2012 in the final qualifiers for the previous World Cup.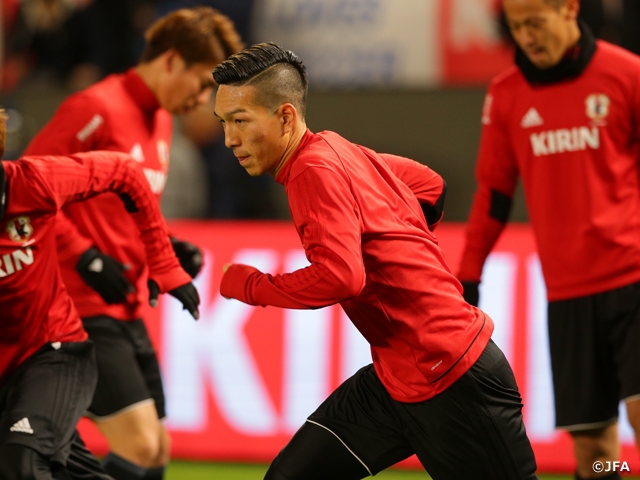 Japan are currently 51st in the FIFA World Ranking, while Oman rank 129th. Oman ended in second place of the group with Iran in the second-round of the World Cup qualifiers and got eliminated by failing to become one of the top four among the second-place teams in the second round. At this present moment, they are preparing themselves for the third round of qualifiers for the 2019 AFC Asian Cup in March.
The team are led by the Spanish coach JUAN RAMON LOPEZ CARO, who used to coach for the Saudi Arabia National Team and Real Madrid. They drew friendlies with Jordan and Bahrain in October.
All the players except the one who plays for the second division in Spain are based domestically. The current national team have ten players who are younger than 23 years old with the youngest being 18-years old. The team arrived in Japan on Tuesday 8 November and held a one-hour practice session at the match site.
Forward OKAZAKI Shinji (Leicester City Football Club/England) commented 'we must gain confidence prior to the game against Saudi Arabia'.
Coaches' and Players' Comments
Vahid HALILHODZIC, Coach of SAMURI BLUE (Japan National Team)
Tomorrow is our preparation for beating Saudi Arabia. Since we need to get ourselves in top condition both mentally and physically for the game against Saudi Arabia, I'd like some players to get some match experience, while resting those who have recently been playing on the pitch. In an official match, we haven't conceded a goal in open play, which demonstrates that we function well as a whole. Having said that, we allowed four goals from set pieces, which could have been easily defended. I expect the players to concentrate and work hard while avoiding unnecessary fouls leading to the opponents' set plays.
FW #9 OKAZAKI Shinji (Leicester City Football Club)
I understand that the players in good condition should join the team, and, among those, ones who are fit to the team should get the chance to play in the matches. Since a variety of skills and strengths from different players forms a good national team, I'd like to make that contribution too. Personally, I believe appropriate distance and combination among players are vital. I'd like to try them out while keeping a good amount of tension.
DF #2 MARUYAMA Yuichi (F.C. Tokyo)
There is a difference in formations between my club and the national team, and I find the adjustments to be very difficult. However, I've been working on what I have learned in the national team back in my club. Now it's time to display what I have been doing in F.C. Tokyo here. I need to be fully aware of the difference in the physicality from the J.League matches and make the necessary adjustments during the game.
DF #22 YOSHIDA Maya (Southampton FC/England)
In tomorrow's game, I'd like to focus on not conceding goals from set pieces and not giving away frivolous fouls. Since we have been conceding goals from minor tactical errors or simple mistakes, we need to defend more solidly by paying attention to details. I'd like to achieve as much as possible in the next game.
MF #8 HARAGUCHI Genki (Hertha BSC Berlin/Germany)
As we've been spending longer time together, I think we're communicating better. In terms of defence or stamina, we'd like to keep up the same work rate, while improving the quality of plays and combinations in front of the goal.
MF #10 KAGAWA Shinji (Borussia Dortmund/Germany)
Despite a slight pain in my foot, it's not a big problem. If we can get a positive result in the game against Oman, it'll prepare us well for the Saudi Arabia match. So I'd like to face the match in good condition both mentally and physically. The team always need new strengths and players, and we (including I) have to prove ourselves by getting results on the pitch. I'd like to showcase my skills and lead the team to victory.
JUAN RAMON LOPEZ CARO, Coach of Oman National Team
Although I expect a tough game tomorrow, we're still building our team through a 10-month plan. We'd like to challenge the match with high motivation. I'm not surprised with the current results of the qualifiers for the World Cup. Since every participating team are really competitive, small details can make a difference. I believe Japan still have a chance to book a place in the World Cup, if they focus on details both in offence and defence.
JFA-TV (Japanese version only)
OKAZAKI Shinji (Leicester City)Interview

HARAGUCHI Genki (Hertha Berlin) Interview

KAGAWA Shinji (Borussia Dortmund)Interview
Schedule
Sun. 6 November
PM
Training
Mon. 7 November
PM
Training
Tue. 8 November
PM
Training
Wed. 9 November
PM
Training *
Thu. 10 November
TBC
Official Conference (Kashima Soccer Stadium)
Official Training (Kashima Soccer Stadium) *
Fri. 11 November
19:20
KIRIN CHALLENGE CUP 2016
vs Oman National Team (Kashima Soccer Stadium)
Sat. 12 November
AM
Training
Sun. 13 November
PM
Training *
Mon. 14 November
TBC
Official Conference (Saitama Stadium 2002)
Official Training (Saitama Stadium 2002) *
Tue. 15 November
19:35
ASIAN QUALIFIERS (Road to Russia)
vs Saudi Arabia National Team (Saitama Stadium 2002)

*Closed doors except for first 15 minutes
**Schedule is subject to change due to team condition, weather, or any other unforseeable circumstances
KIRIN CHALLENGE CUP 2016
2016-11-11 (Fri.) - 19:20 (Estimated time)
Kashima Soccer Stadium
SAMURAI BLUE (Japan National Team) vs Oman National Team
More Information
※HUGE CROWD and HEAVY TRAFFIC expected for the game. Please check the directions/traffic information below.
Directions/ Traffic Information (Japanese only)

ASIAN QUALIFIERS - ROAD TO RUSSIA
2016-11-15 (Tue.) - 19:35 (Estimated time)
Saitama Stadium 2002
SAMURAI BLUE (Japan National Team) vs Saudi Arabia National Team
More Information