NEWS
SAMURAI BLUE train with renewed determination, fly to Bangkok for Thailand match
03 September 2016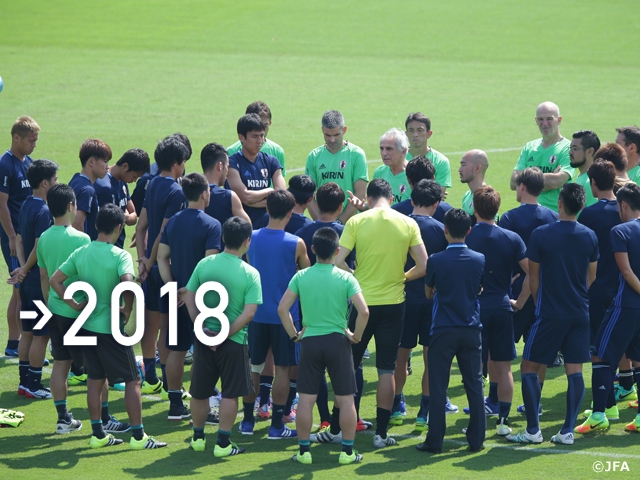 A day after the disappointing loss to the United Arab Emirates (UAE) in the first match of the final Asian qualifying round (Road to Russia), SAMURAI BLUE had training in the morning of Friday 2 September in Saitama. And they flew to Bangkok for their second match against Thailand to be held on 6 September.
Under the scorching sun, the squad had a 10-minute meeting before the practice session. Japan coach Vahid HALILHODZIC said to the players assembling on the pitch, "it was disappointing yesterday, but let's battle it out with a determination to win all the remaining nine matches."
The starting line-up from the last night including forward HONDA Keisuke (AC Milan/ Italy) had a light workout such as running and stretching indoors throughout the session. The UAE match substitutes, including midfielder HARAGUCHI Genki (Hertha BSC Berlin/ Germany), worked on a 5-on-5 game. "Go, go!" Halilhodzic shouted. "Don't stop moving!" He instructed them to close down on the ball and opponents aggressively while moving swiftly with only a couple of touches.
They undertook attacking build-ups as well, going through moves such as rushing for cross balls from the sides and attacking space behind defenders with through balls from the middle. The coach kicked the ball himself and deliberately reviewed the timing and angles when to run into space.
HIGASHIGUCHI Masaaki (Gamba Osaka) and HAYASHI Akihiro (Sagan Tosu), substitute goalkeepers who did not play in the last match, worked on drills for catching floating passes from the close range and high crosses from the flanks.
The players seemed to be heartbroken after the match but showed energetic moves to refresh the memory during the session today.
Haraguchi said, "we came back as well in the end when the second-qualifying round started like that. If we can try hard as a team, the results must follow." Midfielder YAMAGUCHI Hotaru (Cerezo Osaka) looked back his experience when he was with the Olympic team, "we were also lost at times but were able to rebuild the team by working positively. Everything will be fine." He tried to refresh his mind.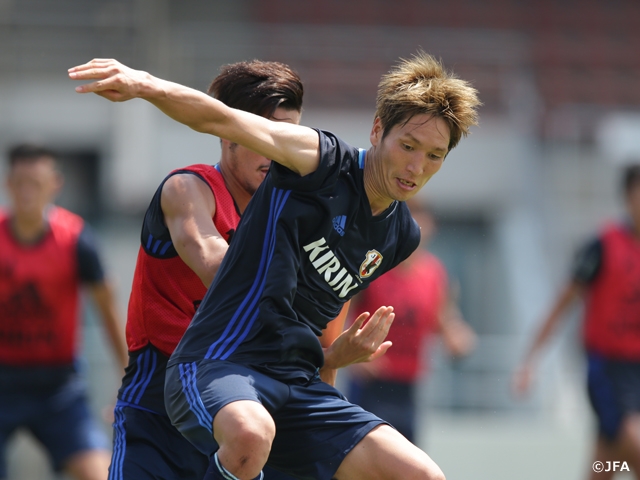 Along with midfielder KASHIWAGI Yosuke (Urawa Red Diamonds), forward OKAZAKI Shinji (Leicester City Football Club/ England) and midfielder KAGAWA Shinji (Borussia Dortmund/ Germany) worked out separately because of discomfort in their legs.
After finishing the training, getting back to hotel to have lunch and packing up, they left Narita Airport for Bangkok, where their second match against Thailand is scheduled to take place. When arriving at the airport in Bangkok after a six-hour flight, there were many local fans and media welcoming the squad.
Thailand fell short to Saudi 1-0 in their first match on the road on Thursday 1 September.
SAMURAI BLUE will start their training at the away site on 3 September.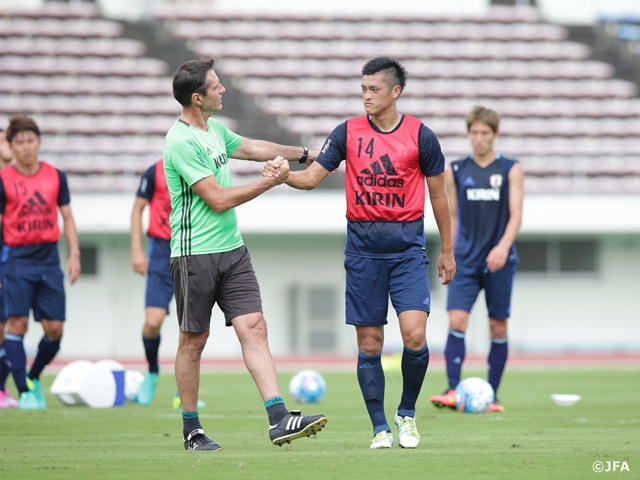 Players' Comments
MF OHSHIMA Ryota (Kawasaki Frontale)
I didn't feel tensed yesterday, but once actually playing on the pitch, there was a slightly different feeling. Because we couldn't get results, I'm still disappointed. And as long as I play in the match, I needed to get results. I should've used the centre and sides depending on situations. To do that, I felt the need to see the entire pitch.
DF SAKAI Hiroki (Olympique de Marseille)
Everyone on our team was trying to get second balls. When you play at a higher level in the final qualifiers, it's going to be an even battle. We should be 'alert' of the present situation we are in. Because I had lots of chances to go up, we definitely needed to score from my side. I'm not sure how the next opponents come out, but we will first look at how they play and make things clear.
MF YAMAGUCHI Hotaru (Cerezo Osaka)
During the match yesterday, I was thinking about my role when I get on the pitch. With better anticipation, our central defenders could have got tight on the opponents a little earlier and defensive midfielders could have coped with them better. Our coach told us that all we can do is just take a positive approach, and we've got to refresh our mind. We will have more situations where we can win the ball with better anticipation and interceptions, so I want to make a difference by making such plays.
DF UEDA Naomichi (Kashima Antlers)
I was ready for whenever I got called. This was my chance to overcome the disappointment in the Olympics. So not only sitting on the bench, I had a sense of urgency that I should work hard being prepared to play on the pitch. From my experience in the Asian qualifiers for the Olympics, I know it's not going to be easy. And the last match reminded me of that once again. We've got to renew our mind and work together as a team to win the next one.
MF HARAGUCHI Genki (Hertha BSC Berlin)
When you lose, the situation is going to be worse, but we came back in the second round. Japan are not the team who get outskilled even on the road. If we were to lose, that's because of our mental weakness or lack of smartness (cunningness). So if we get a stronger determination than the opponents and focus on winning each battle for the ball and hard-running, we should come up with a win. There are players on this national team who've got mental strength to overcome this pressure with a sense of urgency. I also want to be one of them, and the results will follow if we try hard as a team.
MF HONDA Keisuke (AC Milan)
Japan were weak in the match against UAE. Our squad are great statistically. But to win an actual match, there is a component unmeasurable by statistics—whether you are used to competitive battles; whether you have experienced tough situations. These are some of the factors that could decide the outcome of the game. The UAE got more players who have such intangibles. That directly influenced the result. Before discussing the game plan, we pretty much lacked the fighting spirit, persistence, and resilience.
You battle at a different level in international competitions. Japanese players need to get used to competing against foreign players. In addition, we need to create more opportunities (for Japanese players) to face foreign players of this quality.
Schedule
Sun. 28 August
PM
Training *Open to the public (TBC)
Mon. 29 August
PM
Training *Closed-door
Tue. 30 August
PM
Training *Closed-door
Wed. 31 August
TBC
Training *Closed-door
Thu. 1 September
1-2
ASIAN QUALIFIERS - ROAD TO RUSSIA
vs UAE (Saitama Stadium 2002)
Fri. 2 September
AM
Training *Open to the public (TBC)
Sat. 3 September
PM
Training *Open to the public (TBC)
Sun. 4 September
PM
Training *Closed-door
Mon. 5 September
PM
Training *Closed-door
Tue. 6 September
19:15
ASIAN QUALIFIERS - ROAD TO RUSSIA
vs Thailand (Rajamangala Stadium)
*The schedule is subject to change due to the team condition, the weather, etc.
*Local Time
ASIAN QUALIFIERS - ROAD TO RUSSIA
2016-9-6 (Tue.) - 19:15 (estimate time) (Japan Time 21:15)
Rajamangala Stadium (Bangkok/Thailand)
Thailand National Team vs SAMURAI BLUE (Japan National Team)
More information