NEWS
SAMURAI BLUE set off for final Asian qualifiers, facing UAE on 1 September
29 August 2016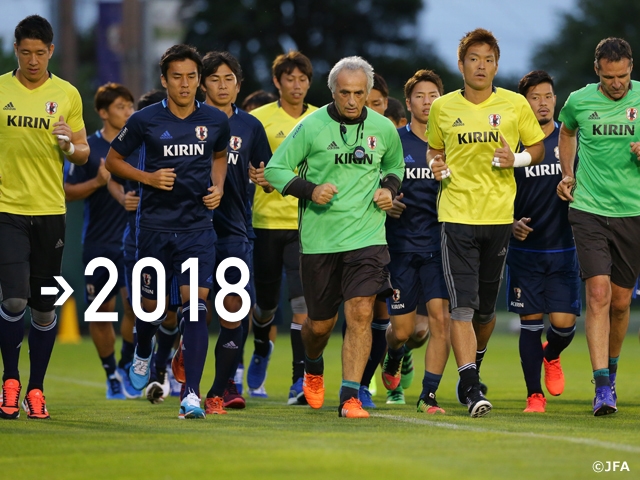 SAMURAI BLUE (Japan National Team) began training on Sunday 28 August in Saitama with four days left until the "Final Asian Qualifiers (Road to Russia)" in order to earn a spot for the 2018 FIFA World Cup Russia. Japan play their first match against the United Arab Emirates (UAE) on Thursday 1 September at Saitama Stadium 2002 and the second match against Thailand on Tuesday 6 in Bangkok.
Seventeen players gathered on the first day of the camp, while seven overseas-based players join later due to their respective clubs' matches, including forward OKAZAKI Shinji (Leicester City Football Club/ England) and forward HONDA Keisuke (AC Milan/ Italy).
Most of the players first assembled at hotel before entering the practice site, but midfielder KAGAWA Shinji (Borussia Dortmund/ Germany) and forward USAMI Takashi (FC Augsburg/ Germany) directly headed there from the airport due to the arrival time of their flights to Japan.
At a meeting on the pitch held before the session, coach Vahid HALILHODZIC pointed out that fierce contests would set to begin. He urged the players to maintain their conditioning and make a good preparation for the coming matches.
The squad jogged around in front of kids visiting to see their practice and calling out "Gambare (Let's go! You can do it)!" Among the players, defenders MARUYAMA Yuichi (F.C. Tokyo) and ENDO Wataru (Urawa Red Diamonds) also showed up on the pitch after a call-up on very short notice in place of defenders NAGATOMO Yuto (FC Internazionale Milano/ Italy) and MAKINO Tomoaki (Urawa Red Diamonds), who could not to participate due to injury.
After running, three goalkeepers and midfielder YAMAGUCHI Hotaru (Cerezo Osaka) stayed on the pitch and others had fitness training for recovery in the facility in consideration of fatigue from a match on the previous day and a long trip.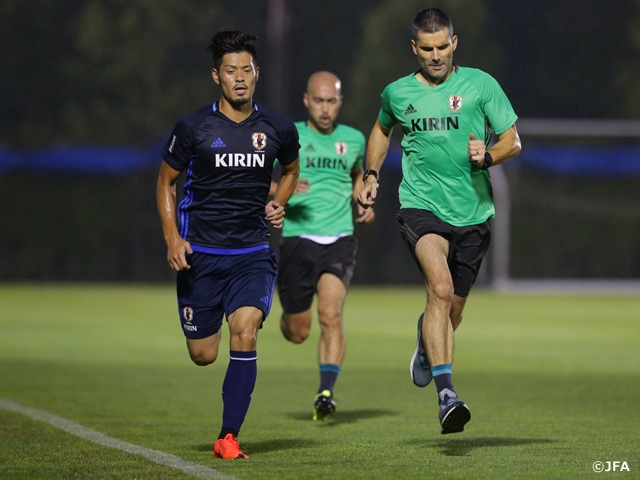 On the field, with occasional rain, the three goalkeepers worked under newly-added goalkeeper coach Enver LUGUSIC, who joined the team from this camp. The session was centred on recovery, but still incorporated drills of close-range catching and shot-saving from the edge of the box. Yamaguchi, who did not have a match on the day before, spent his time going through physical training using the ball and moves from passing to shooting under the instruction of his coaches.
Kagawa talked about getting on the plane right after his match finished on Saturday. "I wanted to come back as soon as possible." He added, "it's totally different from arriving tomorrow morning or night. I've got lots of time."
And after ASANO Takuma's new team was determined on Friday 26 August, moving from Arsenal FC to VfB Stuttgart on loan, he said "I hope to be called up to the national team all the time and play on the pitch. As a result, it helps me grow when getting back to Arsenal."
The qualifiers' twelve participating teams, divided into two groups of six, are to play home and away matches on a double round-robin basis up until September of next year, and top two teams in each group can get a spot for the finals. Meanwhile, the third-placed teams face off in a playoff match before its winner compete for the remaining one spot against a winner of the Confederation of North, Central American and Caribbean Association Football (CONCACAF). For their sixth consecutive qualification for the FIFA World Cup, Group B Japan will meet Iraq and Australia in October and Saudi Arabia in November this year after facing the UAE and Thailand in this coming contests.
Players' Comments
MF KAGAWA Shinji (Borussia Dortmund)
I think the first two matches of the final qualifiers are must-win for us. I know it won't be easy, but our journey lasts for a year. So our first goal is to come out of each match with a win. My condition is not a problem. I have been in Europe, so the humidity is the worst problem, but this is not the first time for me. I want to get used to it as I keep practising. I can easily remember the disappointment of the loss we had to UAE in the last AFC Asian Cup. But the coach is different now and so are the players. This final qualifiers are totally different. We want to make sure to get well prepared in order to beat them this time and get off to a good start.
DF OTA Kosuke (SBV Vitesse)
Simply I was very happy to be selected this time. It's imperative that we win. So we make sure to come home with two wins, and for that I have been practising individually. It's how much I can contribute to this team at this point. I want to practise hard from tomorrow. If I get to play in the matches, I want to play aggressively. Scoring through set-pieces is particularly important in qualifiers, so I want to show my strength there. I worked hard on it in the Netherlands as well, so if there is a chance, I want to have a go at it.
MF YAMAGUCHI Hotaru (Cerezo Osaka)
I never expected that I would be called up, so there was a surprise. But now that I am here, I want to take advantage of my own strength to contribute to the team. I think what they regard the most highly is the ability to rob a ball from opponents. So I want to show and keep showcasing that. I can get various inspirations once I come to the national team, so I want to convert them to positive outcomes for myself.
GK NISHIKAWA Shusaku (Urawa Red Diamonds)
I think this is another opportunity to learn new things from a new goalkeeper coach. What's most important for a goalkeeper is fundamentals. So I want to make sure to do what I am supposed to do without mistakes and broaden the width of my plays. Even when we have different defenders on the pitch, we want to defend collectively. If we communicate well in practices, I think we can understand each other in matches even when we can't actually hear each other. Every player on the pitch maintains a strong determination to play in the World Cup no matter what, and we want to make sure to play well in the first match. In the final qualifiers, I want to take whatever means necessary to bring a victory for the team and keep winning with clean sheets.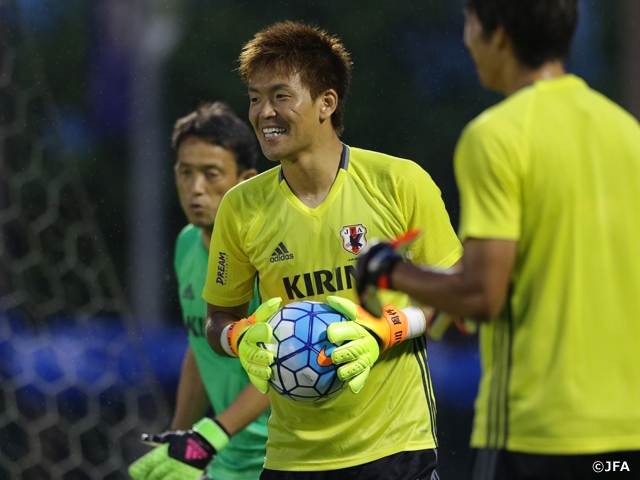 Schedule
Sun. 28 August
PM
Training *Open to the public (TBC)
Mon. 29 August
PM
Training *Closed-door
Tue. 30 August
PM
Training *Closed-door
Wed. 31 August
TBC
Training *Closed-door
Thu. 1 September
19:35
ASIAN QUALIFIERS - ROAD TO RUSSIA
vs UAE (Saitama Stadium 2002)
Fri. 2 September
AM
Training *Open to the public (TBC)
Sat. 3 September
PM
Training *Open to the public (TBC)
Sun. 4 September
PM
Training *Closed-door
Mon. 5 September
PM
Training *Closed-door
Tue. 6 September
19:15
ASIAN QUALIFIERS - ROAD TO RUSSIA
vs Thailand (Rajamangala Stadium)
*The schedule is subject to change due to the team condition, the weather, etc.
*Local Time
ASIAN QUALIFIERS - ROAD TO RUSSIA
2016-9-1 (Thu.) - 19:35 (estimate time)
Saitama Stadium 2002
SAMURAI BLUE (Japan National Team) vs United Arab Emirates National Team
More information
2016-9-6 (Tue.) - 19:15 (estimate time) (Japan Time 21:15)
Rajamangala Stadium (Bangkok/Thailand)
Thailand National Team vs SAMURAI BLUE (Japan National Team)
More information