NEWS
Honda, Okazaki join SAMURAI BLUE – Saitama Camp Day 2
30 August 2016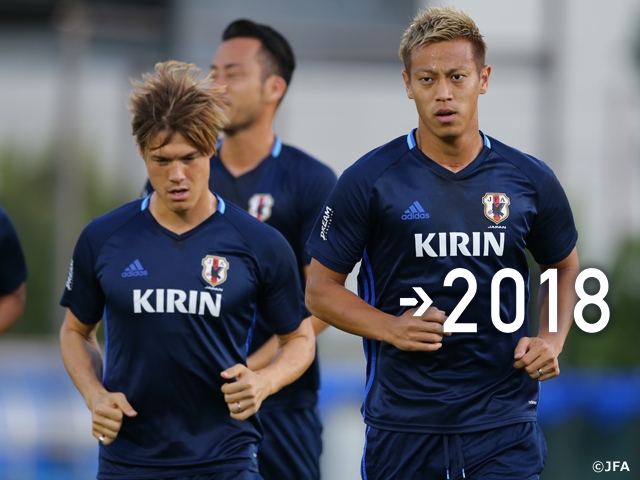 In the run-up to the Final Asian Qualifiers (Road To Russia) for the FIFA World Cup in 2018, SAMURAI BLUE (Japan National Team) entered the second day of the camp on Monday 29 August in preparation for the first qualifying match against the United Arab Emirates (UAE) at Saitama Stadium 2002 on 1 September and the second match against Thailand on 6 September in Bangkok, with five overseas-based players including forwards HONDA Keisuke (AC Milan/ Italy) and OKAZAKI Shinji (Leicester City Football Club/ England) joining the team.
In the practice session that started in the evening, the squad worked out separately in several groups depending on each player's condition in consideration of how much they played in their respective matches last weekend and the long trip from Europe.
Joining the team from abroad, forward MUTO Yoshinori (1.FSV Mainz 05/ Germany), defender SAKAI Gotoku (Hamburger Sport-Verein/ Germany) and defender YOSHIDA Maya (Southampton FC/ England) were put through a light work-out, including stretching and running, on the same day of their arrival.
Honda and Okazaki, also returning to their home country on the same date, worked up a good sweat with 2-on-2 foot volleyball along with midfielders HASEBE Makoto and KAGAWA Shinji.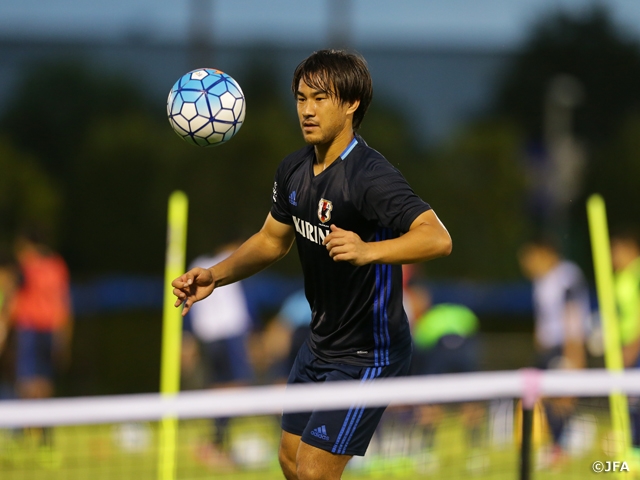 Meanwhile, the players who have been in the camp from the first day, including midfielders KASHIWAGI Yosuke (Urawa Red Diamonds) and OHSHIMA Ryota (Kawasaki Frontale), had physical training and worked out dividing into groups of three for each position. While keeping quick transitions between offence and defence and intense battles on one-on-one situations in mind, the players, then, practiced 6-on-6 and 3-on-3 drills, as well as going through offensive build-ups repeatedly.
Kashiwagi stretches his playing imagination, "I've got to think about each individual playing style all the time while I'm on the pitch. I hope to initiate our attacks and help create better offence."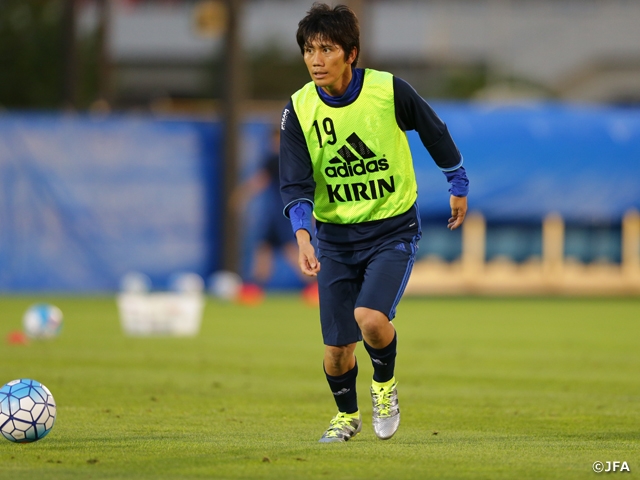 After the team finshed their practice, coach Vahid HALILHODZIC cautioned SAKAI Hiroki (Olympique de Marseille/ France) about their quick and skilful offensive moves, giving detailed instructions and demonstrating himself how to 'close down' on opponents, dribbling or receiving the pass.
Midfielder KIYOTAKE Hiroshi (Sevilla FC/ Spain) and forward HARAGUCHI Genki (Hertha BSC Berlin/ Germany) are scheduled to join on Tuesday 30 August.
Players' Comments
FW OKAZAKI Shinji (Leicester City Football Club/England)
If I get a chance to play, I've got to score goals. What this team need the most is confidence. Japan have bitter memories in battles against Asian countries but can't move forward unless removing the negative feeling. To do that, we need a win. And to win a match, we need goals.
Each one of the matches is important in the qualifying round. All the teams have a chance to win, and the competition is likely to be close on points. We don't want to show any vulnerability. There are only two days to go until the UAE match. All of us need to be on the same page, while building a common ground where we can collaborate our efforts going forward. Tactically, what Japan need now is to realise when to defend and when to look for goals. I will try to score and help the team.
FW HONDA Keisuke (AC Milan/Italy)
We believe we are all set both physically and mentally. The UAE must also be prepared. They got physically strong players (than before) and became a capable team to win in Asia. The key is how to perform with a must-win mindset when you play in such kind of a situation. Feeling the right amount of pressure and sticking to 'what needed to be done,' I am certain that we can succeed. As long as I play up front, I'm expected to get involved in plays directly influencing the result – creating scoring opportunities and striking goals.
Momentum is important in the qualifying round, so we want to get through the first match in a good atmosphere. Getting into a tougher situation compared to the last qualifiers implies that Japan is growing (improving) slower than their counterparts. That is not acceptable. Bearing that in mind, I want to prove different attaining positive results.
MF OHSHIMA Ryota (Kawasaki Frontale)
I don't really remember the past final round of the World Cup qualifiers, but I want to bring out my best. I will try to change the pace on offence. In regards to defence, which is my weakness, I need to improve by learning and absorbing from the players who have better and unique set of skills.
Even with the teammates who I never worked together, I just need to see and adjust accordingly, just as we did in the Olympics, when the overage players were brought in.
DF YOSHIDA Maya (Southampton FC/England)
The opponents worked together as a team for a long time and, most likely, studied a lot of Japan's matches. Since there are quite a few (Japanese) offensive players playing in a major club, it wouldn't be difficult to get their video footage. They should have more information than us. Despite this disadvantage, we need to focus on every single match, as our coach says, "you've always got to play with a determination as if you were playing against Brazil."
In the last matchup, we probably let our guard down, playing well in the last three matches at that time. Fatigue might had been a factor. As a veteran player on the pitch, not only do I feel responsible for encouraging the teammates and keeping our concentration during the match, but I also need to take on such responsibility.
JFA-TV (Japanese Version Only)
OKAZAKI Shinji (Leicester City Football Club/England) Interview

HONDA Keisuke (AC Milan/Italy) Interview

OHSHIMA Ryota (Kawasaki Frontale) Interview
Schedule
Sun. 28 August
PM
Training *Open to the public (TBC)
Mon. 29 August
PM
Training *Closed-door
Tue. 30 August
PM
Training *Closed-door
Wed. 31 August
TBC
Training *Closed-door
Thu. 1 September
19:35
ASIAN QUALIFIERS - ROAD TO RUSSIA
vs UAE (Saitama Stadium 2002)
Fri. 2 September
AM
Training *Open to the public (TBC)
Sat. 3 September
PM
Training *Open to the public (TBC)
Sun. 4 September
PM
Training *Closed-door
Mon. 5 September
PM
Training *Closed-door
Tue. 6 September
19:15
ASIAN QUALIFIERS - ROAD TO RUSSIA
vs Thailand (Rajamangala Stadium)
*The schedule is subject to change due to the team condition, the weather, etc.
*Local Time
ASIAN QUALIFIERS - ROAD TO RUSSIA
2016-9-1 (Thu.) - 19:35 (estimate time)
Saitama Stadium 2002
SAMURAI BLUE (Japan National Team) vs United Arab Emirates National Team
More information
2016-9-6 (Tue.) - 19:15 (estimate time) (Japan Time 21:15)
Rajamangala Stadium (Bangkok/Thailand)
Thailand National Team vs SAMURAI BLUE (Japan National Team)
More information