NEWS
Having someone who can convey the awareness - Elimination of Violence in Football Vol.101
18 February 2021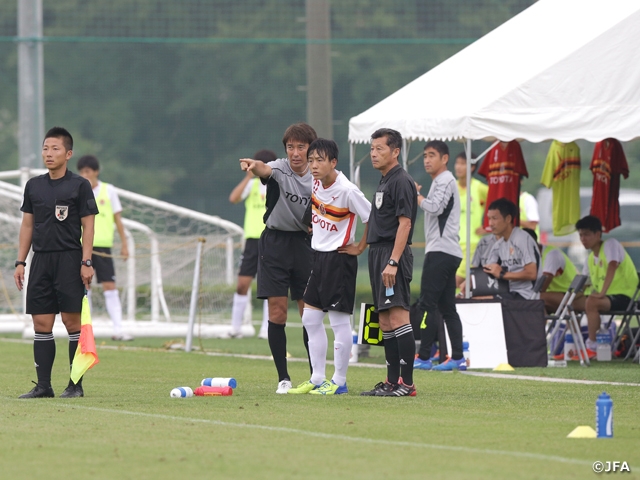 The JFA Welfare Officer Refresher Course, which were held at each region every year, were held online in 2020 (6 refresher courses, 3 newly certified course).
Considering the current situation surrounding COVID-19, we could not take the risk of having a large number of people traveling to one location to take the refresher courses. Since this was our first attempt to hold this course online, it would be a lie if were to say we had no concerns, but the results of the survey after the course showed that the satisfaction level was generally "high," and we feel relieved by it. The fact that discussions were made possible across regional boundaries and that weekday night courses were setup, helped us gain such high satisfaction rate.
As you may already know, there are three types of Welfare Officers.
① Welfare Officer (General)
Promote activities through workshops held by each prefectural FA.
② Match Welfare Officer
Communicate awareness to coaches at various matches such as tournaments and league matches. Awareness must not be limited to unacceptable words and actions, but also to positive guidance and gestures.
③ Club Welfare Officer
Communicate awareness to all members of the club through the club's daily activities. Promote respect and fair play within the club, respond to various issues, and carry out preventive activities to eliminate violence, abuse, and discrimination.
Out of these three types of Welfare Officers, the 2020 course focused on Club Welfare Officers in particular.
Group discussions were held on two agendas, one of which was a case study based on a scenario of a certain club. Each group listed the pros and cons, while also discussing what they would do if they were the Club Welfare Officer of that club.
The scenarios used in the case studies included episodes that can occur anywhere, and the participants exchanged their opinions, as they asked each other, "Do we really need to improve this point?" "Is this a good thing?" "This seems normal for the club I currently belong to…" By taking the time to assess events that can occur in our daily lives, it brought new awareness for the participants. Through discussions to address specific improvement measures, the participants managed to clarify what a Club Welfare Officer must do.
In some cases, what you thought was normal has become less normal over the years, and eventually become something that needs to be improved. It is not easy to notice that change by yourself. Also, some cases could be difficult to solve once the issue has occurred. That is why enlightenment and prevention activities are so important. Through periodic reviews or the use of check sheets, clubs must improve their self-cleaning ability, so that they can maintain a safe environment where everybody can enjoy playing football with peace of mind.
However, we are aware that in reality, it is not easy to assign a person who plays solely the role of a Club Welfare Officer, especially in a town club where the number of staff is limited. In such case, there is a way where the club representative can step up to be in charge, while clarifying their position to the club. In order to prevent problems from happening, the important thing is that there is someone who can address the awareness when a problem is likely to occur.
Teammates, opponent teams, coaches, referees, family members, fans, and supporters, are all involved in some way through football. In order to have fun, we need all the people (and things) that are involved. Because there are opponents, the players can enjoy the matches, and because there are coaches, players can learn the joy of football. Coaches must also remind themselves that they cannot coach without the players.
In 2020, 103 people were newly certified as Welfare Officers. There are total of 334 Welfare Officers (General) throughout the nation. We hope that the Welfare Officers will play a central role at each prefecture and allow us to further expand the circle of respect.
【Reporter】YAMAGISHI Sachiko (Chair of JFA Respect/Fair play Committee)
*This article was originally posted on Japan Football Association "Technical News," January 2021 edition.