NEWS
【Interview with Ms. YAMASHITA Yoshimi】I want to be a referee who can help people enjoy the game
03 October 2022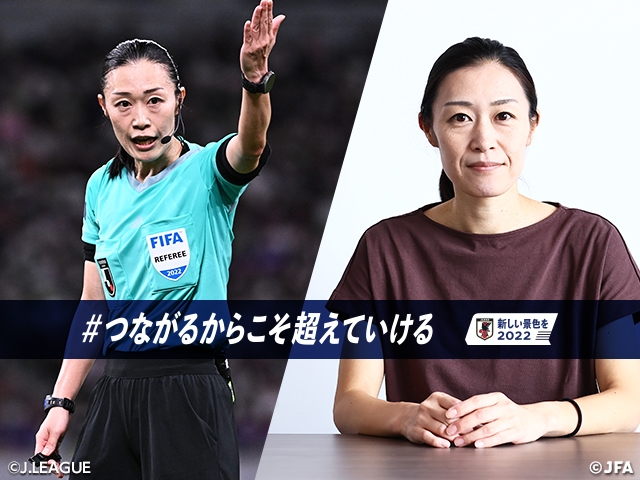 In May this year, Ms. YAMASHITA Yoshimi was selected as one of the first female referees to officiate at the FIFA World Cup™, and in August she became a professional referee. Here, we asked her about how she got involved in football and refereeing, and her current state of mind going into the FIFA World Cup Qatar 2022™.
○This interview was conducted online on 12 September 2022
――How did you start playing football?
YAMASHITA Started at the age of four, under the influence of my older brother. I joined a club that came to teach us at the kindergarten I attended. In the beginning, I was the only girl, but it didn't really bother me, and I enjoyed playing. I continued to play football on a club team until my third year of junior high school, but in high school I joined the basketball team because I had always wanted to be part of a high school club and the school I went to did not have a football team. But then my football fever rekindled, and I resumed at university.
――How did you start becoming an referee?
YAMASHITA BOZONO Makoto (now a FIFA international referee) approached me while I attended university. She had already started to work as a referee and, I couldn't refuse the invitation of a senior, so I just said, "Yes!"
――How did you feel about actually working as a referee?
YAMASHITA I had been an assistant referee in practice matches, but I had never blown the whistle (as a chief referee), so at first I had the image of being a timekeeper, just blowing the whistle for kick-off and time-up, and I wasn't really interested in refereeing activities at all. But after the match, I realised the responsibility and the presence of the referee, and I felt that if I was going to do it, I had to do it well.
――Why did you decide to continue as a referee?
YAMASHITA The people around me encouraged me a lot and I started to improve for the next match, and the next match, and the next match. And as I continued, I got to know a different side of football from when I was a player, which became more and more fascinating.
――Having been certified as a Class 1 referee in 2019, and now officiating in men's matches, what do you feel are the differences between the women's and the men's game?
YAMASHITA I really feel it in terms of physicality. For example, when kicking a long ball, women have to wind up and use their whole body, but men can kick it without any big preliminary movement. So, I cannot predict where the ball is going like I used to, so that is an area I feel like I must improve. There is also a difference in the speed at which you run after the ball is kicked. If you are faster, you can catch up even if your prediction is wrong, but if you are slower, you will not be able to keep up with the subsequent development. I am concentrating on maintaining a high level of accuracy throughout the 90 minutes because if I make one wrong prediction, even one wrong step, I can't keep up with them.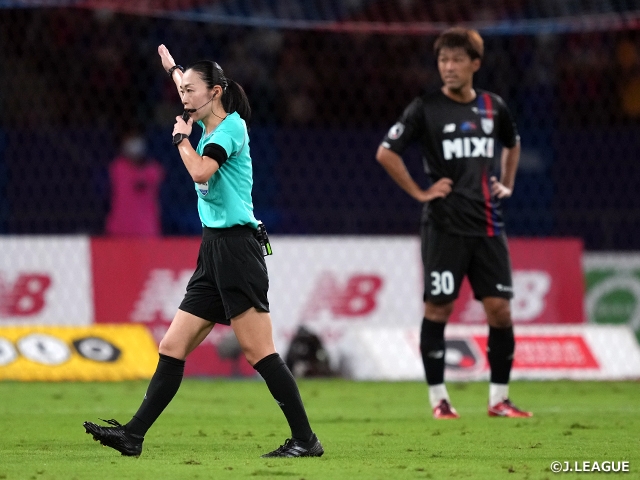 ――In May this year, you were selected as a referee for the FIFA World Cup Qatar 2022™.
YAMASHITA I was surprised and could not believe it when I first heard about it, but at the same time I felt a strong sense of responsibility. As the first Japanese, first Asian, and first female referee, I think I have to understand the sentiments towards the World Cup of many people. I also feel strongly that I must not damage what has been built up by my seniors and the trust of my fellow referees.
――What kind of stage do you want the FIFA World Cup Qatar 2022™ to be?
YAMASHITA It is an unknown stage, but as long as I am taking part, I can only do my best to fulfil this responsibility, so I will concentrate on what is in front of me in order to get on the pitch.
――You are often referred to as "the first" woman, "the first" Japanese, etc. Do you ever feel pressured by this?
YAMASHITA I could have never become the "first" on my own, so there are times when I get anxious after a match wondering if I can properly lead the next person through this. But I also feel joy and happiness for being in a position where I can do things under such anxiety and pressure, and I receive a lot of support from many people, which I turn into strength.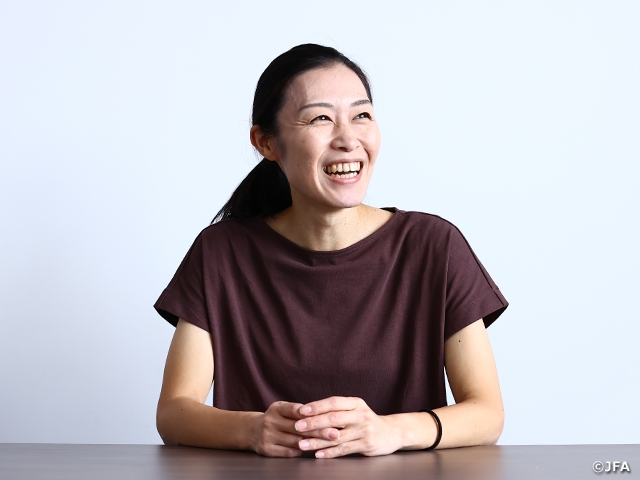 ――From August you have become a professional referee.
YAMASHITA Last year, when the WE League started, a new environment was created in which women could aim to become professional footballers. I am grateful that the JFA has created an environment where referees can achieve their dreams and goals in the same way, and I hope that me taking on the role of becoming a professional referee will lead to further development not only for women's football but also for Japanese football as a whole. Of course, there are different refereeing activities to suit different walks of life, so I hope that people realise that professional referees are not necessarily the best option, but that they have a wider range of options to choose from.
――In addition to your own refereeing activities, you are also in a position to communicate to a large number of people. What are the things you would like to communicate?
YAMASHITA As I have more and more opportunities to talk with various people, I strongly feel that there really are no limits, so I would like to tell everybody that possibilities are always expanding and that they should always believe in themselves and move forward.
――Finally, what kind of referee do you aspire to be?
YAMASHITA The players are passionate about winning the game and the spectators are moved by their passion. I want to be a referee who can help people enjoy the game while feeling various emotions.