NEWS
Introduction of the referees in charge of the match between SAMURAI BLUE and U-24 Japan National Team
03 June 2021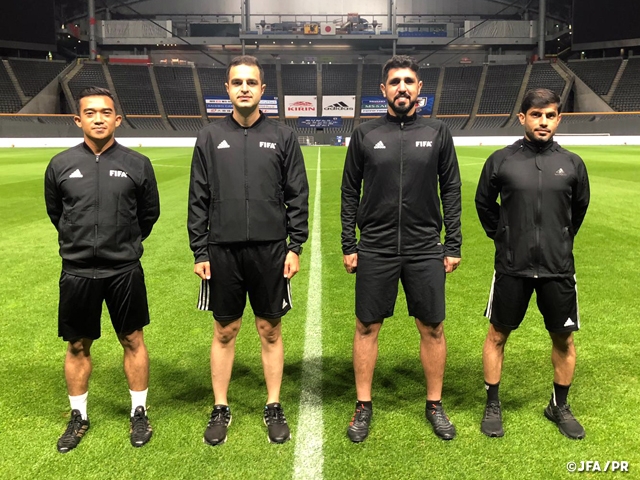 One day ahead of the match between SAMURAI BLUE (Japan National Team) and U-24 Japan National Team, the referees in charge of the match held a training session at the match venue, Sapporo Dome, on Thursday 2 June.
Referees in charge
Referee: DARWISH Ahmed Eisa Mohamed (UAE)
Assistant referee 1: FARD Masoud Hassan Esmaeel Blook (UAE)
Assistant referee 2: ABD RASID Mohd Arif Shamil (Malaysia)
Fourth official: HEIDARI Payam (Iran)
The same crew will be in charge of the KIRIN CHALLENGE CUP 2021 match between the SAMURAI BLUE and Serbia National Team at Noevir Stadium Kobe on Friday 11 June.
Referee Crew's Comment
We are grateful for all the support and warm hospitality provided by JFA. I am always inspired by the wonderful culture and kind people of Japan, which makes me think of Japan as my home away from home.
We believe that this match between the Japan National Team and U-24 Japan National Team is an important match for both sides. We are hoping that this match and the match against Serbia will both be a wonderful match. We pray for the success of everyone involved in the match.