NEWS
Report from referees in charge of the JFA 43rd U-12 Japan Football Championship
10 January 2020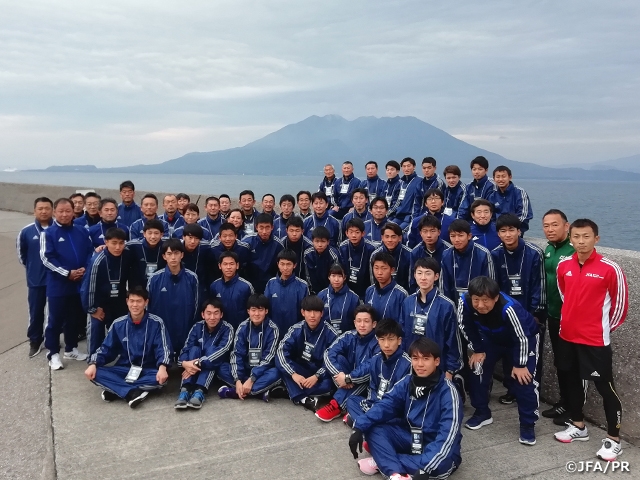 All matches of the JFA 43rd U-12 Japan Football Championship were refereed by 31 U-18 referees, who were assembled from nine regional football associations. Similar to those 48 teams who have won their spot through regional qualifiers to compete at this championship, the 31 referees were also selected through the nine regions to be in charge of the matches played at this championship.
Along with the 31 referees, 16 regional referee instructors were also assembled to provide guidance throughout the tournament. The instructors were made accessible for the young referees so that they can showcase their best performance on the pitch.
【Referee Crew's Activities】
Pre-tournament: Preparation through video letters. Advance training through web-meetings conducted by regional referee instructors
24 December: Review objective and role as tournament organisers
25 December: Training, lecture, and respect workshop support
26-29 December: Matches (one referee operation), post-match lectures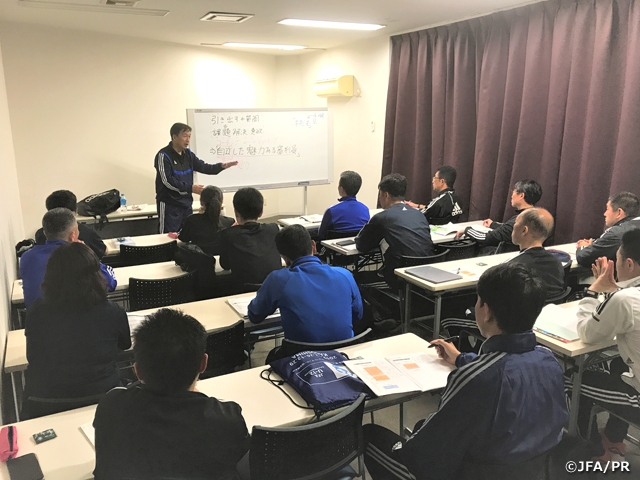 Comments
TAKAHASHI Takeyoshi, Chief Referee Instructor
At this tournament, we had 31 U-18 referees take charge of the matches. These young referees are all classified above class three and they oversee matches at a regular basis in their respective regions. In order to give these referees the necessary platform to showcase their full potential, 16 regional referee instructors and 12 JFA instructors were assembled to provide support throughout the tournament. The referees utilised their experience to showcase a spectacular performance. Despite facing difficult situations during matches, each referee came up with creative ideas to keep the game going. With this being a national championship, some seemed to be overwhelmed by the atmosphere at first, but as time progressed, everybody was able to showcase their usual performance on the pitch. In order to heighten the overall level of this tournament, we will continue to demand higher quality from our referees.
SHIRABYOSHI Yusuke, U-18 Referee (Kagoshima Football Association)
During the refresher course, I was given the opportunity to reinforce the importance to "watch" the match. With the tournament matches being overseen by a single referee, we were not given the support from the assistant referees. Therefore, we had to "watch" more plays on our own, and at the same time, we had to be very precise on where and how we "watch" the match. This experience should help us when we go back to refereeing 11 sided football. I am very grateful for this opportunity to be a part of this tournament and I would like to thank everyone who has made this experience possible.
SATO Manaka, U-18 Referee (Fukushima Football Association)
Through this tournament, I was given a wonderful opportunity to gain precious knowledge and experience. With this being my first time refereeing a national tournament, I was nervous at first, but I was able to enjoy the entire experience. I will utilise the experience I gained from the referee instructors to enhance my career as a referee. One day, I hope to become a referee for the professional women's league.
NAKAMURA Masamitsu, Referee Instructor (Hyogo Football Association)
In order to make this a successful tournament, the referees had to give their best efforts on the pitch, while the instructors had to provide a platform where the referees can showcase their full potential. Through the lectures and discussions held prior to the tournament, I was able to understand how to improve the learning experience for the referees. In reality, I feel like I was able to provide better feedbacks to the referees to heighten their performance on the pitch. It made me really happy to see the referees react when they were able to see improvements in their performance. I hope to utilise the experience I've gained through this tournament to help improve the overall level of referees in my local region.
AKAGI Hiroko, Referee Instructor (Okayama Football Association)
With 31 U-18 referees, 16 regional instructors, and 12 JFA instructors gathered from various locations, we were able to spend a very product time here in Kagoshima. In order to make this a successful tournament, the instructors had to be creative to provide productive feedbacks in a short period of time after each match. The referees showed great enthusiasm and positive attitude that gave me so much energy. Through this tournament, I was also given the opportunity to meet other instructors from various regions and I was very inspired by their presence. I will utilise this experience to help the younger generations to become better referees. Thank you very much.