NEWS
Trio of Japanese officials appointed for 2014 World Cup
17 January 2014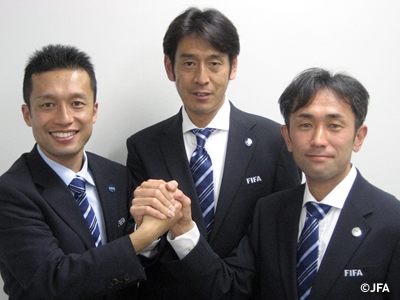 Japanese officials Nishimura Yuichi, Sagara Toru and Nagi Toshiyuki have been appointed by FIFA to work at the FIFA World Cup in Brazil in June/July.
 It will be Nagi's first World Cup, while Nishimura and Sagara worked together at the 2010 tournament in South Africa, where they were the fourth and the fifth officials for the final.
 "As I was not satisfied with my performance in 2010, I am hoping to prove my development in the coming tournament," Nishimura, 41, said. "It is an honor to be appointed for the World Cup, but it is hard to finish any World Cup match without any problems. But I want to meet that challenge with courage and hope my decisions will be accepted by the teams involved in the games where I take charge."
 Assistant referee Sagara, 37, commented: "At the 2010 tournament, I was working so intensely that after the tournament when I watched games I officiated in, I thought I should have done better. This time, I want to utilize what I have experienced and improve the accuracy of my performance."
 With the appointment of Nagi, this will be the first time for Japan to send a full set of officials to the World Cup.
 "I am so excited by this appointment I don't know what to say," Nagi said. "I know this will be my first and last World Cup but I am not feeling nervous as I have officiated in the Olympics [in 2012] and the FIFA Confederations Cup [in 2013]."
 JFA Referee Committee chief Kamikawa Toru, who was in charge of the third-place playoff at the 2006 World Cup, said: "It is good news for us to have these officials appointed for the World Cup, but they shouldn't be complacent. They should make sure they focus well on preparing for the tournament."
 The 2014 FIFA World Cup will take place from June 12 to July 14 at 12 cities across Brazil.