NEWS
【Scouting report】Seeking to repeat their feat from eight years ago with the addition of new talents - Costa Rica National Team
21 November 2022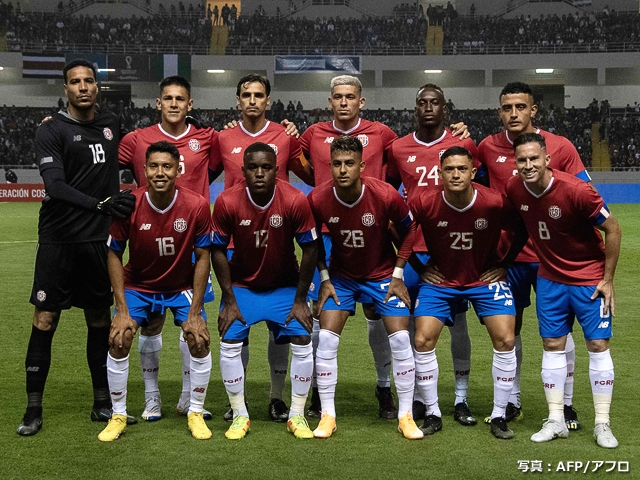 Costa Rica's most notable success at the FIFA World Cup™ came in the 2014 FIFA World Cup Brazil™. Despite being placed in a group full of former World Cup champions, they defeated Uruguay and Italy in successive matches before drawing with England to progress through to the knockout stage for the first time since the 1990 FIFA World Cup Italy™. After eliminating Greece in the Round of 16, the team lost in the quarterfinals to the Netherlands in a penalty shootout. They will be seeking to repeat this feat at the FIFA World Cup Qatar 2022™, where they will face World Cup winners Spain and Germany in the group stage.
In the final round of the North, Central American and Caribbean (CONCACAF) qualifiers, where eight teams competed in a home-and-away round-robin format, Costa Rica displayed significantly different performances between the first and second halves of the competition. After failing to pick up any momentum during their first seven matches, which saw them win one, draw three and lose three, Costa Rica enjoyed an impressive second half with six wins and one draw. Although they fell short from finishing in the top three, which would have automatically qualified them for the World Cup, they did put up an impressive run to finish fourth, which saw them advance to the intercontinental play-off against New Zealand. Thanks to the decisive goal scored by Joel CAMPBELL (Club Leon) and the superb saves made by their goalkeeper Keylor NAVAS (Paris Saint-Germain FC), Costa Rica earned a 1-0 victory at the play-off to qualify for their third consecutive, sixth overall, World Cup.
In addition to the aforementioned Campbell and Navas, the team for the FIFA World Cup Qatar 2022™ will be led by veterans who competed at the 2014 World Cup, including Celso BORGES (Alajuelense), Oscar DUARTE (Al Wehda FC), and Bryan RUIZ (Alajuelense). If the newcomers, such as 22-year-old striker Anthony CONTRERAS (Herediano) and 18-year-old winger Jewison BENNETTE (Sunderland) can unleash their potential, Costa Rica will certainly be a force to be reckoned with that can cause some upsets.
According to Colombian Head Coach Luis Fernando SUAREZ, the team has "the ability to meet high demands, dedication, and grit." Despite being eliminated at the group stage, Costa Rica also demonstrated a solid performance in the 2018 FIFA World Cup Russia™, keeping a clean sheet against a powerful Brazilian side until conceding two goals in additional time. The match against Costa Rica may become a contest of endurance, in which the teams' patience will be tested.
FIFA Ranking: 31st *As of 6 October 2022
FIFA World Cup™ Appearance: 6 times
Best finish at World Cup: Quarterfinals
Japan's Head-to-head Record: 3 wins, 1 draw (10 goals, 2 conceded)
FIFA World Cup Qatar 2022™
Tournament Dates: Sun. 20 November - Sun. 18 December 2022
[Group Stage]
1st Match: Wed. 23 November 16:00 [Local Time] vs Germany National Team
2nd Match: Sun. 27 November 13:00 [Local Time] vs Costa Rica National Team
3rd Match: Thu. 1 December 22:00 [Local Time] vs Spain National Team