NEWS
【Match Report】SAMURAI BLUE move up to second place with win over Oman
17 November 2021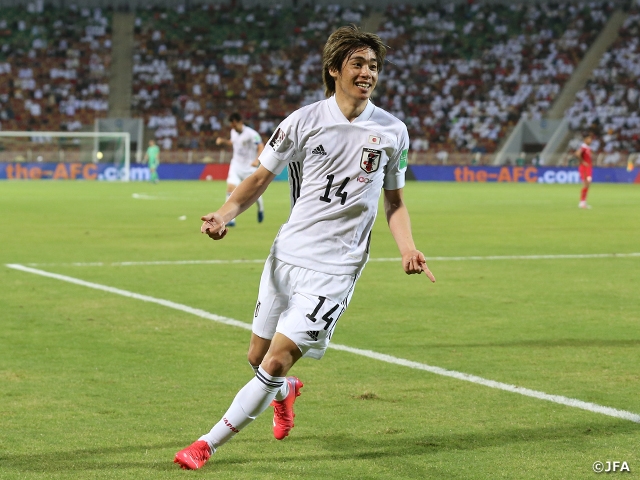 On Tuesday 16 November, the SAMURAI BLUE (Japan National Team) played their sixth match of the FIFA World Cup Qatar 2022™ AFC Asian Qualifiers (Road to Qatar) against the Oman National Team at Muscat. With ITO Junya (KRC Genk) scoring the decisive goal in back to back matches, Japan earned their fourth win to move up to second place in Group B.
Japan, who moved up to third place with their victory over Vietnam in Hanoi five days ago, entered the returning leg against Oman, who they lost in the first match of the AFC Asian Qualifiers, aiming to move up to the top two spots in the group that will automatically qualify them into the World Cup.
In order to capitalise on the good momentum created by their back to back victories over Australia and Vietnam, coach MORIYASU Hajime elected to keep most of the starers from their match against Vietnam. The only change was made to replace MORITA Hidemasa (CD Santa Clara), who was suspended for accumulation of yellow cards, giving SHIBASAKI Gaku (CD Leganes) his first start in three matches, as the team maintained their 4-3-3 formation for this match as well.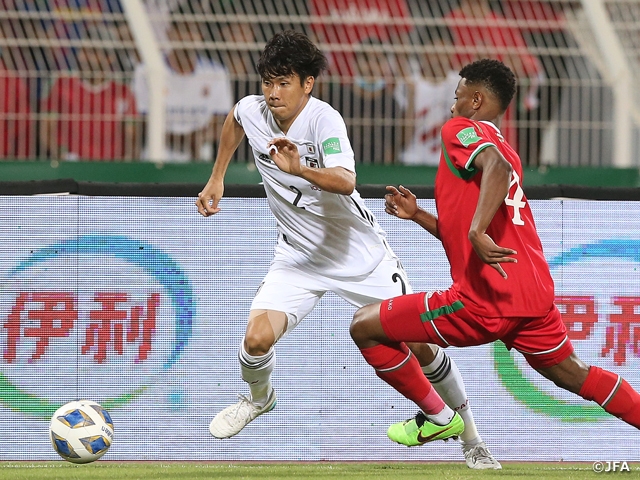 Aiming to make their first appearance in the World Cup, Oman made two changes to their starting line-up from the previous match, in which they drew against China PR, starting Arshad AL-ALAWI and Rabia AL-ALAWI in the attacking third, as the home crowd of 14,000 people cheered on.
With the home side showing great aggression from the start, Japan responded with composure while keeping an eye on their opponents' counters. As Japan started to possess the ball following the 15th minute mark, Ito made runs down the left flank to create opportunities. In the 19th minute, OSAKO Yuya (Vissel Kobe) struck a shot from distance, followed by a cross delivered by NAGATOMO Yuto (FC Tokyo) in the 23rd minute, which was met by Ito to threaten the opposing goal.
Despite creating chances, Japan struggled to break down the Omani defence, as the match entered halftime tied at 0-0.
In efforts to change the dynamics of the match, coach Moriyasu brought in MITOMA Kaoru (Royale Union Saint‑Gilloise) to replace Shibasaki, shifting MINAMINO Takumi (Liverpool FC) into a central midfield position to change the system to a 4-2-3-1.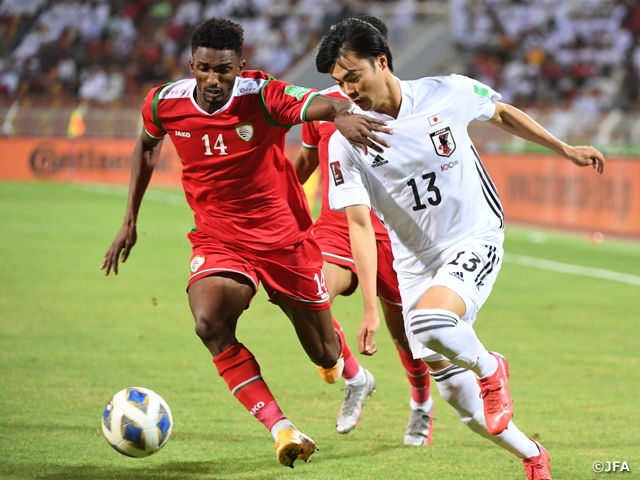 Making his SAMURAI BLUE debut, Mitoma showcased his aggression from the get-go, penetrating the left side with his dribbles. In the 49th minute, Mitoma drove into the penalty area before sending a cutback towards the centre, allowing ENDO Wataru (VfB Stuttgart) to strike a shot, which was followed by Osako and Minamino responding to the deflection.
With momentum on their side, Japan introduced FURUHASHI Kyogo (Celtic FC) and NAKAYAMA Yuta (PEC Zwolle) after the hour-mark, adding more layers to their offence. Despite being called offside, Furuhashi created an opportunity in the 68th minute by making a run into the open space, followed by a mid-range shot taken by Nakayama in the 75th minute.
The deadlock was broken in the 81st minute, when Mitoma received the ball from Nakayama before penetrating the box from the left side. The cross delivered by the dribblier was met by Ito, who tapped the ball into the open net, scoring in back to back matches following his heroics against Vietnam.
Coach Moriyasu made two more changes to bring in ASANO Takuma (VfL Bochum 1848) and HARAGUCHI Genki (1.FC Union Berlin) to close out the match. With the players showing great concentration to hold onto their lead, Japan managed to keep a clean sheet to add three more points to their tally.
As a result, the SAMURAI BLUE has now won back to back away matches, three consecutive from their win over Australia in the October series, to conclude their activities for 2021. With a record of four wins and two losses, Japan now has 12 points, which is good to place them in second place, after Australia drew with China PR 1-1 on the same day. Australia is now in third place with 11 points.
Group B is still led by Saudi Arabia, who has defeated Vietnam 1-0 in an away match, increasing their tally to 16. Suffering their third loss, Oman is in fourth, followed by China PR in fifth, and Vietnam in sixth.
In Group A, Iran leads the pack with 16 points after defeating Syria 3-0, followed by Korea Republic who also earned a 3-0 away victory to keep their place in second place with 14 points.
UAE defeated Lebanon 1-0 to move up to third place, while Lebanon dropped to fourth. Iraq also dropped their ranking to fifth, while Syria remains in sixth. The gap between third place UAE and second place Korea Republic is now eight points, as the top two teams have extended their lead over the bottom four teams.
The AFC Asian Qualifiers will resume in January 2022 to finish off the remaining four fixtures. Japan is scheduled to play two home matches against China PR (1/27) and Saudi Arabia (2/1).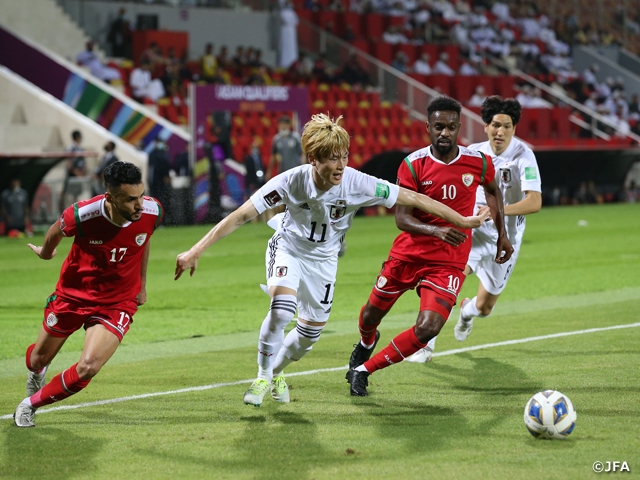 Coaches and Players' Comments
MORIYASU Hajime, Coach of SAMURAI BLUE (Japan National Team)
The players kept doing what they were asked to do in this tough away match. The entire team fought as one in this match, which gave the players on the pitch the energy to fight until the end, leading to the goal and the victory. Our opponent came fully prepared to play against us, but our players played courageously throughout the match. Of course Ito's goal was wonderful, but I think this was a win earned through a total team effort. The players understood the importance of this match and played with courage from the first half. The team did a great job to keep the ball moving and prepare against the opponent's counterattacks, while fighting hard for the ball against an aggressive opponent. However, our opponent played with great energy and did not allow us to pry open their defence in the first half. We were able to create opportunities from the sides in the first half, so we thought we could add more depth to our side attacks by bringing in Mitoma in the second half. Our players had been making great runs from the first half, and I think we were able to raise the intensity level in the second half in a good way. By changing the system, we were able to apply more pressure from the sides and allow Osako and Minamino to get involved in our attacks from crosses. We are now in second place, but if we are not careful enough, this could change anytime. As we have done so far, we will do our best to prepare for the match in front of us and continue to fight as a team with toughness and perseverance until we reach the World Cup.
DF #2 YAMANE Miki (Kawasaki Frontale)
It was a very tough match that was played under a unique atmosphere of an away match in the Middle East. I think we were able to earn three points by persevering together as a team and fighting through the entire 90 minutes with the determination to win the match. I am just relieved because we couldn't afford to lose anymore points. Every match in the final round is difficult, so we focused on winning first. I felt that there was a world of difference between watching from the outside and playing inside, and it was a rare experience to play under so much pressure.
DF #16 TOMIYASU Takehiro (Arsenal/England)
The fact that we were able to earn six points and move up to second place, is huge for us. Both matches were intense bouts where a single mistake could have decided the winner, but we were able to keep a clean sheet in both matches by communicating with each other and staying aggressive. If the back line can defend well and provide stability for the team, it increases the team's chances of winning the match, so we will continue to execute our job in our future matches.
DF #20 NAKAYAMA Yuta (PEC Zwolle/Netherlands)
It was a crucial match for our team, so I am glad that we were able to win. This win has allowed us to find out the areas we need to improve on in a good way, since we still have a long way to go. I'm thinking about what to do next, and I'm determined to clear up the issues we found out from today and the match against Vietnam. When I entered the match as a substitute, I was told to keep my composure to initiate the team's build-ups. I was brought into the match with Mitoma, and he has different characteristics from Asano, so I focused on making my plays with that in mind. Since I haven't been used as a starter yet, I need to perform even in a short period of time, so I will continue to strive for a higher level and work hard every day to become a player that can perform well under any given circumstance.
DF #22 YOSHIDA Maya (UC Sampdoria/Italy)
It was a tough away match, in which we struggled to score goals, but we managed to maintain our composure, score a goal at the end, and take home three points, which was very important for us. In the first half, we couldn't get the ball to our attacking midfielders, while also struggling to use the width of the field. We wanted to wear down our opponent in the first half and finish them off in the second half, but our opponent managed to keep their intensity level and worked hard until the end, so we had to rely on our individual skills to create plays and seize the opportunity in the second half. However, we are not satisfied with our performance. I feel that we need to become a team that can dominate a match like this. With Australia drawing their match, we are now in second place, so winning three points was a huge deal for us. Personally, I wanted to be back in this position by the January series, so I think things are finally starting to turn around for us. From now on, we need to play well with our own respective clubs, while the players playing in the J.League need to take a good rest and be in good shape for the series in January. We are now in position where we can qualify for the World Cup as long as we keep winning, so we must continue to work hard to rack up the points. We can't be too careful, and we are still in a situation where one mistake can change the situation drastically, so we must keep our heads up.
MF/FW #11 FURUHASHI Kyogo (Celtic FC/Scotland)
First of all, I am glad that we were able to win back to back matches on the road. We knew it was going to be a difficult match, and even though we didn't score, we were able to keep a clean sheet in the first half while creating some good chances upfront, so I was thinking that I wanted to showcase a performance that can change the dynamics of the match if I was given the opportunity to step on the pitch. Mitoma has a unique dribbling technique, and I could see that our opponent was having difficulties facing him, so I focused on delivering the ball to him as soon as I had the ball. I am glad to see him assist that goal at the end. We have plenty of good players, all contributing to create a positive vibe. However, at a personal level, I am not satisfied with my performance. The team's victory is my highest priority, but I feel that I can do much more as a striker.
MF/FW #13 MITOMA Kaoru (Royale Union Saint‑Gilloise/Belgium)
In the scene when I assisted the goal, I had plenty of space in front of me when Nakayama gave me the ball, so I delivered a cross towards the middle thinking that it could make something happen. I feel like I was able to deliver a good ball. Winning is the most important thing at this final round, so I am happy that I was able to contribute to that. This was my first cap with the national team, but it was very easy to play today because there were plenty of space in the flanks, and our team was attacking to score goals. The team was playing 4-2-3-1 when I entered, so I focused on keeping my position high. I still have plenty of areas I need to improve on, so I will continue to work hard.
MF/FW #14 ITO Junya (KRC Genk/Belgium)
I personally wasn't able to perform well today, but I think it was great that we were able to run and fight as a team and win despite the fact that our opponent was fully prepared to play against us. In this final round, it is important to win three points out of these tough matches, and I think that winning is all that matters. When Mitoma came on in the second half, I was able to draw the attention of the defenders to my side to free up the opposite side, which allowed us to create a few opportunities. I always try to make runs towards the goal when the ball is at the opposite side. I am happy that I was able to score that goal, but I am still disappointed with my overall performance. I will continue to work hard so that I can score more goals, even when our opponents are fully prepared to play against us.
AFC Asian Qualifiers (Road to Qatar)
Tue. 16 November 2021 [20:00 (Wed. 17 1:00 Japan time)]
SAMURAI BLUE vs Oman National Team
Venue: Sultan Qaboos Stadium (Muscat, Oman)
Tournament Information