NEWS
S-Licence Coaching Course 2021 Module4/Intensive Course (9) Participant's Report Vol.12
12 November 2021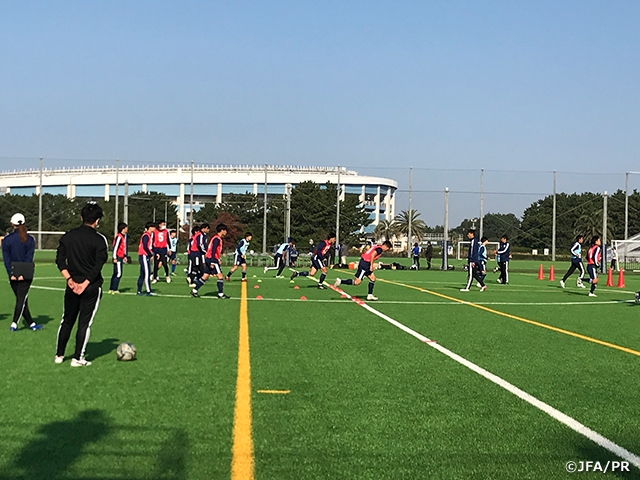 With only two weeks left in Module 4, there are only 16 more coaching sessions left before the final exam.
In the practical coaching session, participants were required to plan the entire session, from warm-ups to scrimmage, and manage the team for an hour while constructing a relationship with the coaching staff. The participants also played the role of the players, which made for a physically demanding day, but with this being their final opportunity to work as a group to practice coaching, the participants showed great enthusiasm to simulate an actual training session while holding passionate discussions with their peers.
Module 4 Intensive Course (9)
Date: Mon. 1 - Thu. 4 November
Mon. 1 November

PM

・Sports marketing: President HARADA Munehiko
 (Osaka University of Health and Sport Sciences)
Tue. 2 November
AM
・Practical coaching session
PM
・Team building: Instructor FUKUTOMI Shinya
(Tokyo Denki University)
・Professional coaching theory: Coach TOKISAKI Yu
(Fukushima United FC)
Wed. 3 November
AM
・Practical coaching session
PM
・Match Observation: FC Tokyo vs Shimizu S-Pulse
Thu. 4 November
AM
・Practical coaching session
PM
・Practical coaching session
Support players: Meikai University Football club, Edogawa University Football club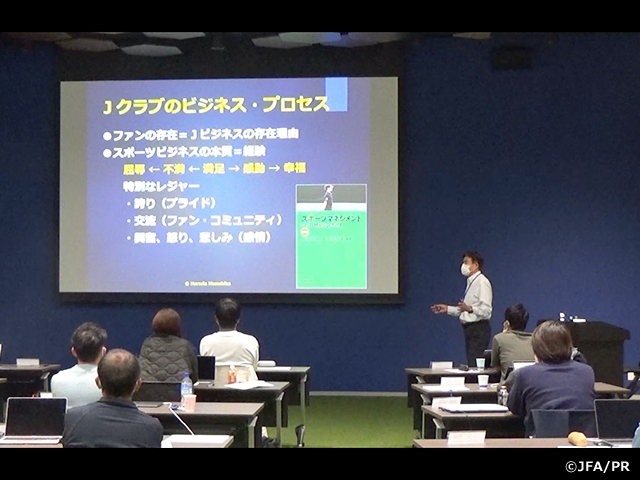 Participant's Comment
Coach HAJI Toshiaki (Tokushima Football Association)
Module 4 Intensive Course (9) was held at Prince Takamado Memorial JFA YUME Field, which consisted of three lectures, observation of a J1 League match, and eight practical coaching sessions.
On the first day, Mr. HARADA Munehiko, President of Osaka University of Health and Sport Sciences, gave a lecture on "sports marketing." Sports is a game, and it is important to find the right balance between winning and having fun. Discipline is another important aspect of sports. Through various case studies, he talked about how sports impact people's emotions and how that can be translated to business opportunities.
A lecture on "team building" was held on the second day, where instructor FUKUTOMI Shinya told us how we can achieve things as a group or as a team that we could never achieve individually, using the example of the Japanese swimming team who won the silver medal in the men's 4x100 meter relay at the 2016 Rio Olympics. This was something we realised while going through group works and class assignments that involved all 16 participants. I was also impressed to learn that in order to raise the overall performance of the group, we need to secure the participants' peace of mind.
The second lecture held on the second day was on "professional coaching theory" in which Coach TOKISAKI Yu of Fukushima United FC (J3) took the podium online. While listening to the lecture, we found out that Mr. Tokisaki is a very good motivator, and we could tell that the players of Fukushima United FC are always fuelled by his worlds. At the end of the lecture, Mr. OIWA Go, one of Mr. Tokisaki's course-mates when he took the class A license course, said to him, "You're looking good!" I envied the fact that he is competing on the front lines, and it made me feel that I would like to do the same someday.
On the third day, we went to Ajinomoto Stadium to watch the match between FC Tokyo and Shimizu S-Pulse. It gave me an opportunity to analyse the match from my own perspective and visualise various things while feeling the heat inside the stadium created by the players and supporters.
This week, the participants were given seven different themes for our coaching sessions, where we simulated teams with various formations, such as 4-4-2, 5-4-1, and 4-3-3. Working together as a group of four, we discussed what system best suits the team and what tasks we need to assign the players in order to make them understand the team tactic. Following each session, the participants listened to the intentions of the coaching staff and exchanged opinions to provide feedbacks. It is important to hold a successful coaching session, but what is more important is to listen to the opinions of others and think about them. I strongly feel that I was able to learn a lot and grow as a coach from this course.
Participants, instructors, staff, assisting students, players from Meikai University and Edogawa University football team, and lecturers have all worked together to make this course happen. I will continue to be grateful to be given this wonderful experience and will continue to move forward with humility and an open mind.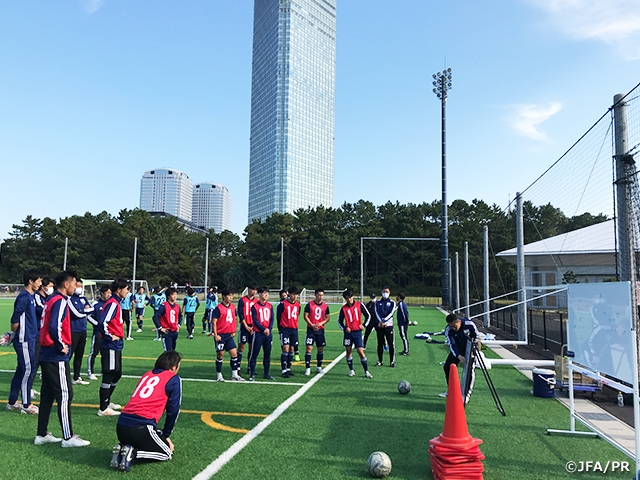 Next time we will share the report of coach FUJIMOTO Chikara (Roasso Kumamoto).