NEWS
U-24 Japan National Team draw against tournament favourite Spain at the KIRIN CHALLENGE CUP 2021
18 July 2021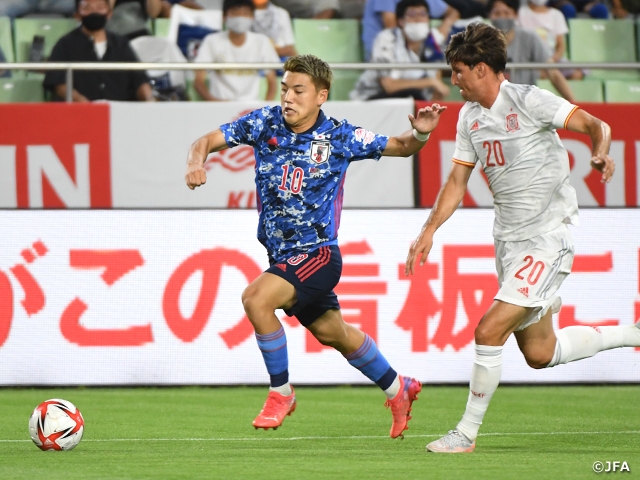 On Saturday 17 July, five days prior to their first match of the Tokyo Olympics, the U-24 Japan National Team faced the U-24 Spain National Team in the KIRIN CHALLENGE CUP 2021 at Noevir Stadium Kobe.
In a match played five days following their 3-1 victory over the U-24 Honduras National Team on Monday, coach MORIYASU Hajime made three changes to their starting line-up with TANI Kosei (Shonan Bellmare) starting in goal. The four man defence line consisted of SAKAI Hiroki (Urawa Red Diamonds), YOSHIDA Maya (U.C. Sampdoria), TOMIYASU Takehiro (Bologna FC 1909), and HATATE Reo (Kawasaki Frontale), while ITAKURA Kou (Manchester City) and ENDO Wataru (VfB Stuttgart) started in the defensive midfield position. HAYASHI Daichi (Sagan Tosu) started once again as the lone striker with DOAN Ritsu (PSV Eindhoven), KUBO Takefusa (Real Madrid), and SOMA Yuki (Nagoya Grampus) playing beneath him.
Spain, who is widely considered as the tournament favourite for the Tokyo Olympics, took the initiative by controlling the ball possession, as they created numbers of opportunities to threaten the Japanese goal. However, Japan showcased a tenacious defensive effort to keep the Spanish side from scoring a goal.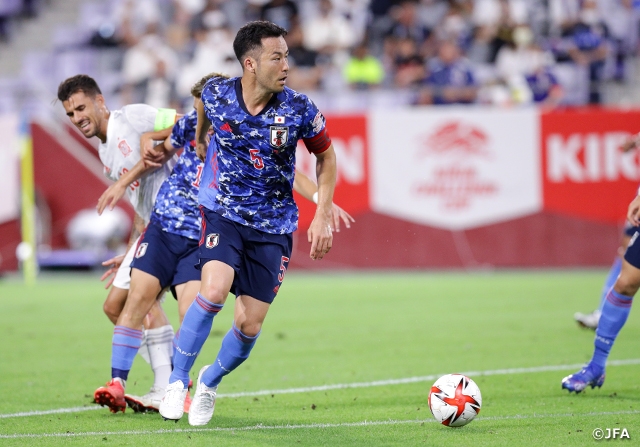 Japan's persistence was paid off in the 42nd minute when Kubo carried the ball towards the box from the left side. As he drew attention of the defenders, Kubo delivered a cut back towards the centre, allowing Doan to strike a left footed shot that curled into the upper corner of the Spanish goal.
After entering halftime with a one goal lead, Japan made seven changes ahead of the second half, but with Spain applying more pressure upfront, they were forced to be in the defensive end for a while. Despite their efforts to keep the Spanish side at bay, Japan conceded the equaliser from a run of play in the 78th minute.
With momentum on their side, Spain continued to press forward, but the Japanese defence was able to keep the score intact, as the match ended in a 1-1 draw. Following the match, coach Moriyasu commented, "Considering that many of our players were able to experience this high level match in first-hand, I feel like we were given a priceless opportunity ahead of the Tokyo Olympics."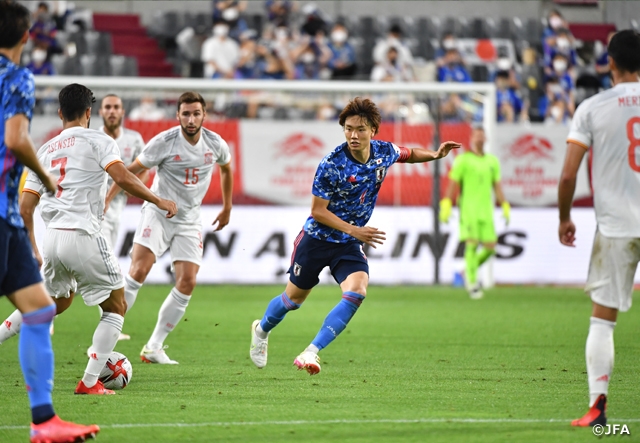 On behalf of the team, coach Moriyasu gave a speech to the crowd, which the fans responded with a loud round of applause to send off the U-24 Japan National Team to the Olympics. The team will make their way to Tokyo on Sunday 18 July and continue to prepare themselves ahead of their first group stage match against South Africa on Thursday 22 July.
Coach and Players' Comments
MORIYASU Hajime, Coach of U-24 Japan National Team
We felt very fortunate to be able to play a match in front of our fans and supporters. The team has put in great efforts to prepare for today's match, so we hope to continue with that trend and strive to improve ourselves within the remaining time frame ahead of the Olympics. Although we were dominated by Spain, the players showcased their resilience and made numerous challenges not only in defence, but in offence as well. Considering that many of our players were able to experience this high level match in first-hand, I feel like we were given a priceless opportunity ahead of the Tokyo Olympics.
DF #4 ITAKURA Kou (Manchester City/England)
The quality showcased by the Spanish side was incredible, and I felt that each player was positioning themselves very wisely. I am optimistic about this 1-1 draw because these kinds of matches can easily happen at the Olympics, so I feel very fortunate that we were able to experience it before the tournament. Personally, I have been able to step up my condition day by day, so the fact that I was able to play 90 minutes gives me more confidence moving forward.
DF #5 YOSHIDA Maya (U.C. Sampdoria/Italy)
There were both good and bad moments during the first half, but all and all, we were able to defend well, as we managed to nullify our opponent's strong points. However, our opponents were extremely good at evading our pressure, and I think this would have been a much tougher match if they were in better condition. We were also able to identify some of our issues, including how we played in the second half, so we will spend the next four days trying to make the necessary adjustments and improve ourselves ahead of the Olympics.
DF #13 HATATE Reo (Kawasaki Frontale)
Facing one of the top teams in the world, I was actually scared to move the ball. Although we were able to walk away with a draw, there were many scenes where we were dominated, and it was certainly a tough match for us. Looking back on the time period when we conceded the equaliser, there were a lot of scenes where we needed to communicate and keep ourselves on the same page. That is an aspect we need to improve on, because that can be the difference between us earning the full three points or just one point.
MF #10 DOAN Ritsu (PSV Eindhoven/Netherlands)
We entered today's match thinking that we could be dominated by our opponent in terms of ball possession. The fact that we managed to keep our opponent away from creating major opportunities in the first half gives us great confidence. However, we still felt the need to hold a higher possession rate, even when facing superior opponents like today. There were many scenes where I lost possession of the ball, so that is an aspect I must improve on.

Games of the XXXII Olympiad (Tokyo 2020)
Football competition: Wed. 21 July - Sat. 7 August 2021

Sat. 17 July 2021 [19:20]
U-24 Japan National Team vs U-24 Spain National Team
Venue: Noevir Stadium Kobe (Hyogo)