NEWS
Last year's Premier League Kanto champion Yokohama FC starts new season with a victory - Prince Takamado Trophy JFA U-18 Football Premier League 2021
05 April 2021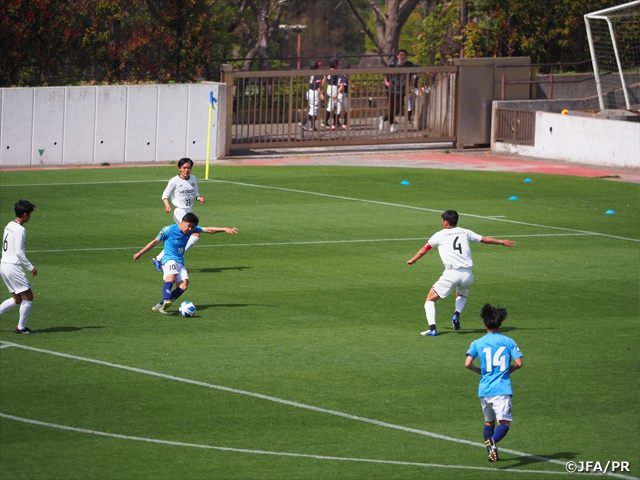 The Prince Takamado Trophy JFA U-18 Football Premier League 2021 kicked-off on Saturday 3 and Sunday 4 April, where five fixtures in the EAST division took place at various locations.
Pick-up Match
Yokohama FC Youth 1-0 (1-0, 0-0) Kashiwa Reysol U-18
Last year the Premier League was cancelled due to the nationwide spread of COVID-19, and Premier League teams played at their respective regional leagues. This year, both the EAST and WEST divisions have returned with 10 teams competing for the division title in a home and away round robin format.
For Yokohama FC Youth (Kanagawa), who won last year's Premier League Kanto, this was their first appearance in the formal Premier League, but the team entered the opening match with great confidence, as coach HAYAKAWA Tomonobu mentioned, "Last year's achievement has given us great confidence for this season."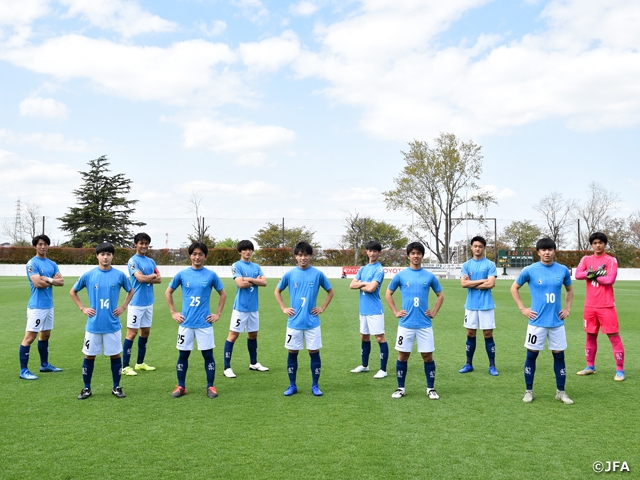 Kashiwa Reysol U-18 (Chiba) on the other hand, welcomed former player of the Japan National Team SAKAI Naoki as their new coach to start the season. Ahead of the season opener, Kashiwa's new coach mentioned, "We are implementing strategies used by Inter Milan and Lazio," sharing his aspiration to showcase the team's new style of football.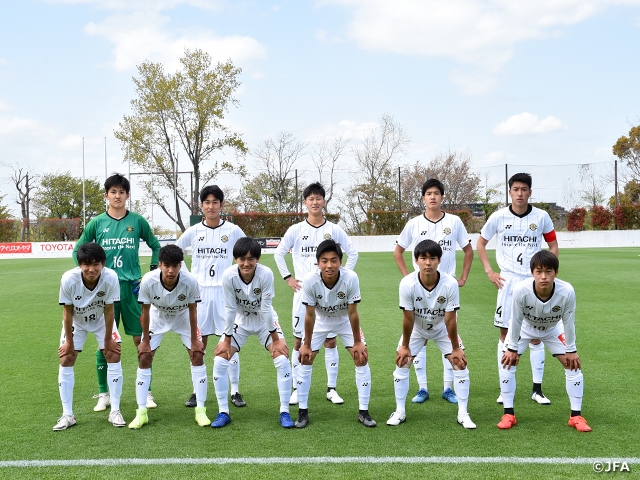 As TANAKA Hayato (#4) later reflected, "We tried to play aggressively to take the initiative," Kashiwa started the match with great intensity, but led by MASUDA Kensho (#3) and SUGITA Hayato (#4), Yokohama showed great composure to keep the Chiba side at bay.
Through their solid defence, Yokohama gradually picked up momentum and started to penetrate the open space behind the Kashiwa defence. The opening goal came in the 32nd minute, when Yokohama's YAMAZAKI Taishin, who was given the #10 jersey this season, showcased a spectacular individual effort to dribble through defenders and pierce a shot into the Kashiwa goal, as the striker later reflected, "I received the ball at my favourite angle, so I went for it."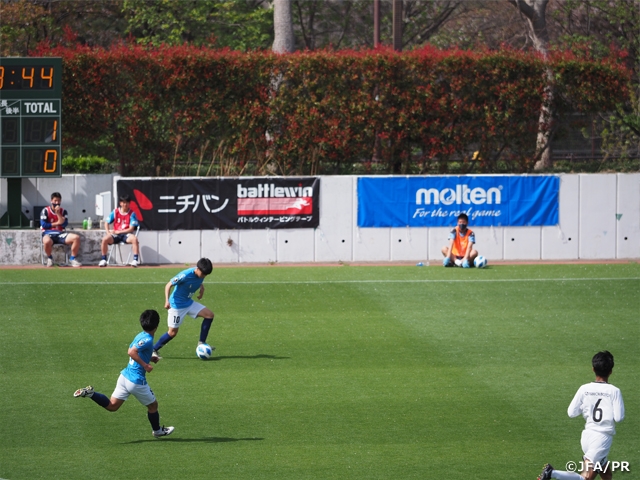 Trailing by a goal, Kashiwa started to rally in the second half, as they created numbers of close opportunities, including the shot taken by YUNOMAE Mahiro (#10) that struck the goal post, as coach Hayakawa later mentioned, "I though it was a matter of time before we concede the equaliser." However, the Yokohama defence showcased tenacious efforts to keep the clean sheet intact until the final whistle, securing a 1-0 victory at the season opener.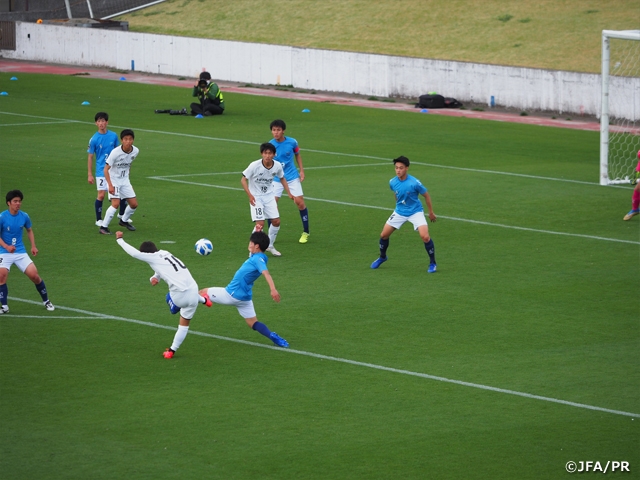 Coaches and Players' Comments
HAYAKAWA Tomonobu, Coach (Yokohama FC Youth)
The players played extremely hard in this match. Although the team has won the Premier League Kanto title last season, I kept telling my players that it was an achievement won by last year's team, and this year is a totally different team. I attended the S-licence coaching course with Kashiwa's coach Sakai, so I was excited to face his team at the Premier League.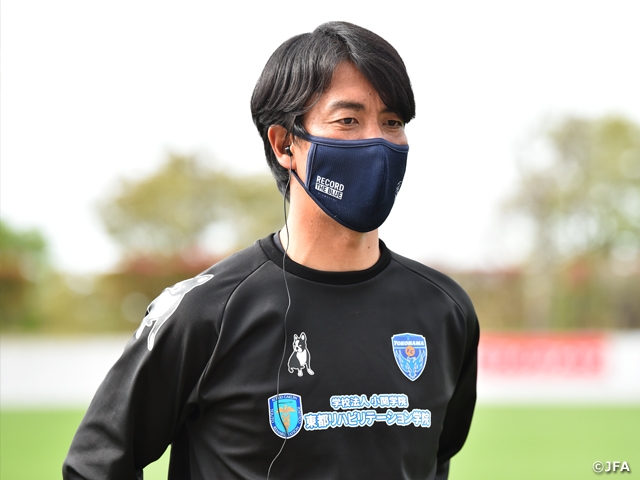 MF #10 YAMAZAKI Taishin (Yokohama FC Youth)
Although we were dominated in the second half, I am glad we were able to walk away with a victory. We spent a lot of time in the gym to build our physical strengths during the off season. Off the ball movements and defensive approach were also some of the things we have been working on. Looking back on the goal scene, I received the ball at my favourite angle, so I am glad I was able to score that goal.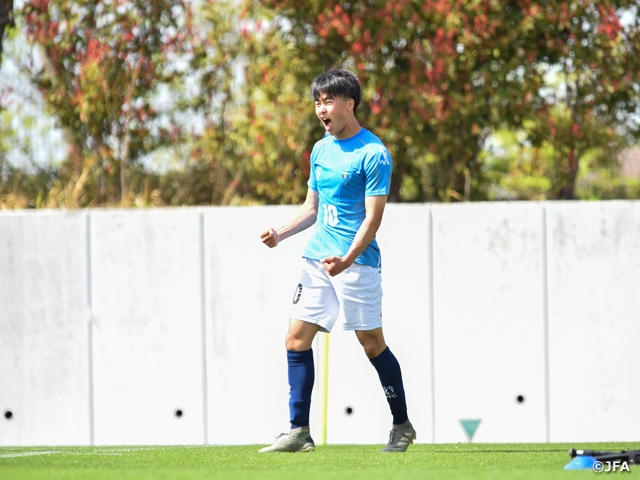 SAKAI Naoki, Coach (Kashiwa Reysol U-18)
I have lots of respect towards coach Hayakawa and the Yokohama FC Academy, so I was really looking forward for this match. Our defence didn't function effectively during the first half and we lost our composure after conceding the opening goal. We are working on new things this year, and the players have been showing great enthusiasm.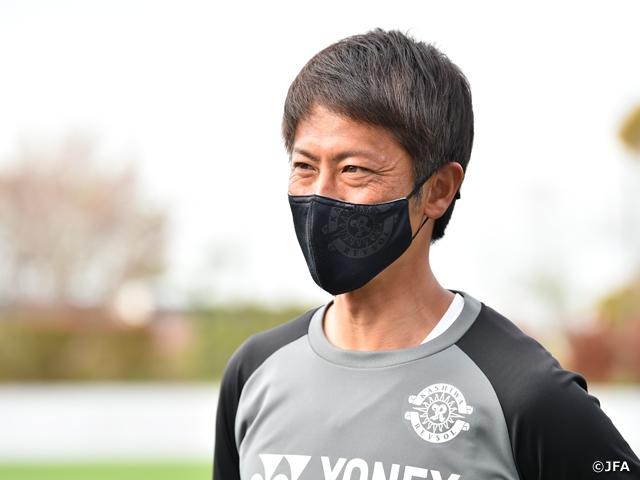 DF #4 TANAKA Hayato (Kashiwa Reysol U-18)
We had control over the ball during the early minutes of the first half, so I feel like we could have penetrated the central area more. The fact that we couldn't capitalise on our opportunities allowed our opponent to gain momentum and led to us conceding the opening goal. We have been working on a three-man defence system with our new coach, which we find it very challenging but fun at the same time. Although we lost this match, I think our overall performance was not too bad.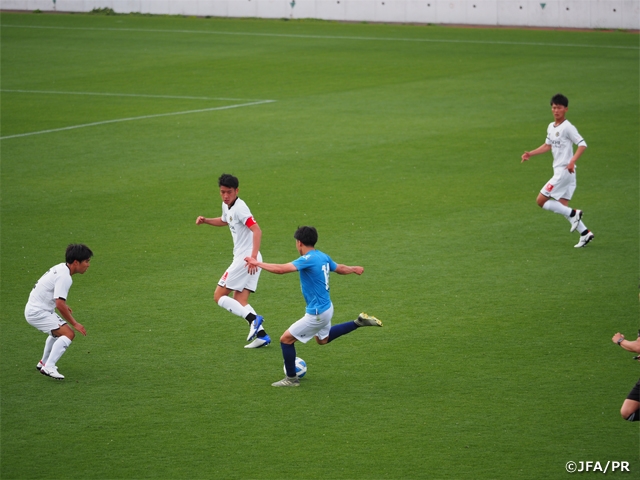 Results of other matches
Urawa Red Diamonds Youth 0-4 (0-3, 0-1) Aomori Yamada High School
Omiya Ardija U18 0-4 (0-3, 0-1) Ryutsu Keizai University Kashiwa High School
FC Tokyo U-18 1-0 (0-0, 1-0) Funabashi Municipal High School
Yokohama F.Marinos Youth 1-4 (1-1, 0-3) Shimizu S-Pulse Youth
In the match between Urawa Red Diamonds Youth (Saitama) and Aomori Yamada High School (Aomori), the Tohoku side scored four goals including the brace of WATANABE Sera (#17) to start off the season with a victory. The match between Omiya Ardija U18 (Saitama) and Ryutsu Keizai University Kashiwa High School (Chiba) also finished one-sided, as the Kashiwa side showed their dominance in their 4-0 victory. FC Tokyo U-18 (Tokyo) welcomed Funabashi Municipal High School (Chiba) to their home, where they won the match 1-0, thanks to the goal scored by YASUDA Kojiro (#10) in the early minutes of the second half. Despite conceding the opening goal to Yokohama F. Marinos Youth (Kanagawa), Shimizu S-Pulse Youth (Shizuoak) rallied with four consecutive goals to take the match 4-1.

Prince Takamado Trophy JFA U-18 Football Premier League 2021
League Duration: Sat. 3 April - Sun. 5 December 2021