NEWS
Iwata makes "WEST Debut" with win over Kyoto to start off the new season - Prince Takamado Trophy JFA U-18 Football Premier League 2021
05 April 2021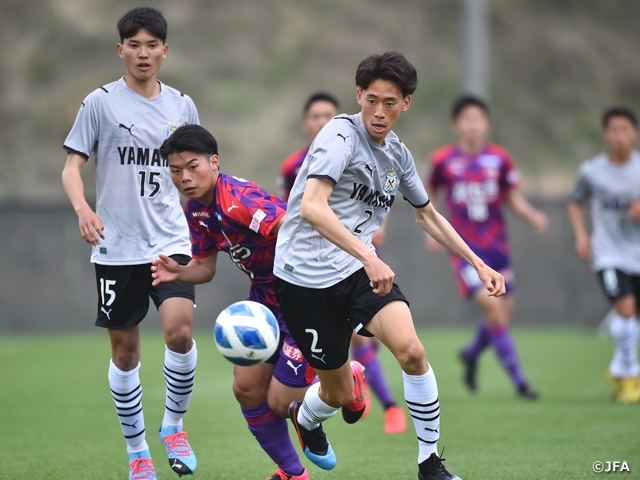 The Prince Takamado Trophy JFA U-18 Football Premier League 2021 kicked-off on Saturday 3 April. Four matches took place in the WEST division, including the match between Kyoto Sanga FC U-18 (Kyoto) and Jubilo Iwata U-18 (Shizuoka) at Sanga Town Joyo.
Pick-up Match
Kyoto Sanga FC U-18 0-1(0-0, 0-1)Jubilo Iwata U-18
After entering the new season with a new coach, both sides struggled to find their composure in the early minutes of the match. However, it was the Kyoto side who gradually took control of the ball possession, as their team captain TOYAMA Haruki (#7) led the way to dominate the midfield. A close opportunity was created by the home side in the 17th minute, when SHIMA Ryunosuke (#9) struck a header off of a cross sent by HIRAGA Sora (#11), but his attempt failed to capture the target. Kyoto created another opportunity just before the break, as Toyama exchanged passes with Hiraga before firing a shot, but his shot went just wide of the Iwata goal.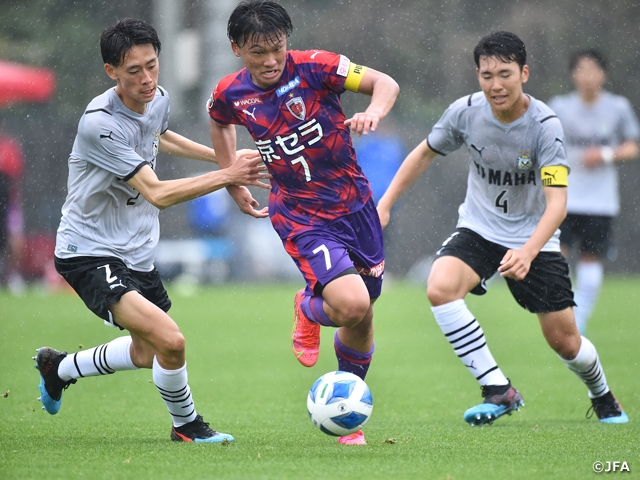 Despite their early struggles, led by their two centre halves, TATEISHI Naoya (#2) and OKA Kohei (#25), Iwata managed to keep the score tied and gradually picked up their pace, as coach KOBAYASHI Minoru later reflected, "We looked nervous at the beginning, but eventually found our composure and managed to showcase our usual football." The visiting side started to rally in the second half, as NISHIMURA Hinata (#10) and TSUJI Hayato (#18) combined with each other to create back to back opportunities in the 50th and 58th minute to threaten the Kyoto goal.
With Iwata gaining more momentum in the second half, Kyoto struggled to fight back, as coach SHIGAKI Ryo later mentioned, "After our opponent gained momentum in the second half, we lost our composure and failed to possess the ball. We had to keep our cool to win the second balls and build our attacks, but we were drawn into our opponent's pace."
After taking full control over the match in the second half, Iwata finally broke the deadlock in the 80th minute. With Tsuji initiating the play at the halfway line, the ball was sent to the left side, allowing FUNABASHI Kyota (#34) to deliver a cross towards the middle. Nishimura, who received the ball inside the penalty area, later reflected on the play, "I wanted to take a shot as soon as I received the ball, but I saw a defender making a sliding tackle, so I paused for a second and struck a shot towards the near post." With Nishimura showcasing great composure inside the box, Iwata scored the only goal of this match to claim victory in their first match in the WEST division.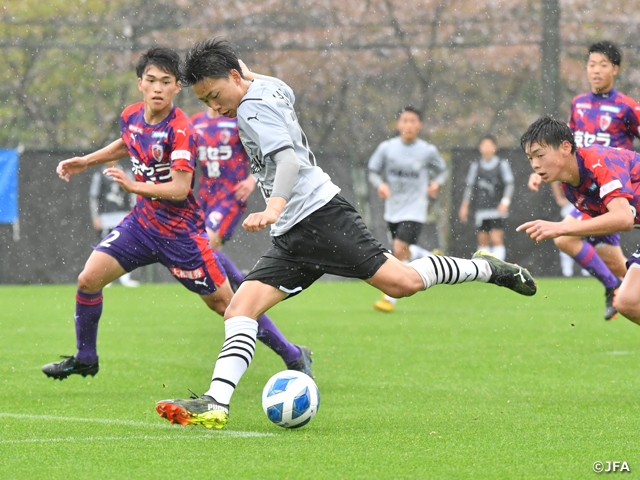 Coaches and Players' Comments
SHIGAKI Ryo, Coach (Kyoto Sanga FC U-18)
Not only did we have two first year players, but we also had many second year players without any experience at the Premier League. The fact that they managed to play aggressively despite playing under pressure was a good thing. Although we lost the match, we created some good opportunities, while also showing great intensity in our defence, so we just need to build on these positives to become a better team.
MF #7 TOYAMA Haruki (Kyoto Sanga FC U-18)
We were able to take control over the first half because we managed to win the second balls in the midfield. There were some good chances created in the first half, so I wish we could have capitalised on them. A goal in the first half would have changed the entire outcome of this match. It's been a full year since we last played in the Premier League, so I am both excited and nervous. The enthusiasm and energy surrounding this league is incomparable with any other competitions. This is a special stage. Our goal is to win the triple crown this year, so we will make the most of this loss to win the title.
KOBAYASHI Minoru, Coach (Jubilo Iwata U-18)
We came close to conceding a goal in the first half, but our defenders did a great job to keep the score intact. Kyoto might have had the upper-hand in terms of individual talent, but we showed great collective efforts to keep a clean sheet against them. We used to play in the EAST division where the emphasis was more on defence, but I am getting impression that the WEST is more focused on offence. In that sense, we wish we could have scored more goals in this match, but I am proud of our players for prevailing in this intense match.
DF #4 KOBAYASHI Ryota (Jubilo Iwata U-18)
(FUJIWARA) Kensuke and I were the only two players with experience playing in the Premier League, so everyone including the third year players looked very nervous at first. With that in mind, we did a great job to maintain our defence tight and keep a clean sheet. We were able to showcase what we have been working in our training sessions. After the first half water break, we gradually found our pace and managed to win the second balls, which allowed us to gain momentum towards the second half. Our full backs did a great job of making runs down the line, which was another aspect we had been working on in our training sessions.
Results of other matches
Cerezo Osaka U-18 postponed Ozu High School
Nagoya Grampus U-18 4-0 (2-0, 2-0) Sagan Tosu U-18
Vissel Kobe U-18 0-3 (0-1, 0-2) Sanfrecce Hiroshima F.C Youth
Gamba Osaka Youth 5-2 (2-1, 3-1) Higashi Fukuoka High School
Nagoya Grampus U-18 (Aichi) scored four goals including the brace of MANABE Hayato (#10) to hand over a loss to the Premier League debutant, Sagan Tosu U-18 (Saga). Sanfrecce Hiroshima F.C Youth (Hiroshima) was propelled by the brace of TAKAYANAGI Eijiro (#9) to claim a 3-0 away victory against Vissel Kobe U-18 (Hyogo). Gamba Osaka Youth (Osaka) ran away with a 5-2 victory over Higashi Fukuoka High School (Fukuoka), thanks to the four goals scored by SAKAMOTO Issa (#11). The match between Cerezo Osaka U-18 (Osaka) and Ozu High School (Kumamoto) was postponed because of a staff member from the Osaka side tested positive for COVID-19.

Prince Takamado Trophy JFA U-18 Football Premier League 2021
League Duration: Sat. 3 April - Sun. 5 December 2021