NEWS
My 3-year working experience with JFA – Mr. Raymond Olivier
17 February 2021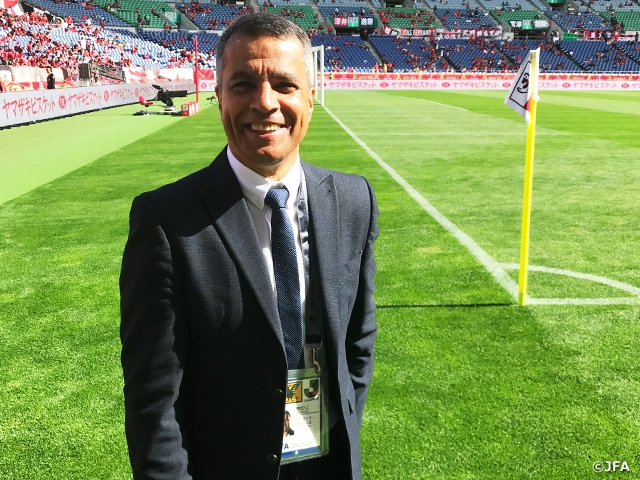 Mr. Raymond Olivier, who had long worked for The FA and PGMOL (governing body of referees who officiate top professional leagues including Premier League) for referee development, has joined JFA in 2017 as Senior Manager of Refereeing Strategy Management Group, and from 2018 as Deputy Chairman of JFA Referees Committee. After the 3 years of working in Japan, he looked back on his tenure and shared his memories of his effort for the development of referees and instructors.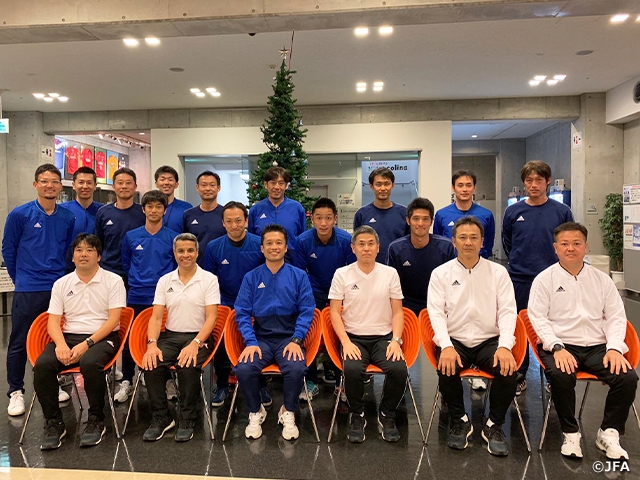 ※This photo was taken in November 2018
Comments
Senior Manager, JFA Refereeing Strategy Management Group
Raymond Olivier
What was your image for Japanese referees before you came to Japan?
I was fortunate to be invited to deliver some workshops in Japan in 2016 and 2017 by the request of Ogawa-san, who was the JFA Referee Chairman at the time. I spent almost 50 days over 4 visits and I was very impressed with the Japanese referees commitment to further develop their skills and to improve their football understanding. They are by far the amongst the fittest referees I have seen in over 30 countries I have delivered referee training in around the world.
What was your first impression on Japanese referees and development programme when you started working in Japan?
Referees in Japan are technically and physical gifted with thorough knowledge of the Laws of the Game. Their hunger and enthusiasm to learn made the delivery of my training much easier and they were all very respectful during my teaching sessions, showing a willingness to learn and to further develop their skills. However, the focus of development when I arrived in Japan was primarily based on the technical aspects of Laws of the Game, predominately black & white decisions but gave a solid foundation in their knowledge.
What areas were you focusing on during the 3 years?
Whilst we devised many plans to improve refereeing in Japan over a period of time, my work was predominately developing the Class One referees within the professional game in the J-League, Nadeshiko League, including the Referee Instructors and Referee Assessors. My main focus was to develop a better game empathy, football understanding football and football expectations. Every referee should have empathy for the needs of each game the referee - the best referees are not unsympathetic 'robots'. The very best referees 'understand' and 'feel' the game.
Another focus of my work was to introduce skills of coaching in our education programmes for our instructors. Coaching is a very useful way of developing people's skills and abilities, and of boosting performance. It allows referees to think and act for themselves. The aim of the coach is to facilitate self-discovery learning and only provides input when the referees lack insight or experience to contribute ideas.
How did you like working in Japan?
Working and living in Japan has given me one of life's greatest experiences with many memories which I will treasure forever. Thank you to everyone in JFA that has made me so welcome including the many football supporters I have met when travelling to the football stadiums.
What do you want to see football in Japan and referee development in future?
From my experience, refereeing does not work in isolation. Otherwise it becomes a them (players, coaches) and us (refereeing). We should not have relationships that are antagonistic or fraught between refereeing and the competitions we serve. We have to work together for the betterment of football in Japan. We need to continue to build close relationships with all the stakeholders in order to improve football. It is also important for referees to understand the game from a player's perspective and the Laws of the Game allows us some flexibility to apply the Laws by understanding the Spirit of the Game, Football Understanding and Game Empathy.
How do you collaborate with JFA from 2021 and forward?
I am very excited that I have been asked to continue to support JFA with technical expertise and knowledge albeit remotely from the UK. I am hoping to have the opportunity to visit Japan a few times each year to deliver training sessions and workshops so that we can continue our education programmes.
Comments
Chairman, JFA Referees Committee
MAYUZUMI Toshiyuki
Mr. Raymond Olivier has shared his vast knowledge of referee development from Premier League, one of the top leagues in the world, and greatly contributed to improve the level of Japanese referees and referee instructors. In particular, he had instilled the importance of "Game Empathy," "Football Understanding" and "What football expect," and also a thorough understanding of "football contact." In addition, he understand Japanese customs and culture and gave us various suggestions and proposals and delivered seminars with spirit of respect. Although he will be base in England from this year, we hope to continue working together through online seminars and also look forward to welcoming him back to Japan for workshops.