NEWS
Coach Moriyasu of SAMURAI BLUE shares aspiration ahead of match against Cote d'Ivoire "To showcase combinations that can effectively bring out the team's energy"
13 October 2020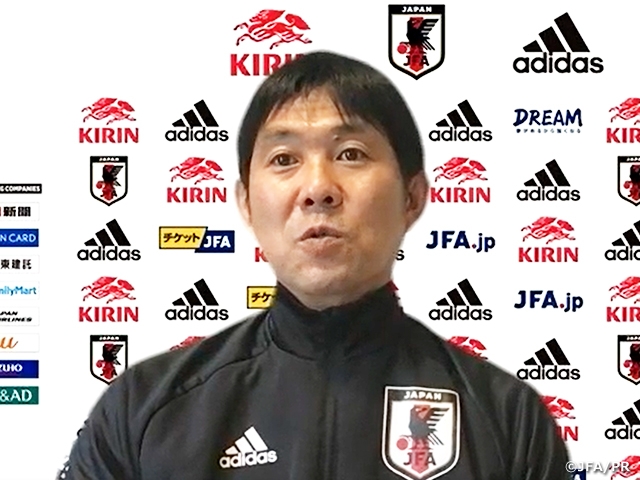 On Monday 12 October, coach MORIYASU Hajime of the SAMURAI BLUE (Japan National Team) appeared in an online press-conference ahead of their international friendly match against Cote d'Ivoire and shared his aspiration towards their second match in the Netherlands tour, "to showcase combinations that can effectively bring out the team's energy."
The SAMURAI BLUE has tied with the Cameroon National Team 0-0 on Friday 9, which was their first match played in nearly a year. In measures to prevent the spread of COVID-19, the entire squad was selected only from players playing in Europe. With the team heading into a match against Cote d'Ivoire with a three day rest, coach Moriyasu pointed out that the team struggled in defence during the first half despite entering the match with an aggressive approach and that they committed too much mistakes when making their transition from defence to offence. Ahead of the match against the African powerhouse, the coach mentioned, "As a team, we must stay on the same page on when and where we are applying pressure. We will heighten the quality of our transitions from defence to offence."
On the other hand, the coach also praised his players' aggressive attitude shown in the first match, as he mentioned, "I hope they will enter the second match with the same spirit and work closely together as a team." Coach Moriyasu continued by stating, "Our next opponent, Cote d'Ivoire, will also play with great intensity and high pressure. This match will give us a wonderful opportunity to raise the team's level. I want the players to continue to challenge themselves."
Japan has faced Cote d'Ivoire four times in the past, and they have an equal record of two wins and two losses. The last time the two sides played each other was at the group stage of the 2014 FIFA World Cup Brazil™. GERVINHO (Parma), who scored the decisive goal and Serge AURIER (Tottenham FC), who assisted two goals in that match, are both in the squad for the upcoming match. The team has tied 1-1 against Belgium at Brussels on Friday 9. They have lost Wilfried ZAHA (Crystal Palace) due to injury sustained in that match, but still have plenty of talents such as Nicolas PEPE (Arsenal FC) and Franck KESSIE (AC Milan), who all plays in top class clubs in Europe.
Since taking over the helm as the coach of Cote d'Ivoire in March, this will be the second match for coach Patrice BEAUMELLE. However, the French coach has plenty of experience leading African teams, as he worked as the assistant coach when Cote d'Ivoire won the Africa Cup of Nations in 2015 and faced Japan while leading the Zambia National Team in 2014. Ahead of the match against Japan, the coach shared his confidence, "We have analysed Japan National Team for this match." While mentioning that they are expecting Japan to be applying pressure from the frontline, he also stated, "I have told my players that Japan will apply aggressive pressure and they are capable of maintaining that pressure throughout the match. It will be an interesting match."
Japan's YOSHIDA Maya (U.C. Sampdoria) seemed alarmed about his team's next opponent, "Among the teams in Africa, they have an overwhelming number of players playing in Europe, and they consist players with great talent and experience." However, the veteran defender continued by stating, "It is important that we make adjustments from our previous match, which we saw plenty of room for improvements. We will be facing a very tough opponent, so we can take on the challenge with an intense atmosphere."
Regarding his player selection and formation, coach Moriyasu hinted that there will be changes, "I will be rotating some of the players. I have told my players to remain flexible in terms of how we are going to approach the match." The match will kick-off at 23:45 Japan time on Tuesday 13, as the match will continue to take place at Stadion Galgenwaard in Utrecht.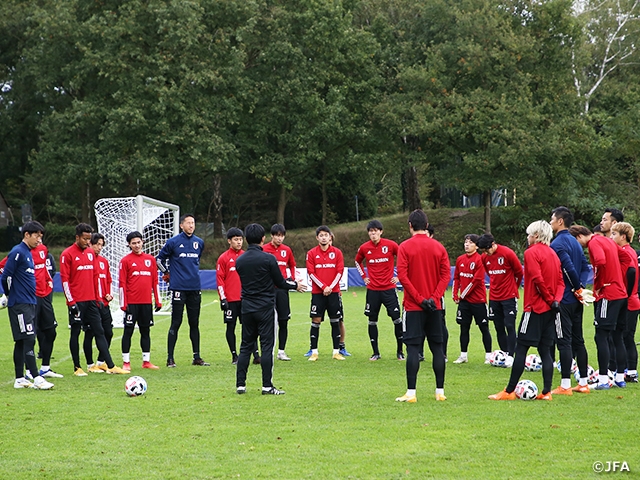 Coaches and Players' Comments
MORIYASU Hajime, Coach of SAMURAI BLUE (Japan National Team)
We will enter our next match as one team and give our utmost efforts to deliver a victory and a message of encouragement to all people watching and supporting us. Cote d'Ivoire consists many talented players and they are also capable of executing team strategies at a very high level. I have told my players to focus on evading the pressure when making the transition from defence to offence while also controlling the ball possession to create opportunities upfront. We will build on the things we managed to do well in our match against Cameroon and try to heighten the overall quality of the team. The players were able to train with such intention, so we should be able to enter our next match with a positive vibe. The opposing coach is no stranger to us, so we hope to make this a match to raise the level of both teams, and we feel fortunate to be given such opportunity. It will be great if we can connect and build relationships with various counties, as we strive to reach the top of the world. I believe that is one of the great aspects of football.
DF #3 MUROYA Sei (Hannover 96)
The environment has changed so much since moving to Germany and I am still in the progress of adjusting to the new environment. I must first get used to the given environment and then overcome the language barrier, since it is impossible to play as a fullback without communicating with my teammates. Other obstacles would probably follow after I clear those two barriers. With this being our first national team match in a while, I am getting a reminder that the competition is extremely high at the national team, and I hope to showcase my playing style in this match. My strength is in my ability to get involved and add layers to the team's offence, so I hope to showcase my ability and prove that I belong to this team.
DF #22 YOSHIDA Maya (U.C. Sampdoria)
Cote d'Ivoire is a quality team, and they are capable of playing with higher precision than Cameroon. We committed too many simple mistakes in our match against Cameroon, so we must be more detail oriented, otherwise we will get exploited by our opponents. We are given a wonderful opportunity to face a strong opponent who is in great condition. We will try-out all the things we want to challenge and give everything we have got in this match.
MF #6 ENDO Wataru (VfB Stuttgart)
We have no issues in our conditions and thoroughly prepared ourselves ahead of the match. I felt some discomfort in my leg following my match in Germany, so I averted the risk in our first match and focused on preparing myself ahead of this match against Cote d'Ivoire. It is difficult to put everybody on the same page within a short period of time, but our coach has been clear on our team concept, so the players must communicate with each other to execute the football style we are striving for. Through this match, we will challenge ourselves to showcase a match that represents the Japan National Team.
MF #9 KAMADA Daichi (Eintracht Frankfurt)
Our team struggled to play our usual game in the first half against Cameroon, but there were plenty of space when I entered the match and I feel like Japan was taking control of the match towards the end. We were able to keep the ball moving and managed to execute what we planned on doing, so all and all, it was not a bad match. I personally was not able to take any shots, so that is an aspect I hope to improve. However, considering I only had 20 minutes to play, it was not a bad performance and I feel like I can only get better as I spend more time on the pitch.
Patrice BEAUMELLE, Coach (Cote d'Ivoire National Team)
I feel truly fortunate to be given this opportunity to play in this match. A few days ago, we played against Belgium, who is the number one team in the world, and now we will face Japan, the number one team in Asia. Although some of our players sustained injuries in the first match, I am planning on fielding as many players as I can. Japan has improved dramatically over the recent years and they have a good fusion of veterans and young talents. They play with great aggression and everyone is dedicated for the team. I have tremendous respect towards coach Moriyasu and Japan. I am expecting a wonderful match tomorrow.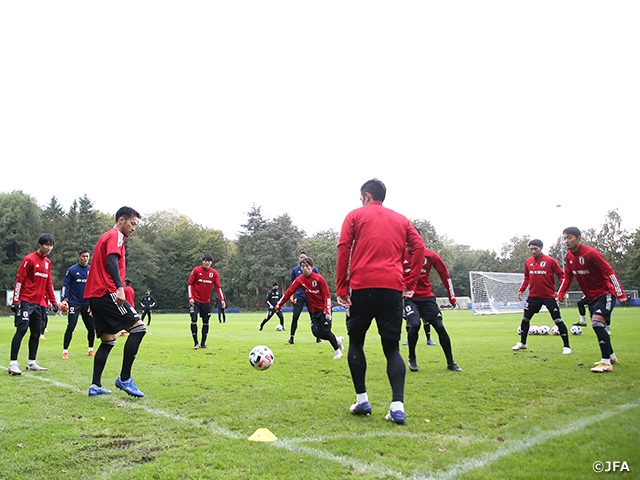 Schedule
Mon. 5 October
PM
Training
Tue. 6 October
PM
Training
Wed. 7 October
PM
Training
Thu. 8 October
TBC
Official Press-conference/Training
Fri. 9 October
0-0
International Friendly Match
vs Cameroon National Team (Stadion Galgenwaard)
Sat. 10 October
PM
Training
Sun. 11 October
PM
Training
Mon. 12 October
TBC
Official Press-conference/Training
Tue. 13 October
16:45
International Friendly Match
vs Cote d'Ivoire National Team (Stadion Galgenwaard)
*Schedule is subject to change
International Friendly Match
Fri. 9 October 2020 14:00 (21:00 Japan time) vs Cameroon National Team
Tue. 13 October 2020 16:45 (23:45 Japan time) vs Cote d'Ivoire National Team
Venue: Stadion Galgenwaard (Utrecht, Netherlands)