NEWS
Coach Moriyasu of SAMRURAI BLUE shares aspiration ahead of match against Cameroon "A performance that can encourage the spectators and showcase the team's growth"
09 October 2020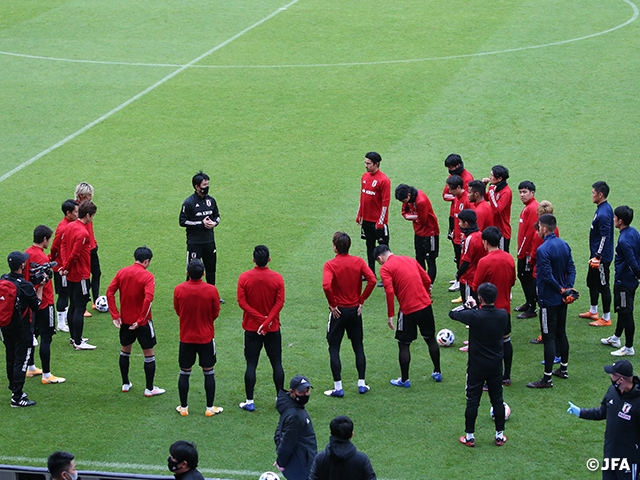 One day ahead of their international friendly match against the Cameroon National Team, scheduled to be played on Thursday 8 October at Utrecht, Netherlands, coach MORIYASU Hajime of the SAMURAI BLUE (Japan National Team) appeared in an online press conference. With the national team playing its first match in nearly a year, the coach share his aspiration, "We will play with a sense of gratitude, showcase a performance that can encourage the viewers, and strive to raise the level of the team."
Due to the effects of the worldwide pandemic, this will be Japan National Team's first match played with their players belonging to European clubs since last November. In measures to prevent the wide spread of COVID-19, for the first time in national team history, the squad was selected from only the players currently playing in Europe. The team started its training camp at Utrecht from 5 October and coach Moriyasu has mentioned, "The players have become much stronger, and I can tell that they are filled with confidence." The coach also mentioned that the team selection will not be based on how long they have played in Europe, "I want to give as many opportunities as possible and try to raise the team's overall level."
With the match scheduled during international match week, the team was only able to hold two training sessions ahead of the match, but the players have conducted several meetings to go over the team concept. "Strong teams are capable of solving problems and make adjustments by communicating with each other during a match." The Japanese manager continued by mentioning that he has high hopes for his players, "We have not played in nearly a year, so we must first go over the fundamental aspects, while also monitoring how the individual players perform on the pitch. We must stay on the same page and strive to showcase our full potential."
PCR tests were conducted to all players and staffs upon arrival at the match site. Although all members of the Japan National Team tested negative, two players of the Cameroon National Team tested positive, while one player was determined to be in close contact with them. The three players have already left the team, and the team will proceed with the match as scheduled with the remaining 18 players who tested negative for COVID-19.
Ahead of the match, coach Moriyasu described his team's opponent, "They consist players with great athleticism. Despite losing some of their players, it would open doors for new players, and it is quite possible that those players are highly motivated for this match." The coach stated that they must be alarmed for this match, "They are very athletic and talented. The team plays a football style that emphasise their speed and power" but also mentioned that "By facing a strong opponent, it gives us the opportunity to grow as a team."
Cameroon National Team is currently preparing for the qualification round of the Africa Cup of Nations, and the team has started training at Utrecht on 5 October. The team consists many young players and players who plays for European clubs. Coach Antonio Conceicao da SILVA OLIVEIRA shared his thoughts ahead of the match, "We had some players testing positive for COVID-19 and also had some injuries, so we will be entering the match with a limited roster, but I hope to give opportunities for the young players. Japan has great speed, and their transition is very quick. They are just the type of team we were looking for."
The two sides have faced each other four times in the past, and Japan holds a record of three wins and a draw. This match will be their first match since the group stage match of the 2010 FIFA World Cup South Africa™, where Japan won 1-0. Japan's midfielder DOAN Ritsu (DSC Arminia Bielefeld) shared his take ahead of the match, "Teams from Africa consists players with great athleticism. We must not compete against them in their strong points, but rather focus on showcasing our strengths, which are techniques and work ethic. I will also strive to showcase my strengths, which are my ability to take shots and passing skills."
Ahead of their first match in nearly a year, coach Moriyasu stated, "We are given the opportunity to represent our country and we are delighted for this stage. I want my players to play with a sense of gratitude towards everyone who has made this match possible." The match between the SAMURAI BLUE and Cameroon National Team will be played in a remote match format (no spectators) at Stadion Galgenwaard (Utrecht, Netherlands) on 9 October, with a kcik-off time of 21:00 Japan time (14:00 local time).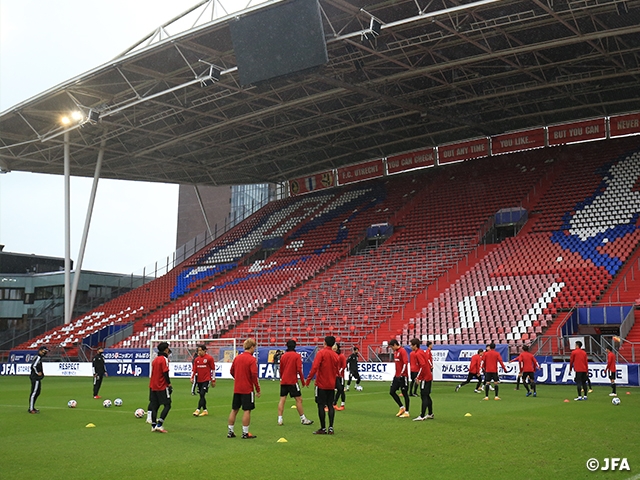 Coaches' Comments
MORIYASU Hajime, Coach of SAMURAI BLUE (Japan National Team)
We would like to thank everyone who has made this match possible under this corona pandemic, the healthcare workers who are risking their lives at the frontline, and the social workers who are working tirelessly day and night. Through this match, we hope to send a message of encouragement to those who are affected by the coronavirus and natural disasters. The players are highly motivated to deliver a victory to everyone watching our match. It may depend on the flow of the match, but I am hoping to utilise as many players as possible to heighten the team's overall level. I hope the players can showcase their character and full potential, while also understanding the team concept and their role in this team. I believe that our team's strengths are in our ability to combine with each other and our strong teamwork, so we hope to utilise those team strengths while also showcasing our individual strengths. I hope our players have the mental strengths to run and fight for the team and their teammates.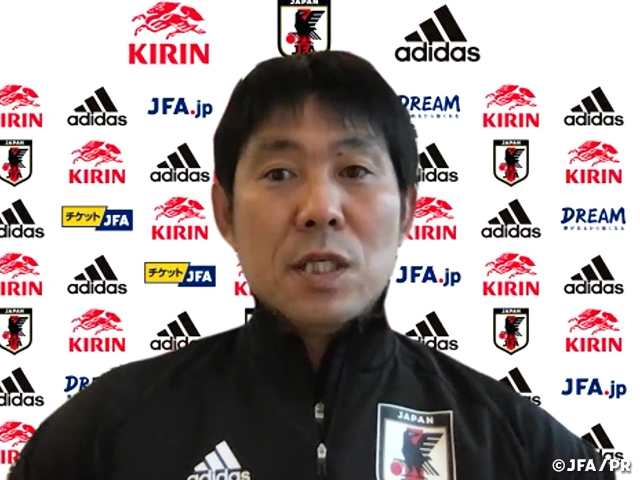 Antonio Conceicao da SILVA OLIVEIRA, Coach of Cameroon National Team
We are honoured for this opportunity to play against Japan. This international friendly match will give us a wonderful opportunity to prepare ourselves ahead of this November's match against Mozambique at the Africa Cup of Nations qualifiers. Japan's play style reflects the Japanese culture, which prioritise discipline and dedication. Japan is a very well organised team with talented players, and they are capable of executing very high-level strategies. Both teams have not played for nearly a year, so this should be a meaningful match for both of us.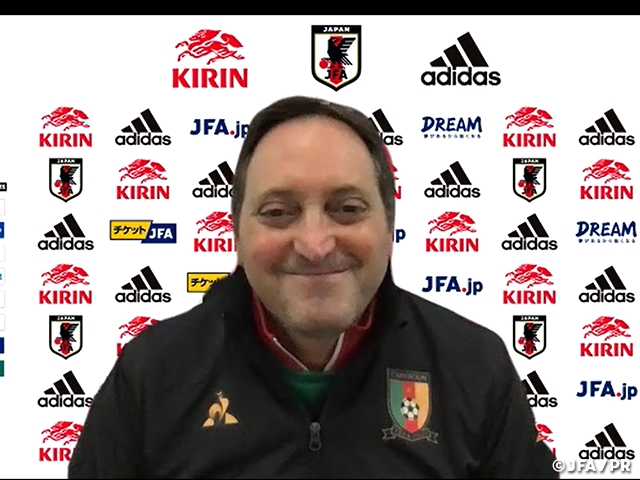 Players' Comments
DF #16 TOMIYASU Takehiro (Bologna FC 1909)
I was looking forward for this tour with the national team, and I have been able to spend a very productive time with the team. Unlike my role at Bologna, I am asked to make my own decisions when playing with the national team, so I must focus on each situation to position myself well and heighten the quality of my decision makings. I played as a fullback in the past year with Bologna, and I experienced playing under tough circumstances. Now as a centre half, I hope to utilise that experience to eliminate such situations and lighten the burden for the fullbacks.
DF #20 ANZAI Koki (Portimonense S.C.)
I am here in place for Nagatomo, but I hope to make the most of this opportunity. I am expecting to play in both matches and I will try to showcase how much I have improved over the past year in Portugal. My presence will add more competition in the left fullback position, and I am committed to give my utmost efforts. I have faced many fast players at the Primeira Liga and matched up with many African players as well. I will try to showcase my character by staying alarmed in defence, fight hard to win the ball, and continuously make overlaps to drain the opponent's stamina.
MF #11 DOAN Ritsu (DSC Arminia Bielefeld)
With this being the first national team match in a year, I am extremely excited, but at the same time feel the need to showcase our presence on the pitch. Each match with the national team has its own significance, both for the team and me. We must not take for granted of the match and cherish each second on the pitch. That is the mentality I have for every tour and match I join for the national team. In Germany, I am currently given the role as a centre midfielder. I am positioned a little deeper than I am used to, so I tend to dribble the ball for longer distance and initiate attacks from midfield. I feel like I can help the national team by implementing the roles I have been given by my club, so I will focus on showcasing my new play style to create chances from a deeper position.
FW #15 OSAKO Yuya (Werder Bremen)
Although we are returning from a year blank, I have a clear vision of how to play with the national team and thoroughly prepared myself for this moment. By facing two strong opponents who are both in prime condition should help us immensely, so we must focus on earning positive results at this tour. As a striker, my job is to get involved in our offence and score goals, but in order to help the team win, I must first commit myself to give my utmost efforts at all times, and that is the mentality every player must have.
Schedule
Mon. 5 October
PM
Training
Tue. 6 October
PM
Training
Wed. 7 October
PM
Training
Thu. 8 October
TBC
Official Press-conference/Training
Fri. 9 October
14:00
International Friendly Match
vs Cameroon National Team (Stadion Galgenwaard)
Sat. 10 October
PM
Training
Sun. 11 October
PM
Training
Mon. 12 October
TBC
Official Press-conference/Training
Tue. 13 October
16:45
International Friendly Match
vs Cote d'Ivoire National Team (Stadion Galgenwaard)
*Schedule is subject to change
International Friendly Match
Fri. 9 October 2020 14:00 (21:00 Japan time) vs Cameroon National Team
Tue. 13 October 2020 16:45 (23:45 Japan time) vs Cote d'Ivoire National Team
Venue: Stadion Galgenwaard (Utrecht, Netherlands)