NEWS
Cerezo Osaka score seven goals in season opener of Prince Takamado Trophy JFA U-18 Football Super Prince League 2020 Kansai
31 August 2020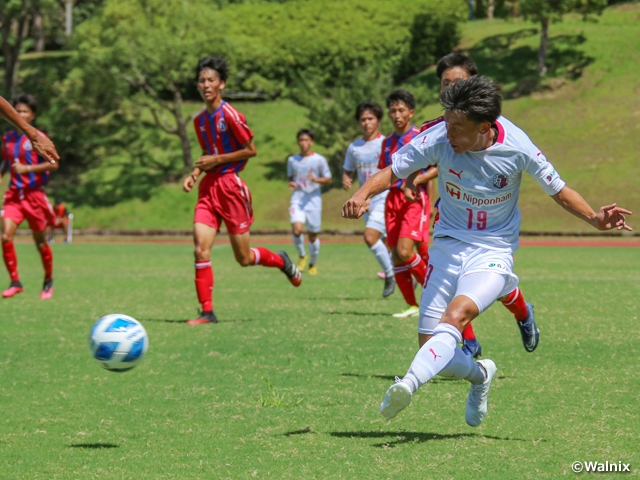 The Prince Takamado Trophy JFA U-18 Football Super Prince League 2020 Kansai kicked off on Saturday 29 and Sunday 30 August. Along with the 10 teams from the Prince League Kansai, four teams from the Premier League WEST; Kyoto Sanga F.C. U-18 (Kyoto), Cerezo Osaka U-18 (Osaka), Gamba Osaka Youth (Osaka), and Vissel Kobe U-18 (Hyogo), joined to form the league, where 14 teams will be divided into two groups to compete in a round-robin group league before heading into the play-offs.
Hatsushiba Hashimoto Senior High School 1-7 (1-2, 0-5) Cerezo Osaka U-18
After making their return to the Prince League Kansai since 2015, Hatsushiba Hashimoto Senior High School (Wakayama) opened the new season with a match against the Premier League side, Cerezo Osaka U-18.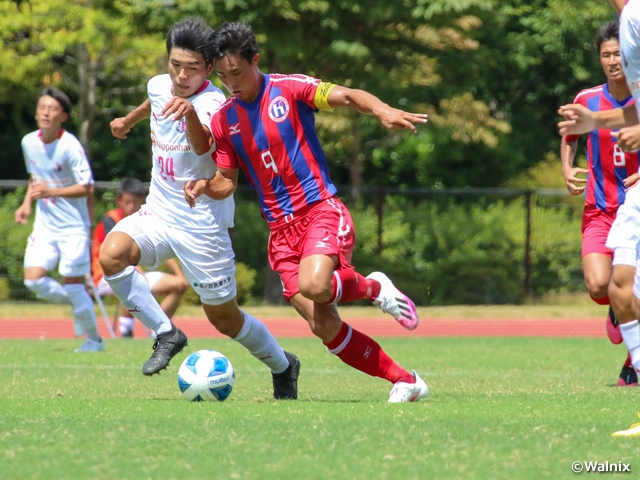 The first goal came in the eighth minute, when Cerezo Osaka's MUKAI Hayate broke through the right flank before passing the ball to TSUBOI Yamato, who delivered a cross towards the goal, allowing SHIMOKAWA Haruki to strike a header that shook the net.
After conceding an early goal, Hatsushiba Hashimoto responded by applying pressure upfront, leading to a penalty kick earned by ANDO Koki in the 11th minute. With NISHIBUCHI Keito calmly converting the spot kick, the Wakayama side quickly levelled the score.
However, the equaliser did not deter the Cerezo offence, as OBUCHI Raiju responded to a pass delivered by KITANO Sota to retake the lead in the 37th minute.
Cerezo Osaka's Coach OKUMA Yuji later reflected, "During the first half we were caught by surprise by our opponent's aggressive approach, but once we got used to their tempo, we managed to keep our plays simple and showcase our usual performance." As the coach mentioned, the Cerezo offence showcased great pass-works to break down the opposing defence, putting up a dominating performance by scoring five goals in the second half.
Despite their efforts to win back the ball, Hatsushiba Hashimoto struggled to finish their plays with a shot, as Coach SAKANAKA Yoshihiro later reflected, "We committed too many mistakes after winning the ball."
The match ended with a final score of 1-7, giving Cerezo Osaka a great start to the season.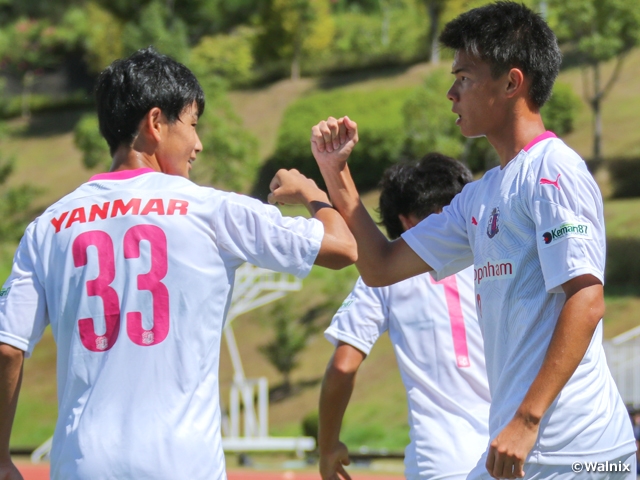 In the other matches played in Group A, Kyoto Tachibana High School (Kyoto) defeated Konko Osaka High School (Osaka) 6-0, while Riseisha High School (Osaka) claimed a 3-0 shutout victory over Kyoto Sanga F.C. U-18 (Kyoto). In Group B, Osaka Toin Senior High School (Osaka) won against Vissel Kobe U-18 (Hyogo) 3-1, while Gamba Osaka Youth (Osaka) defeated Osaka Sangyo University High School (Osaka) 4-2. The match between Sanda Gakuen Senior High School (Hyogo) and Hannan University Senior High School (Osaka) ended in a 2-2 draw.
With each group consisting seven teams, Kokoku High School (Osaka) from Group A and Tokai University Osaka Gyosei High School (Osaka) from Group B each had a bye week. The two teams will play their season opener on Saturday 5 and Sunday 6 September.
The Super Prince League 2020 Kansai has just started, so please stay tuned for more action.
Coaches and Players' Comments
SAKANAKA Yoshihiro, Coach (Hatsushiba Hashimoto Senior High School)
In a normal year, the team should already have many match experiences through leagues matches and Inter-High School Championships qualifiers. However, we were not able to play many matches this year, so we had to use this match to allow our players to get organised. Today we were forced to be in the defensive end for a long time and that really drained our energy. Despite the lopsided score, I feel that our players did a tremendous job. We created some close chances to score goals in the first half. With this being our first season back in the Prince League, we are the challenger. I hope that our players can learn and become better footballers through the matches against many tough opponents.
MF #10 NISHIBUCHI Keito (Hatsushiba Hashimoto Senior High School)
Ever since the fixture was announced, I was looking forward for this match. Although we had to face a team from the Premier League in our first match, we told each other to focus on showcasing our usual performance. However, we were not able to execute our game plan and got outran by our opponents in the second half, which makes it so disappointing. Personally, I wanted to score a goal, so I am glad that I was able to convert that penalty kick. For our future matches, we will focus on executing our game plan and to give our utmost efforts until the final whistle.
OKUMA Yuji, Coach (Cerezo Osaka U-18)
Looking back on the time we have spent before this match, we had plenty of time to find out new aspects of ourselves. Before this season, we were used to training with players of our own age, but this year, we mixed players from all ages to try out our chemistry. There will be no promotion nor relegation this season, so I hope to give more opportunities to those who work the hardest in our trainings. Regarding today's match, we must address the mistakes we committed during first half and be more critical in the final third. We also must acknowledge and respond quicker to our opponent's playing style.
DF #27 ABE Soichiro (Cerezo Osaka U-18)
I was so eager to play a match, so I was ecstatic to play this opening match at my hometown. Although we were not able to showcase our usual performance in the first half, we managed to pickup our pace and keep a clean sheet in the second half. However, our risk management was not so great, especially when we were pressing forward, so that is an aspect we must improve on. We will continue to train hard so that we can showcase a better performance from the get-go under this harsh heat.