NEWS
Report of 2019 JFA Welfare Officer Refresher Course - Elimination of Violence in Football Vol.95
07 May 2020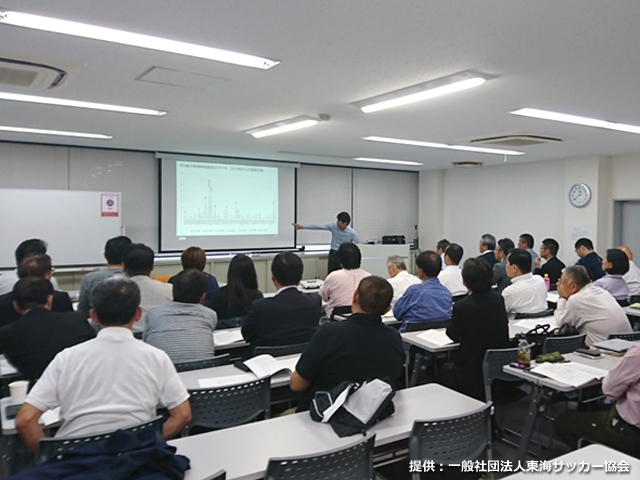 The welfare officer (WO) system was established following the WO general refresher course held in September 2015. The course held at JFA House (Tokyo) attracted 69 participants from 47 prefectural FAs and federations.
The course was then held in Tokyo and Osaka for better access for the participants. Furthermore, starting from 2019, the course was expanded to nine regions, allowing a total of 271 participants (145 newly certified) to be certified as WO general.
The style of operation varies by each region and FA. Some may prefer setting one WO general per FA to promote respect/fair play comprehensively, while some may set multiple WO generals to provide a wider range of coverage, responding to different areas and categories within the FA. The latter option may sometimes turn into "Chinese whispers," where the context of the WO activities changes over the course, but at the same time they can cover a much wider range to spread the spirit of respect/fair play.
During the early half of the course, newly joined participants were given a lecture on the prerequisites of WO general. At this lecture the following topics were discussed; "promotion of respect/fair play projects," "verbal and physical abuse in football and the welfare officer system (WO general, match WO, club WO)," "overview of the elimination of violence help centre and its handling procedure." A refresher course was held in the afternoon, where pre-certified participants joined the course.
The refresher course started by sharing what each organisation has done to promote respect/fair play. From a survey conducted ahead of the course, it was revealed that 18 prefectural FAs, one regional FA, and four federations have setup help centres for verbal and physical abuse. The operational procedures of these centres, as well as the procedures taken by organisations who does not have such centres were shared. During the course, recent reports on the responses taken by JFA were also shared as examples.
With growing interests over the issue of verbal and physical abuse in sports, a total of 120 inquiries were reported in 2018. Many participants were particularly drawn to this number and discussed the need for an unwavering determination to reduce such issues. (As of late November, there has been a total of 229 inquires in 2019)
Guidelines for match WO were also introduced. During this section, how to observe coaches' behaviours during matches, greetings before matches, and ways to communicate with coaches after matches were discussed. With the regulation change in 2019, the referee is now allowed to give warnings to team staffs and officials. Procedures to notify the referee about the occurrence of verbal abuse on the side-lines were shared. Through the usage of this guideline, we hope to see more people becoming a match WO to further promote the WO activities.
A session was held to discuss topics of "awareness as a match WO" and "how to communicate an incident." The participants actively shared their thoughts to give us a wide range of ideas, so we would like to share those ideas in a different occasion.
One of the more difficult question that was brought up during the session was, "how to deal with people who are unwilling to cooperate with WO?" There can be many situations, whether a coach is agitated following a loss or simply not willing to listen to the words of the match WO. It is hard to "preach to deaf ears " and we would like to know if there are good ideas.
Other themes that were brought up were, "what actions can you take to promote respect/fair play?" and "how can you induce other people to take action?" In order to spread the notion of respect/fair play and make the concept into our norm, enlightenment is not enough. Everybody involved in football must take actions that corresponds with the spirit of respect/fair play, which is the most valuable aspect of football. In that sense, seeing the participants of the refresher course vowing to take actions to promote respect/fair play was very reassuring.
However, it was pointed out that the position of the WO system was unclear and that there are needs for a distinct curriculum established by JFA. Without a set training programmes or textbooks released by JFA, it would be difficult to proceed at the prefectural level. With these opinions in heart, we are hoping to establish club WO, training programmes, official certification process, and textbooks to enhance our WO activities in 2020.
【Reporter】MATSUZAKI Yasuhiro (former chairperson of JFA Respect/Fair play Committee)
*This article was originally posted on Japan Football Association "Technical News," January 2020 edition.